The Downtown Sacramento Partnership announces 2017 Concerts in the Park lineup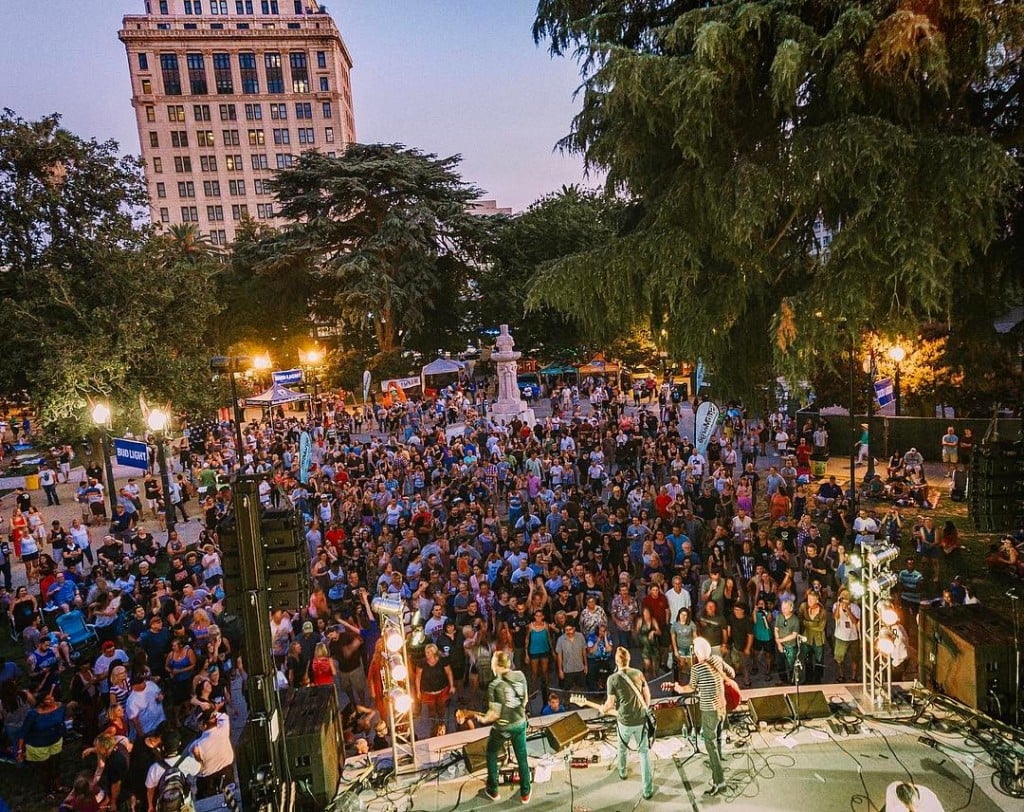 Whoa, listen to the music. Today, the Downtown Sacramento Partnership announced its lineup for Sacramento's yearly free concert series, which will take place on Friday nights beginning in May and run through July.
Concerts in the Park will kick off Friday, May 5, with Rituals of Mine, the female electronic duo made up of Terra Lopez and Dani Fernandez that was founded in Sacramento as Sister Crayon and recently signed a record deal with Warner Brothers. They will be joined by local acts Sol Peligro (a nine-piece Latin-reggae outfit), Lucid (a five-member electro-pop band) and DJ Eddie Z.
Los Angeles-based alternative quintet Grizfolk will take the stage May 12, with Sacramento rock band Cemetery Sun (May 19) making its Concerts in the Park headlining debut. Other headliners include Americana-blues twosome Honeyhoney (May 26); Dance Gavin Dance's side project Secret Band (June 2); Oakland-born rap and hip-hop artist—and cousin to Ice Cube—Del the Funky Homosapien (June 9); and roots-reggae jam band ZuhG (June 16).
The second half of the summer will feature appearances by Mad Caddies, whose sound blends Dixieland jazz, ska and punk (June 23); gritty rock-pop quartet Vista Kicks (June 30); surf-rock punk band and hometown favorite Arden Park Roots (July 7); and Nashville-based R&B artist R.Lum.R (July 14), with funk group Joy & Madness closing the series out on July 21.
The concert crowds will be warmed up by local spin masters, such as DJ Whores and My Cousin Vinny, and area musicians like Vacaville-based indie-pop sibling quartet Color Wild (May 19), Americana group The Nickel Slots (May 26), punk rock band Another Damn Disappointment (June 23), Oak Park rapper Hobo Johnson and his backing band the LoveMakers (June 29), and nine-piece jazz-funk ensemble Ideateam (July 21).
The 2017 lineup was announced with water-repellant paint on the concrete at Cesar Chavez Plaza this afternoon. (Sactown proposed the same concept for street art in our Oct/Nov 2016 story "Just Add Water.")
Free. May 5-July 21. 5-9 p.m. Cesar Chavez Plaza. 910 I St. For updates and the full concert list, visit godowntownsac.com/cip.
You Might Also Like
Le Dîner en Blanc will return to Sacramento this October
River City Marketplace series kicks off in April with local makers, music and good eats
Oak Park's popular Gather event will launch in Rocklin this summer