The Fall & Rise of Hobo Johnson
Frank Lopes Jr.—the "Hobo" of Hobo Johnson & the Lovemakers—has had, by all accounts, an eventful first 24 years. He has already been, in a very particular order: a troubled student, a homeless teen, a viral video sensation, scorned by Black Lives Matter, swooned over by fans, signed to Warner Bros. Records, Instagrammed by Snoop Dogg, and predicted to be "huge" by New York magazine. On the eve of his major-label debut and a tour schedule that will see him sharing the bill with many of the biggest acts in the world, the Sacramento poet-rapper is working hard to stay grounded at a time when he's so clearly taking flight.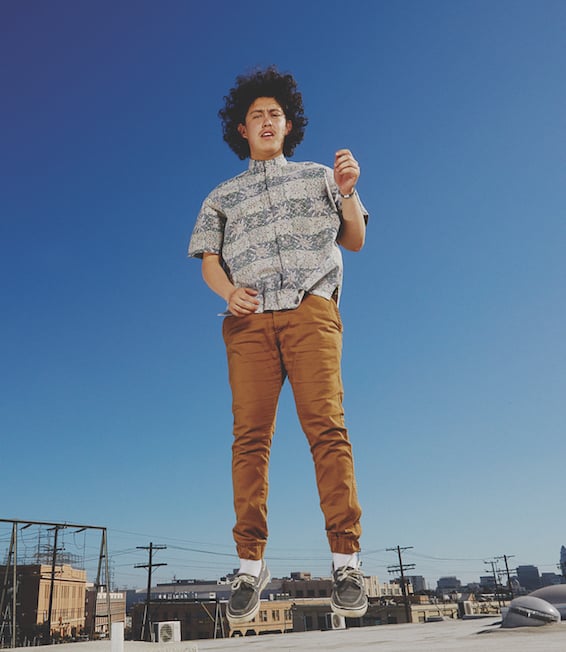 OOne year and one month since Frank Lopes Jr.—better known by his stage name, Hobo Johnson—uploaded his "Peach Scone" video to YouTube in response to an open call from NPR's Tiny Desk Concert series, the local poet-rapper is sitting on a large, well-worn couch amid the under-decorated ground floor of his apartment-cum-recording studio in downtown Sacramento at 10th and T streets, just a block from Old Ironsides, where he regularly performs. On this cool day in early April, wearing an oversize red hoodie emblazoned with the word "Portugal"—a call-out to a facet of his ethnic heritage—and sporting the black wisp of mustache that contributes to his man-child presence in so many Hobo Johnson videos, the musician finds himself smack in between completing two of the biggest transitions of his adult life.
"It's a lot of pressure," Lopes says. Just a few days prior, he closed on a new house, his first home purchase and a major move toward stability for someone who took his stage name during a month spent living out of his car. He bought a three-bedroom abode in Elmhurst, just outside East Sacramento, a pad that will also serve as his recording studio. And within the next few days, he must sign off on the final mixes of the tracks on his debut album for Warner Bros./Reprise Records, which signed him in June of last year, about three months after the "Peach Scone" video went viral (over 14 million views and still growing strong). The new release is due to be titled, courtesy of Lopes' characteristic mix of mopey self-mockery and BMOC self-assurance, The Fall of Hobo Johnson.
The 24-year-old vocalist—who is a towering, bulky 6-foot-2, far taller than he appears in his music videos—has come quite a long way from the CD-Rs he used to burn in advance of open mic performances at Sacramento area coffee shops and bars, like Goldfield Trading Post ("My first open mic," he recalls of the 2014 set. "There were seven people") and Fox & Goose Public House ("That was a much older crowd. I didn't get very good responses there"). In short order following the meteoric ascendance of "Peach Scone," record labels came knocking on Hobo Johnson's door—or, well, at least emailing—and then came the consumer brands seeking Gen Z street cred through association, among them the clothing company Urban Outfitters, the massive music-arcana website genius.com, and the sensational-news outlet Vice Media. Lopes' fan base expanded from local showgoers to music luminaries. None other than Snoop Dogg posted a shot of the album cover for 2017's The Rise of Hobo Johnson on his Instagram account alongside those of two famous 1993 debuts—Snoop's own Doggystyle and Wu-Tang Clan's Enter the Wu-Tang (36 Chambers)—plus Notorious B.I.G.'s posthumous Greatest Hits for good measure.
Yet, as Lopes—whose last name rhymes with "hopes"—gets ready for The Fall's mid-September release and a summer tour that includes a hometown appearance at Concerts in the Park and performances at Bonnaroo and Lollapalooza, the stress of finishing up his inaugural major-label album may very well pale in comparison with the emotional changes that surround him buying his own home. To appreciate why requires understanding just how Frank Lopes Jr. became Hobo Johnson in the first place.
**********
TTo begin with, Lopes wasn't even going to be called Hobo Johnson. "I originally was supposed to be Hobo Jones, but there was someone else called Hobo Jones," he says, referring to the leader of a British skiffle band, Hobo Jones & the Junkyard Dogs. "Yeah, so it's Johnson." As to why he wanted a stage name in the first place, he says, "I think there isn't anything too interesting about my [real] name, so that was the main reason." Reflecting on his new life in the public eye, he adds, "And I'm glad in retrospect. Hobo Johnson is different than myself—it's like me on the internet and me in real life are two very separate things."
The first of his chosen names, Hobo, comes from severe life circumstances at the time of his self-anointment. He was just 19 years old and living in Roseville inside a $700 1994 Toyota Corolla—for which he named his first self-released album; he has since graduated to a Subaru Crosstrek—after getting kicked out of the house by his stepmother, he says. Lopes spent 28 consecutive nights in that vehicle: "It was really depressing." So, too, is the story of how he ended up there.
Frank Lopes Jr. was born in San Jose to Jacqueline Alvarez, a loan underwriter, and Frank Lopes Sr., a mechanic, on December 22, 1994 (for pop culture triangulation, the year that Nirvana's Kurt Cobain killed himself). The family relocated to Loomis when he was in kindergarten and then the parents divorced when he was in the third grade. "I kind of grew up with my parents' marriage falling apart," he says, "I would go back and forth, Mom and Dad, different place every week."
His parents' divorce haunts the music of Hobo Johnson to this day. On "Romeo & Juliet" off his second independent album, The Rise of Hobo Johnson, he talk-sings, Good luck to my future wives and their future lives without me / You guys will do great / I'm sure that I've prepared you for every guy you'll date / And every guy you'll marry / And every guy you'll hate. Another song off The Rise, plainly titled "Father," begins, My dad taught me 'bout / The story 'bout the birds and the bees / When the bees turn into wasps and take half of everything / He sounded sure, that a bird doesn't need a full nest.
The dissolution of his parents' relationship took its toll on Lopes, whose earlier years were troubled. Even after music began to suggest itself as an outlet to a teenage Frank, a die-hard fan of Eminem (later maturing to acts like Lupe Fiasco, Luke Christopher, Asher Roth and Kendrick Lamar), he struggled with alcohol. "I went to juvenile hall 'cause I got a DUI when I was 17," he says. "I had a few drunk-in-publics. I pissed dirty at school" (meaning a urine test showed he'd been drinking while on probation). He was apprehended at Chana High in Auburn for the accumulated violations and delivered to a nearby detention center, where he stayed for four long months. He left thinner ("from playing basketball and stuff") and more self-aware. "I had a little bit more confidence or pride in myself once I left, but then it quickly got shot down after in the real world. I went to my dad's and stepmom's house for the first time and immediately moved in," he says. "I'd never met her before that, so I just go out of juvie and immediately get dropped off at this new house I've never been to with this new person and these other people in the house I've never met before."
New York magazine questioned Hobo Johnson's lyrical focus on "unrequited female attraction," but that didn't keep the publication from making a firm prediction in the form of the article's headline: "Hobo Johnson Is About to Be Huge."
The living situation wasn't a good fit—"Me and my dad didn't see eye to eye"—and he eventually left for an aunt's in Visalia for a while (his mom was living in San Diego by this point) before coming back, and then got kicked out for good at age 19. With a sad irony, the $700 Corolla that he ended up living in was the same car that led to him being kicked out in the first place. Lopes and his stepmother argued about financial liability: "She said that she would get sued if I got into an accident," due to him living under her roof. The purchase maxed out their long-simmering tension.
At the time of his Corolla sleeping arrangement, Lopes was employed by a pizzeria in Rocklin near the Blue Oaks Century Theatres, as he narrates in "Mario & Link": I was working at f–king pizza places just so I keep eating. "I took it upon myself to go be something, and [start] this big adventure," he says of going it alone after getting kicked out. "I had a job, and I slept outside of a 24 Hour Fitness in Roseville. By the end of it, I was just really depressed and sad." Living out of the car went from uncomfortable to demeaning. "The cops would come and wake you up and tell you to move, but sometimes they'll just search your sh-t. It depends on what mood they're in. They would wake me up in the middle of the night and I would just sit on the curb." After a month, he had had enough. "I just looked up literally the cheapest place for rent," he says, which led him to Oak Park, where he paid $300 a month for a single room he shared in a house with two other people.
**********
"I"I really needed and dreamed of having a place where I could make music at all times. So I'm going to build a studio in the garage and double-wall it," Lopes says of his plans for his just-purchased house in Elmhurst. When he eventually settles in, it'll feel like coming home in more ways than one—inking the deal means putting down roots not just in his new neighborhood, but in his adopted town, something else that he had dreamed of.
"Sacramento was the big city. I really loved coming here as a kid and going to Old Sac. Once I got a little bit older, I would drive or ride a bike or take the bus over here just to go hang out in midtown or go on K Street," he says. "I would go to Cesar Chavez park and be like, 'This place is so nice!' I would take pictures. I've always wanted to move here."
In Lopes' current home-slash-studio in Southside Park, where he'll be staying until his one-year lease expires in August, there's some exercise equipment here and there, including weights and a suspended punching bag, and a freestanding metal shelf packed with dusty books and music equipment. There is also a single large desk holding the MacBook Pro with which Lopes is putting the finishing touches on his new album, plus two large Yamaha monitors sporting bright white woofers that rest horizontally on pedestals at ear level and emanate some of the in-progress Fall of Hobo Johnson tracks. These include one titled "Ode to Justin Bieber" (named for the former teen sensation, in which Lopes sings, It's really weird, you want the whole world to love you / I think it's pretty bad for my life, my relationships / Sometimes I walk in public and instantly think that the public f–king hates me, sh-t), another titled "Happiness" (which exudes anything but), and a politically tinged song that imagines what occurs when Earth is inherited by comically evolved cockroaches after an (unnamed) "orange" president causes a civilization-ending nuclear war.
The selections he's previewing this afternoon have a much more produced feel than did the music on The Rise of Hobo Johnson. Plenty in that album had the artful cut-and-paste quality of lo-fi hip-hop, the beats constructed by Lopes using Ableton Live software on his laptop, and the singing on it largely felt natural and even naked, right down to his voice cracking throughout as if from an attenuated puberty. On the new The Fall of Hobo Johnson, by contrast, his voice is often contorted by filters and effects. Part of this shift has to do with his goal of reaching a wide audience: "Those flaws in the songs could make it a lot better, but for certain songs, like pop sh-t, you want it to be just perfect down to the millisecond." Some of the change may, as well, be psychological. Asked if the filters on his voice give him a little distance from the autobiographical material, he agrees. "Yeah," Lopes says. "That's fair. There are definitely some songs on there that have the more saturated vocals. A lot of the other songs don't, but yeah—there's one song, 'Sorry, My Dear,' that is really, really sad and talking about suicide and dying. It's hard to hear my normal voice because it's hard to say in my normal voice."
Now, perhaps you yourself don't actively dissect Lopes' lyrics on genius.com, or contribute to the millions of views his many videos are racking up, or participate in the fierce online debate about whether or not he is, indeed, truly a rapper, or instead a spoken-word artist. (There's also a messy, ongoing debate about how much he and his band resemble an earlier next-big-thing Sacramento act, namely Cake. "It's more probably just a weird frontman with a weird voice," Lopes weighs in.)
In such a case, to answer the question that's been lingering in the minds of his fans ever since Reprise signed him, it will help to cite the song on which he pined for a major record company to welcome him into the big leagues: "Dear Labels," off The Rise of Hobo Johnson, close to the end of which he climaxes with a raw plea: Please, help me find my mom a house / That I could go to every f–king weekend, please / Please, please, help me buy my mom a house / That I could go to every f–king weekend.
So, did Lopes, who bought himself a house with the profits from his record deal, do as he promised and buy his mom a house?
"At first, you're completely bewildered by everything. You don't even understand what's going on. It doesn't sink in," says Frank Lopes, aka Hobo Johnson, of the sudden fame that came his way last year after his video submission for NPR Music's Tiny Desk Contest unexpectedly went viral. "That's my goal this summer—to make all of my life right now sink  in and really appreciate it."
The short answer is yes, though he is uncomfortable with the idea that saying so might come across as bragging. So, let's leave the answer to his proud mom, Jacqueline Alvarez. "My parents still do a lot on their own, but they're older and their health is starting to deteriorate. We are in the process of building a house for them, and I'll be living there," she says over the phone from Visalia, where she now resides and where construction will take place. "My son told me he wanted to be a part of that, so we're kind of making it a family project."
Alvarez comes across as Lopes' No. 1 fan, and talks glowingly about their close-knit family, rounded out by his older sister, who, like Frank, lives in Sacramento. Alvarez speaks in detail about her favorite songs and seems happy that "Sorry, My Dear," has finally been recorded and will appear on The Fall of Hobo Johnson. "The first time I heard it two years ago, I thought it was so powerful," she says. "I'm so amazed sometimes. I'm like, 'Wow, this is my son that is making this music.' "
The only time her cheer diminishes is when she is asked about Lopes' struggles with alcohol and his time in juvenile hall. When she's asked what it's like to see him go from such a tough spot to where he is now, she begins to respond, "You know, honestly that's a, kind of a …," and then her voice gets suddenly tiny and trails off to a dark void. After a long, extended pause she returns: "That is still such a hard time frame for me to even talk about."
Conversation shifts back to the celebratory news of Lopes' forthcoming Reprise record, and she marvels at how he is handling the pressures of success. Still, she worries for him. "He's really not so used to all the attention, all the limelight," Alvarez says. "My son, he wears his emotions on his sleeve."
Also on Lopes' sleeve—well, OK, his right arm—is a string of six small, freshly tattooed hearts, one for himself and each of the five members of the Lovemakers, his other family: Derek Lynch (guitar), Jordan Moore (guitar, keyboards), David Baez-Lopez (bass guitar), Ben Lerch (drums) and Jmsey (keyboards, guitar), each of whom, he says, has the same tattoo set. While it's officially only Lopes who signed to Reprise, he is conscious of his responsibility to the group. "I produce everything, and I write everything," explains the vocalist, who plays multiple instruments, including the keyboard, saxophone and drums. The albums are his, and the group and he split the fees from live performances. "We just try to figure it out amongst ourselves and make sure that everyone feels appreciated and respected. This is a pretty weird thing for a band," he says of success. "It splits up a lot of bands."
Particularly key among the group is Lynch. The Lovemakers' lead guitarist, who lives in Oak Park, was born in Seattle before his family moved to Sacramento when he was 9. He describes meeting Lopes at an open mic—"a random one in Del Paso Heights"—back in 2016. "I was in a different band then," he says. "There were probably only like 10 people at this place. When I saw Frank perform, it definitely captivated me, you know? I think two months after that is when he finally came over to my house, and we've basically hung out almost every day since."
**********
PPerhaps inevitably, such being the arc of popular success, came the backlash, and it was and remains intense. In 2017, a local entertainment magazine put Hobo Johnson on its cover, dubbing him "The Pride of Oak Park." Soon after the "Peach Scone" clip—which was shot in Lynch's backyard in February 2018—went viral, the Sacramento chapter of Black Lives Matter publicly accused the artist (who is half Portuguese, a quarter Mexican and a quarter Native American) of cultural appropriation and called him on his short-lived association with the historically African-American neighborhood, where he was based for three years, demanding that the rapper delete his "Live from Oak Park" videos and "publicly inform his fans and all future fans and publications, that he is not from Oak Park."
"Me and my friends were like, 'This is f–king insane,' " he says of the magazine sobriquet. "It all stemmed from that, where they called me the pride of Oak Park, which is obviously not true. What I should have done in that moment was say something, but I just didn't." He describes it as a learning experience: "I have to understand that I have a public perception. It's not good enough to just talk to people I know. I have to make public statements." He eventually posted a lengthy apology on Facebook that yielded more than 5,000 likes and over 250 comments, the majority supportive.
Controversy hasn't been limited to his place of residence. Countless critics have pondered at length just why Hobo Johnson's alternately sloppy and crafted vocal stylings are so "polarizing," a word with which he is fast becoming synonymous. Case in point, this past April, the artist was named Best Local Musician in the annual "Best of Sac State" poll, but just a year earlier, an editorial in the school's student newspaper, The State Hornet, asserted that "Sacramento's most popular rapper really can't rap." A few months after the op-ed was published, the Chicago Tribune praised the "utter cacophony" of a Hobo Johnson concert thusly: "Everything was held together by this feeling of unbridled joy, the truly satisfying kind that happens when a person has created and executed their vision of their craft exactly—no matter what anyone else thinks of it."
And as 2018 was coming to an end, no less than New York magazine took it upon itself to question Hobo Johnson's lyrical focus on "unrequited female attraction." All of which said, the criticism didn't keep the publication from making a firm prediction in the form of the article's headline: "Hobo Johnson Is About to Be Huge."
"People just don't like me for some reason," Lopes says. "At first, I would get really, really sad about it. It always feels like whenever something good happens to me, like with 'Peach Scone,' the amount of sh-t that everyone talks is so disappointing to me. I'm a sensitive person, but now it's kind of forcing me to not be so sensitive and thin-skinned."
"At first, you're completely bewildered by everything. You don't even understand what's going on. It doesn't sink in," adds the musician of his sudden success and fame. "That's my goal this summer—to make all of my life right now sink in and really appreciate it."
As for what's further ahead in the world of Hobo Johnson, Lopes has the next three albums plotted out. "I was thinking," he says of the titles, "about doing 'The Rise,' 'The Fall,' 'The Revenge,' 'The Death.' Then after that, maybe I do something else."
For Lopes, that "something else" isn't merely music. He's looking bigger and broader. The kid who used to work in a pizzeria near a movie theater wants to move from short music videos to full-on feature films. In other words, Lopes wants to make movies—he's already working on a script, a biopic about the writing of his new album that would feature all 10 songs on it. And the blueprint for his prospective second career is just as fiercely independent as were his early albums. He cites none other than Shane Carruth—director of the mind-melting, low-budget (and, yes, polarizing) time-travel film Primer—as his role model. Carruth not only directed Primer and its follow-up, Upstream Color, but starred in them, wrote them, scored them, filmed them and produced them as well. "My eventual goal is to be like him," says Lopes, "like direct, maybe act. I don't know if I should do that, but director, writer, score [composer], director of photography. That's the ultimate piece of art, in my opinion."
In the meantime, there is The Fall of Hobo Johnson to finish, and a tour to get underway. On the horizon is a mid-June appearance at Bonnaroo, which also features Childish Gambino, Cardi B and Phish; then a July music festival outside Minneapolis, where he'll share the bill with acts like Aerosmith, Pitbull, Tim McGraw and Rascal Flatts; followed in August by Lollapalooza in Chicago and two major fests in England, both Reading and Leeds.
Of course, the hometown fans come first. Before that arena-scale activity is Hobo Johnson & the Lovemakers' June 7 headlining date for Concerts in the Park, where they previously performed in 2017 as an opening act. "Maybe I'll pull out the stops. They're pretty strict on how much crazy sh-t we can do. Last time, we tried to bring out a dominatrix to hit me onstage, but they didn't want us to do that," Lopes says.
Being a headliner may have its privileges, among them creative license, but it also means a whole new slate of responsibilities, something Lopes is all too conscious of.
"I'm in charge of a legit million-dollar business. I'm trying to make the best decisions for also me, but everyone else, and when to be selfless and when to be selfish. It's really hard," he says. "And the whole impostor syndrome is the weird one, where it's like I don't deserve any of this. I don't know. Who am I to be so lucky?"