The Future's So Bright
A local band goes country strong, landing on Country Music Television and opening for Willie Nelson and LeAnn Rimes. Now Attwater comes home for the holidays with a shiny new Christmas EP and takes Sacramento's biggest stage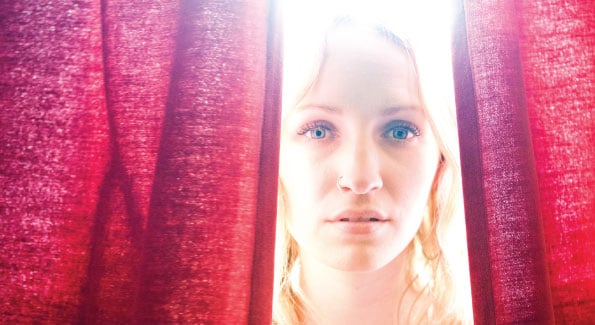 FFor up-and-coming Sacramento country band Attwater, it was beginning to look a bit
like Christmas way back in April. That's when they were holed up in a Nashville studio recording their holiday EP, Christmas. On the EP, which came out the second week of November, they are backed by musicians who've supported such genre heavies as Garth Brooks and Taylor Swift. Those sessions were just one of many quickly unfolding events that have, in under a year, taken Attwater from local gigs at Folsom's PowerHouse Pub and Old Sacramento's Laughs Unlimited to appearances on CMT (Country Music Television) and touring with Willie Nelson. In early 2012 they're slotted to play with LeAnn Rimes.
How did such a thing happen? It's a story of friendship, hard work … and Twitter.
The core of Attwater is the duo of singer Erika Attwater, 25, whose family name gave the band its moniker, and her co-songwriter, guitarist Jonathan Richards, 32. Erika was born and raised in Sacramento, whereas Jonathan, born in San Jose, moved to Elk Grove with his family in 1996 in time to finish high school. Both hail from artistic families. Jonathan's father played in small bands, while Erika's stepmother was in the Sacramento Ballet and her grandmother, whom she idolizes in a manner that is downright enchanting to witness in person, was an opera singer. Erika and Jonathan met as part of a large circle of friends, but, as she puts it, they were "in different stages of our lives." (Erika is single; Jonathan is married with three children.) Eventually they recognized that they took music more seriously than did the rest of their friends, and they dedicated themselves to doing so together.
Jonathan summarizes Attwater's fast-paced 2011, verbally pinching himself as he rattles off the victories: "One of the major ones is we signed with CAA, the global booking agency [which represents the likes of Bob Dylan, Faith Hill, Radiohead, Justin Timberlake,  and Kings of Leon]. We've celebrated that one frequently. That spawned doing three dates with Willie Nelson [in September]. And we get to [perform at a concert] at Power Balance Pavilion—17,000 seats! It is one of those dream places that you always think, 'Someday we'll get to play there.' "
"Someday" is Dec. 10, when Attwater shares that Power Balance "Country Christmas" bill with platinum-selling headliner Montgomery Gentry and American Idol alum Danny Gokey.
The band's rapid rise owes much to the efforts of Yuba City native Charlie Peacock, a producer, songwriter and musician who discovered Attwater and who is single-handedly shaping their career. Peacock moved to Nashville in 1989, and since then he has worked with Grammy winners Amy Grant and Switchfoot, among numerous other notables. In 2005, he and wife Andi began making a second home back in their hometown. One of Peacock's goals upon his return was to find a local Sacramento-area act to shepherd, and Attwater turned out to be that act.
This is where Twitter comes in. It was via Twitter that Attwater first contacted Peacock (in November 2010), and Peacock decided to reply to them, based largely on their Sacramento-area connection. After corresponding a bit, he requested to hear their music. "Erika's voice is what attracted me," he says. Peacock cites the common misconception that a strong voice is all that matters. "The question I ask is, 'Is it a voice for the time in which we live?' " As for Erika's, the answer was an immediate yes. Peacock likens Erika's potential to that of Bonnie Raitt. "I feel like Erika is a singer of songs, an interpreter of songs, and it's just a matter of time." As for Attwater as a whole, Peacock likens them to the chart-topping Zac Brown Band, who have had major success despite—or perhaps due to—pushing at the country genre's self-defined aesthetic constraints.
So far, country fans have experienced a few Attwater singles and videos, and next year a full-length debut will be released. (Having not yet signed with a major label, Attwater is weighing the benefits of releasing it independently.) In between comes Christmas, featuring five songs ranging from "Little Drummer Boy" to "O Holy Night." Says Erika, "The day after Thanksgiving, sometimes even before that, all the way through New Year's [Eve], most of the country music stations only play Christmas music. We thought it was advantageous to get something out [during that time]. Plus, we had really cool arrangements of some songs." It's a relaxing, downtempo affair, sure to appeal to country and holiday music fans. Its playful reworkings of familiar songs include a cover of Mariah Carey's "All I Want for Christmas Is You," which was featured in People magazine's Country Special issue in November.
The constant work has kept Erika and Jonathan busy as of late. They have spent as long as six weeks at a time in Nashville. "Honestly, I am a workaholic," says Erika, before adding, "I am OK with the distance for a time, but this is my Sacramento pride coming out: I am telling you at this point, not being in California, not being in Sacramento— since January I think I have been in Nashville more than anywhere else—I love my hometown. I appreciate it so much more now: the weather, the people, the art, the culture, the food—everything."
Jonathan butts in with a succinct "Amen." He says it's often asked of him when he's moving to Nashville. "Who knows what the distant future holds, but as far as I could tell, heck no. Giving up this," he says of Northern California life, "would be giving up a lot."
According to at least one experienced source, there's good reason for Attwater to continue to call Sacramento home: In the drawl-eat-drawl industry of country music, being from California provides something of a competitive advantage.
"Coming from the West Coast, they have the freedom to not know all the rules," says Stacey Cato, whose job as manager of music strategy at CMT involves selecting the less than 5 percent of videos submitted each year that actually make it on air—videos that now include Attwater's equally sultry and twangy "Never Gonna Happen."
Says Cato of Attwater's California sound, "They are not hindered by pre-conceived notions of what they are supposed to be or how they are supposed to be." He tells a story about watching the presidents of two major labels take in an Attwater concert. To emphasize the impression the band made on the top executives, Cato says, "Most of the time a record-label president watches about five minutes of a show and then walks out the back door."
As one of country music's gatekeepers, Cato knows the challenges Attwater faces. "This genre has a ton of female singers, a ton of blonde-headed female singers," he says. "But when you hear Erika's voice, it is completely different. She is like a prettier, younger Cameron Diaz with an Etta James type of voice. She's got blue-eyed soul, and that's not very common today."
The deep voice that Cato admires belies Erika's relative youth. The Christmas traditions of her childhood are still quite close at hand. "Candy Cane Lane!" she shouts without hesitation. The question was, "What is your favorite Sacramento Christmas tradition?" By Candy Cane Lane, Erika is referring to the residential street in Orangevale that each year is decked out, one house after another, with extravagant holiday lights. "My family is from Citrus Heights, and that's actually where I live right now," she says. "Candy Cane Lane is on Dovewood Court. We always go there." Who knows? Perhaps this year some of those decked-out homes will be playing the same holiday classics but with a decidedly new twangy take. S