The Great Sacramento Beer Boom of 2018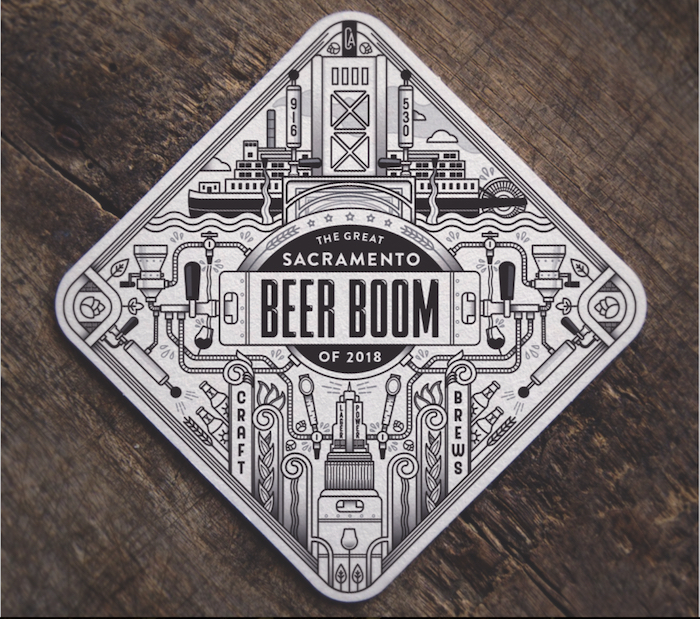 If you're a beer lover (or even a mere beer liker), there's never been a better time to soak up the suds, with yet another pub popping up seemingly every week around town. Have foam FOMO? Here are 10 cool new places to grab a pint, from Ruhstaller's underground downtown bar to the moxie-infused Moksa brewery in Rocklin. Hop to it—it's always beer o'clock somewhere in Sacramento.
Moksa
Moksa is a derivative of the word meaning "liberation" in Sanskrit, and that sense of creative freedom pervades the namesake Rocklin brewery, which opened in February. Beers never last more than two or three weeks here, as head brewers Derek Gallanosa (former brewmaster of San Diego's Abnormal Beer Co.) and Cory Meyer (who left New Glory Craft Brewery last year) have a knack for churning out one unique quaff after another, such as the My Rye'd or Die, an unfiltered wheated rye pale ale, and the Turbinator 2: Judgement Haze, a double IPA with Galaxy and Citra hops. And every Tuesday, a beer on the menu gets infused with fruits, vegetables, herbs or cocoa nibs—recent variations have included Rocklin Ale with watermelon, 3-Ply triple IPA with white peaches and Shiny Bubble, a dry-hopped brut IPA with fresh kiwi.
"Find your path, find your freedom," Scott Williams, co-owner of Moksa Brewing Co. with Nu Boonkham, says of the company's motto. "That [idea] was actually part of what drew Derek and Cory to Moksa. They were going to have the freedom to come up with the beers that they wanted to make."
Sometimes letting the inmates run the asylum pays off. In fact, these one-and-done offerings are so coveted that a fan group calling themselves the Moksa Mafia have started a Facebook page just to keep tabs on what's on tap. New releases tend to draw huge crowds to the cavernous space, shiny with marquee lights and a polished concrete floor. But if you see something that looks tempting on social media, don't delay. "We canned 50 cases of a beer called Shaved Ice," says Williams, "and it sold out in a couple of hours." That's the mob mentality for ya. 5860 Pacific St. Rocklin. 916-824-1366. moksabrewing.com —Vu Chau
Device
The wonderful thing about Device Brewing Company's taproom in the Ice Blocks, which opened in June, is that none of the people packing the bright, airy room is out for a special evening. Each and every one of the happy, animated faces contributing to the gentle roar of chatter spilling out onto the patio—hipster, government worker, bike commuter, yoga mom—is just going about his or her day in a way that is so urban and essential that it feels like a way of life that's been going on for decades. This is pub life, and it's glorious. Once you begin to frequent Device, expect your other living room—the one at home—to see a lot less use.
From the gallery-white walls framed in rough-hewn wood and aluminum to the big overhead menu touting only beer, everything here is stripped down and breathtakingly simple by design. Food trucks may stop by, or you're welcome to bring your own dinner (weather permitting, we recommend sipping and supping on the patio that looks out onto one of the city's most striking murals, a jazzy tone poem by San Francisco artist Brian Barneclo), but this midtown watering hole proves that in the right setting, and with the right lubricant, we're all perfectly capable of being the entertainment.
Speaking of the liquid gold, the brewery, which was founded in 2013 by husband-and-wife team Ken and Melissa Anthony, stands out from the crowd as one of the most distinguished entries in the hopping local IPA scene—it's known for producing textbook examples of every variation on the style, including the flagship Integral IPA with stone fruit, melon and citrus notes. But if you're not a hop head, worry not, as the straw-colored Pincushion Pils goes down like a nap in a summery hay loft, and the Brits in Moscow, a Russian imperial stout, is as broodingly complex as a tale from Dostoyevsky. Device's wittily named brews are also available to go via growler fills or cans with labels by local artist Paul Rios (Curious Haze sports a riff on Curious George, and Kid Casual a Huck Finn-like character floating down the American River on an inner tube), so feel free to pop in for a pint, or a six pack to take back to your other living room. 1610 R St. 916-661-6804. devicebrewing.com —Hillary Louise Johnson
Alaro
Alaro Craft Brewery, named after a castle on an island off the eastern coast of Spain, puts a fresh European spin on the brewpub concept, marrying an inventive tapas menu with a range of eight beers as crisp and clean as anything you'd find on the Costa Brava.
"Lord of the Castle" Ray Ballestero and his "Lady of the Castle" Annette opened their midtown hot spot in June, bringing decades of brewing experience to the Mediterranean table. Ray has been home brewing beers for more than 35 years, while Annette co-founded River City Brewing Company with her brother in 1993.
Alaro, cozy and warm as an Iberian villa with various shades of brick and rustic wood furniture—the space previously housed Rubicon Brewing Company—is best experienced in a group, the better to pile your plates high with executive chef Jason Azevedo's riotous variety of tapas, like the popular clams and chorizo with sofrito, garlic and sherry vinegar; the zesty gambas al ajillo (garlic shrimp) with paprika and lemon; and the P.L.T. (porchetta, lettuce and tomato) sandwich, all of which nestle on blue ceramic plates and bowls custom-made by a group of artisans in Tunisia.
"That's the fun part of it, seeing that community bar with different sizes of plates and different glassware in different colors, and everyone sharing food and laughing," says Ray.
And with so many flavors on the table, feel free to pair promiscuously with a selection of classics made with hand-malted grains, such as organic barley grown in the Sacramento Valley, and carefully sourced hops. Try a pint of the creamy La Luna oat stout with strong notes of coffee, the Bennett Cali pale ale with hints of toast, peanut butter and honey, or the La Boheme, an exemplar of the notoriously difficult-to-master Bohemian pilsner that head brewer Chris Keeton, who completed UC Davis' master brewers program and spent five years with Rubicon, plans to keep on the menu indefinitely. For his part, Ray says that his favorite Alaro beer is the Castillo: "It's a West Coast IPA beer that I've brewed at home for probably the last 15 years—it's very personal to me." He recommends pairing the spicy ale with the gambas or the clams and chorizo, adding, "My wife and I really love the sense of community that food and beer can bring." 2004 Capitol Ave. 916-436-7711. alarobrewing.com —V.C.
Ruhstaller
If you think of modern taprooms as clamorous industrial spaces teeming with bikes, kids and dogs (and adults who really, really need a drink), then Ruhstaller's new basement lair—which launched in August, the first retail space to open in The Hardin complex on the 700 block of K Street—will have you thinking again. The long, low space is lit with a beery, golden glow that seeps through translucent walls of cleverly stacked beer bottles and shines out of jewel cases showcasing memorabilia from Sacramento's sudsy past (pre-Prohibition, ours was the largest hop-growing region in America). The joint feels like an old-timey saloon, full of nooks fit for canoodling (the beer goggles are free).
"A friend of mine [once] said, 'Sacramento is like this big hug,' " says owner J-E Paino, whose brewery is named after a legendary Gold Rush figure, beer maker Captain Frank Ruhstaller. "That's what we want this place to be like."
Ruhstaller's Dixon farm, with its avant-garde roadside signage and rows of climbing hops, has been a familiar sight to those traveling down 80 toward the Bay Area. Fans of it will appreciate the rustic downtown patio that spills onto K Street, where patrons can sample one of 18 brews on tap—from mainstays like the 1881, made with local hops, and the roasty Capt. California Black IPA to seasonal offerings like Dirt Triple Crown Blackberry IPA—while watching folks come and go from the nearby Golden 1 Center.
In keeping with its historic theme, Paino notes that the TV-free taproom won't be broadcasting sporting events "unless the Kings make the playoffs." Instead, the room has more of a speakeasy vibe, with wood paneling from pallet crates and cozy sofas for lounging. Ruhstaller aims for the comfort level of a coffee shop where you've grown accustomed to whiling away your day, and Paino encourages patrons with laptops to come camp out. Just don't expect to get a huge amount of work done if you're tasting the wares. "It might be a better place to come pretend to work," he says with a smile. 726 K St. 916-447-1881. ruhstallerbeer.com —H.L.J.
Burning Barrel
With the arrival of Burning Barrel Brewing Co., Rancho Cordova's burgeoning Barrel District may have reached that magical tipping point where a scene is born—just ask the nearly 1,000 people who showed up for the brewery's grand opening in July.
Burning Barrel elevates the taproom concept with over-the-top attention to detail. It's owned by the Alexander family, parents Jack and Kirsten and son Duncan; father and son spent two years lovingly crafting everything from the nifty wood flight holders with steel handles to the metalwork signage and the tasting room's communal high-top tables carved from a pine tree out of El Dorado County that was felled by bark beetles. Presiding over all is an arresting floor-to-ceiling mural by Sacramento artist Stephen Williams of a glowing bison (with fur made of hop cones and leaves) exploding out of a barrel.
That handmade ethos extends to the ever-changing rotation of brews like the recent fruity and tart Monaco kettle sour ale and Golden Daydreams, a rich stout with coffee and chocolate notes and a deceptively flaxen hue (Duncan says he and head brewer Jason Williams, formerly of Sacramento's New Glory Craft Brewery, plan to never brew the same beer twice). This fall marks the debut of the Dessert Before Dinner imperial porter, made with lady fingers, cacao nibs from locally based Cru Chocolate, and a few secret ingredients. "In the wintertime, we'll make the slower drinking beers that people would want to take to a cabin," Duncan says.
The element of surprise seems to have built an early following. "We've had people say, 'This is now our favorite brewery in Sacramento,' " Duncan adds. "It's nice that Rancho is becoming a destination. The response has been better than we'd ever imagined." 11210 Sun Center Dr. Rancho Cordova. 916-382-4846. burningbarrelbrewco.com —Jessica Rine
Out of Bounds
"We wanted to first get the beer right and perfect our trade, but we always wanted to do something that was an outdoor space," says Eric Johnson of opening Out of Bounds Craft Kitchen and Biergarten in April, five years after launching the namesake Rocklin brewery.
While most taprooms are content to string up some Edison bulbs and call it an industrial-chic day, for this Folsom spin-off, Johnson—along with his partners Anthony Brown and Kevin Brooks—enlisted interior designer Whitney Johnson (no relation) of MTA Hospitality, who has created the look of hot spots like East Sacramento's Kru and midtown's Hook & Ladder, to turn the 5,500-square-foot interior and 10,000-square-foot patio into a brewtastic wonderland.
"We wanted a ski lodge vibe," says Eric. Think big wood doors, exposed brick walls hung with Johnny Cash photographs, couches and fireplaces inside, and Adirondack chairs ranged around firepits outside, overlooked by redwoods, where you can lounge between rounds of bocce ball and cornhole to the tune of a Tom Petty cover band.
Chef Billy Hartzell's gastropub fare is just as whimsical as the décor: Order, if you dare, a ginormous Pretzilla, a foot-tall hunk of twisted bread that comes with its own stand, or the Hangry Chicken Wings with "ring of fire" sauce. And be sure to bring a friend or two so you can try the taster wheel, a huge wooden lazy Susan bearing a dozen 4-ounce pours of Out of Bounds' on-tap selections, like the signature Grapefruit Double IPA or Graham Cracker nitro stout. Go ahead, give it a whirl. 13407 Folsom Blvd. Folsom. 916-357-5250. outofboundsbrewing.com —J.R.
Red Bus
Folsom's first brewery to open since 1880 has an unusual mascot: a 1968 red-and-white Volkswagen bus. "I grew up with Volkswagens," says proprietor Erik Schmid, who also owns the adjacent brewing and winemaking supply store Brewmeister. "We had a '67 bug, we had Rabbits and Jettas. I've always been a Volkswagen guy."
The nostalgic theme has resonated. On the opening weekend of Red Bus Brewing Company in February, a group of eight Volkswagen bus owners drove 50 miles or more to check out jalopy-themed brews like the Smog Exempt IPA, or a double IPA called, of course, Gross Polluter. A dark, thick chocolate-bourbon-coffee porter is named 8W-50, a play on motor oil weights. Head brewer Nik Stevens also specializes in European-style lagers, ales, pilsners and bocks, including one of our favorites, the Hot Altes Nights, a German pale ale with an appealing amber color and just the right amount of hops to lend a slight bitter flavor that doesn't cross over into piney IPA territory.
The auto-inspired décor includes license plate pendant lamps and vintage travel posters, as well as a replica of a Volkswagen bus' backside littered with bumper stickers. "I would drive my VW bus around town and see the reactions I'd get from people—it was all smiles and a lot of stories," Schmid says. "Beer is supposed to be fun. I thought, 'That is the kind of vibe I want in my brewery.'" 802 Reading St. Folsom. 916-467-7790. redbusbrew.com —J.R.
Urban Roots
If you're one of the region's new crop of urban farmers in spiffy roll-cuffed jeans—or just dress like one on the weekends—you know there's nothing more quenching after a hard day than a long pull on a rustic saison, a mellow farmhouse ale that's typically unfiltered and often brewed with native ingredients and wild yeasts. This is the stuff vintners in Napa traditionally love to down at the end of a long, hot harvest session.
Ten years ago, brewmasters chasing ever-higher IBUs only occasionally bothered to throw together a small batch of the style, but that's when Rob Archie, owner of Curtis Park's Pangaea Bier Cafe, and Peter Hoey, former head brewer for Sacramento Brewing Company, bonded over their love of the overlooked varietal. And this past May, the longtime beer buddies opened Urban Roots Brewing & Smokehouse, resplendent with earthy saisons that happen to pair perfectly with the heaps of succulent, charred ribs, brisket and turkey and authentic Southern sides (think sweet yams and collard greens) that pour out of the smokehouse on aluminum trays.
The heart of this downtown indoor-outdoor biergarten is an expansive 3,300-square-foot patio that features rows of farm tables beneath an eye-grabbing I Spy-esque mural by local graphic designer Lily Therens. Not sure you're a farmhand manqué? Hoey keeps a wide array of styles on tap, from the malty Luna de Miel (a Mexican amber lager that Hoey first brewed for his 2007 wedding) to the Like Riding a Bike IPA, which earned a gold medal at this year's California State Fair. According to Hoey, the hottest variety in beer these days is variety itself. "People don't walk into a bar and ask for their favorite beer anymore," he says. "They walk in and ask for what's new." 1322 V St. 916-706-3741. urbanrootsbrewing.com —J.R.
The Other Side
Succulent rotisserie chicken and whole-roasted cauliflower are among the reimagined brewpub fare created by chef Oliver Ridgeway for Track 7's new East Sacramento restaurant-taphouse, which opened in July and is named for the answer to the age-old question, "Why did the chicken cross the road?"
"We wanted to play up the natural community element of food and beer. What's better to share with your friends and family than a perfectly roasted chicken? Nothing, really," says Ridgeway, who took on The Other Side's menu planning during a six-month break between leaving his post as executive chef of Grange and devoting his attention to his solo venture, Camden Spit & Larder, set to open in October. (He's since handed the reins at The Other Side to executive chef Noah Mansfield, formerly of Empress Tavern and Hook & Ladder.)
Track 7 co-owner Ryan Graham wanted a different kind of fast-casual eatery in the neighborhood, where he lives with his wife Jeanna, the brewery's events director, and their kids, but felt the whole taproom-in-a-warehouse concept—Track 7's Curtis Park and Natomas outposts, for example—was running its course. "Time to grow up," he says. "We have families now." While The Other Side doesn't stray far from industrial aesthetics—the former Les Baux space was gutted and refreshed with clean white walls, shiny exposed duct work and, of course, a showpiece stainless-steel rotisserie—the cuisine appeals to a discerning palate, but has the warmth and familiarity of the family table. That is, if your family table happened to be in close proximity to a slick tap wall pouring two ciders and eight draught beers with varying degrees of bitterness and body, from Track 7's beachy Bee Line honey blonde to its chocolate peanut butter Nukin' Futz porter—good sync-ups with the fish and chips and the chocolate cake trifle, respectively.
The signature rotisserie chicken, seasoned with Ridgeway's secret blend of nine herbs and spices is served with scratch-made sauces, such as yogurt ranch dressing and harissa ketchup (try it with the crisp new Pullet pilsner or the surprisingly light Hoppy Palm pale ale). Fresh vegetables, sourced from local farms, are strongly represented here, from seasonal salads to that whole-roasted cauliflower, blanched in house-made vegetable stock and doused in olive oil before getting a quick blast at a searing temperature. The Panic cheese sauce—a velvety beer cheese infused with the brewery's signature Panic IPA—seems destined for cult status, with customers ordering their brisket-chuck-and-short-rib burgers "Panic style." Ridgeway is in awe of such a calorific indulgence. "You should get a medal for that," he says. 5090 Folsom Blvd. 916-475-1875. track7brewing.com —Leilani Marie Labong
Burgers & Brewhouse
If you're anything like us, you walk around the city looking at all the bare, unused rooftops and thirstily picture them getting made over as cheery beer gardens. That's exactly the fantasy Burgers & Brewhouse brought to life in June, in a tri-level midtown building with an open-air bar. The new mothership from the folks behind the Burgers & Brew and Crepeville chains is the perfect spot to unwind for happy hour or to linger into the wee hours.
If it's too hot or cool to sit outside, you can play a game of giant Jenga in the basement taproom while sampling the wares, or catch a game on one of eight flat screens on the main floor. With a food menu identical to that of Burgers & Brew, you can order up your favorite lamburger or buffalo blue fries, along with a pint pulled from one of 30 taps.
But by all means, take it to the top if you can, and grab one of the bright orange stools at the counter that ring the rooftop perch. Sure, it's only three floors up, so there's not much of a skyline view, but J Street looks lovely through the flickering light of firepits hung outboard like flower boxes, a design detail that ensures every hour here is magic hour.
Wait, did we say taproom? Yep, with its latest establishment, the company has added in-house beer making to its repertoire, and brewmaster Brendan Megowan is whipping up winners like the aptly named Juicy IPA. "Our brewery is called Sacrament Brewing, like Sacramento without the 'o,' " says Derar Zawaydeh, who owns the restaurant group with his brother Philippe Masoud. "The 'oh!' is in the beer—that's our motto." 1616 J St. 916-492-2850. burgersbrew.com —H.L.J.