The Lyon King
The former chef-owner of the Zagat dining guide's highest-rated restaurant in the Sacramento region, La Bonne Soupe Café, is back in business with a cozy new boîte in Folsom.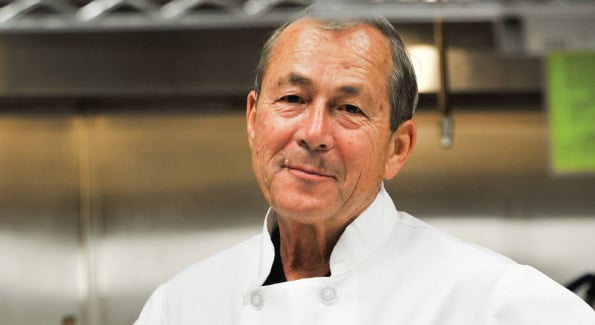 Chez Daniel
49 Natoma St
Folsom, CA 95630
(916) 353-1938
R
D
Daniel Pont is minutes away from opening his new restaurant, Chez Daniel, in Folsom, when a customer calls to make a reservation. "La Bonne Soupe," he answers in his pleasing French accent before quickly catching his error. "I'm sorry, Chez Daniel."
Monsieur Pont can be forgiven for instinctively speaking the name of his former cafe, which he ran for six years in downtown Sacramento before selling it this past May. The cafe was, quite simply, consuming. After all, he wasn't just the chef; he was a culinary one-man band—prepping the food, taking the orders and even washing the dishes, all while serving up simple but sophisticated French soups and sandwiches in a bite-sized space in the middle of a nondescript block on 8th Street between I and J.
And he was as close to an overnight success as you can get.
It wasn't because of his impressive culinary pedigree. In fact, when he opened, no one in Sacramento knew about that. Nor was it due to his gentle charm and quick smile (though both are in ample supply; no infamous French rudeness here). No, it was because on his third day of business, then-KFBK—and now Fox News—radio host Tom Sullivan wandered into Pont's tiny new cafe near his office and ordered his French onion soup.
Sullivan left so impressed that he went on the radio that day and raved about Pont's soup.
"The same day, there was a line all the way to J Street," says Pont. "And from that day, it never stopped."
In fact, his reputation only grew. Three years later, in 2008, Pont's tiny cafe was given the single highest food rating—29 out of 30—in the Sacramento region by the Zagat dining survey, edging out celebrated, high-profile restaurants like Ella, The Waterboy, Biba and Mulvaney's.
But it almost didn't happen.
The team at New York-based Zagat, which has published its iconic burgundy-colored restaurant guide since 1979 (and was recently bought by Google for $151 million), had never given the top spot in any city guide to a one-man cafe. The question was raised: Could this really be allowed? In the end, Tim Zagat himself made the call that it could and should. The result was a lot more press, and a clientele that began to stretch far beyond the typical office lunch crowd radius.
But in early 2011, at age 72, Pont decided to sell the cafe and was "60 percent" sure that he would retire. He and his wife Asta have a home in Natomas' Heritage Park community, and he wanted to spend more time with his daughter and grandchildren. There was just one problem: He's a Virgo. "For a Virgo, the sun never sets," he laughs. "We work 24/7. We are workaholics, and I am a perfect Virgo."
Despite La Bonne Soupe's runaway success, the casual one-man concept was in sharp contrast to much of Pont's career, which included stints at some of the most prestigious restaurants in Chicago, Phoenix, San Francisco and Beverly Hills. But he had also owned several small eateries, and soon he found himself yearning for a full-service restaurant again, serving traditional French cuisine in an upscale atmosphere.
But where?
At first, Pont planned to stay in Sacramento, but after several attempts to find the right location didn't pan out, he settled on Folsom to be closer to his daughter and young grandchildren who live there. He found a small space in a strip mall—wedged in between a dry cleaner and a beauty salon, across the street from Folsom's City Hall—that had previously housed a small cafe and, before that, a catering company. It had a great kitchen, and space for nine tables (up from six at La Bonne Soupe)—the perfect size for him. And while he still planned to be a one-man show in the kitchen (from prep and cooking to the tiniest details like hand-shaving the elegant butter balls for the bread service), he wanted a more sophisticated dining experience, and so enlisted former Slocum House general manager Alain Foisy to run the front of the house (though Asta plays hostess on weekends), and one part-time dishwasher.
The décor is restrained elegance: white walls, dark wood-framed mirrors, and a few Toulouse Lautrec prints for color. But it's what's on the tables that make a statement that's deceptively simple yet embodies the physical representation of Pont's philosophy on service and elegance: white tablecloths. "A white tablecloth to me is like a beautiful woman," explains Pont. "You put jewelry on her and beautiful clothes. A tablecloth dresses the restaurant." If the flatware and dishes are the jewelry, the lipstick is the single red rose in a small glass vase on every table.
Even at La Bonne Soupe, where a prosciutto and brie sandwich only set customers back $6 and there was no wait service, every table had a white tablecloth. "In my opinion," says Pont, "my food is more appealing served on a white tablecloth than a piece of wood."
The truth is, Pont needs no such artifice for his food, whether it's a ham sandwich or a rack of lamb. But to be clear, there are no sandwiches at Chez Daniel. In fact, there's no lunch, at least not yet. Pont has decided to begin with dinner service only and see how it goes. It's a "destination restaurant," he says, but his intention is lost in translation. He doesn't mean that it's so expensive and exclusive that it demands a special occasion, although it certainly achieves that level of quality. No, what he means is that it's in a strip mall with no pedestrian traffic; you physically need to drive there. It's a "destination" by simple virtue of its geography. "I don't see any people around here," he explains.
At first glance the menu suggests a destination restaurant in the more contemporary sense: i.e., expensive. The prawns and scallops with lobster cognac sauce: $28. The rack of lamb provençale: $30. But look closer and you'll find that the soup is included; your choice of a creamy vegetable soup (or a potage, as Pont insists) or the famous French onion soup that started all the fuss in the first place. The next course, a full-plate-sized mixed green salad with a delicious French vinaigrette dressing, is also included. And, after the entrée—which is served with his signature potatoes au gratin, along with two vegetables, which recently included steamed string beans and sautéed carrots—dessert is also included. Suddenly, that $28 for a four-course meal cooked by a highly rated French chef seems like a steal.
And with dishes like a small New York steak with caramelized onions, the poached salmon, and braised rabbit with rosemary and mustard sauce, the menu is as aggressively anachronistic as Pont himself, filled with classic French dishes that might have appeared on a menu in his native Lyon in the 1940s when he was a boy. Not that he was anywhere near a fine dining menu as a boy. "During World War II, we lived for six months in 8-foot-deep trenches. The Germans were bombarding us all night; we couldn't sleep." So the family cooked all of their own food and Daniel learned the culinary arts at a very young age. "I was roasting coffee and making butter at 8 years old," he says.
"The food is old-fashioned food," he allows of his style. "My grandmother's food, if you wish." In fact, he says his French onion soup is made exactly the way she made it for him, with a dollop of Gruyère cheese on top of a freshly cut slice of French bread that floats on the perfectly seasoned dish. "I don't cut the bread until you order the soup, so the bread is still moist," he says, explaining that many restaurants slice up their baguettes early in the morning for efficiency's sake, leaving the crouton stale by the time it gets to your soup.
It's an example that's emblematic of his attitude toward cooking. On their own, the dishes are hardly trendy, but it's the preparation and attention to detail that make the difference. Pont creates all of his own sauces from scratch, and any connoisseur of good French food knows the importance of the sauces.
"I don't put any flour in my sauce," he says. "There's no roux; roux is not part of my vocabulary. I use wine reduction as much as I can. There's no flour in my soup either. Starch is natural in certain vegetables, and once you have made a few hundred thousand soups, you know which ones to use."
The sauce in the pork tenderloin with apples and cider is sparingly used, but so sweet and savory that you may need to ask for extra bread to soak up each remaining droplet.
His desserts are equally old school, with a repertoire that includes crème caramel, cherries jubilee, crème brûlée and chocolate mousse. "They've been around for centuries," he shrugs. "What's wrong with that?"
And while many of his dishes may, in fact, date back centuries, as a restaurateur, his goal with Chez Daniel is to return to the 1960s and '70s, a golden age of restaurants, he says, when the focus was on the food and service, not the décor or the fancy bar. It was in the '60s that Pont landed in his first restaurant in the United States, the famed Maxim's de Paris in Chicago, as a senior waiter.
From there, after a brief stint as a maître d' in New Orleans, he found his way to California in 1964, when he worked as the maître d' at the celebrated Jack's Restaurant from 1969 to 1974, and he counted as his customers bold-faced names like Chronicle columnist (and Sacramento native) Herb Caen, former governor Pat Brown, and notably, author Truman Capote. In a remarkably accurate impression of Capote's distinctive, high-pitched southern accent, Pont recalls the famed author saying to him things like, "Daniel, what's happening? My table is not ready? How come? That's all right, you're a nice-looking boy anyway."
"I learned a lot from the owner," says Pont, referring to Jack Redinger, who owned the restaurant for many years but was not the Jack for which it is named (the restaurant first opened in 1864). "I learned that you don't have to be fancy about the way you cut your vegetables and the way you present your food. The only things that count in a restaurant is the atmosphere, being congenial to your customers, showcasing the food and keeping your price reasonable. There was nothing fancy about Jack's."
The influence shows at Chez Daniel, where Pont takes quick breaks between cooking to venture into the dining room and greet customers. And it's not just a quick hello to ask if the food is OK; he engages them because he's genuinely interested in who they are and appreciative of their patronage, but never overstays his welcome, partly out of a desire to not be intrusive, but also because he knows that when he's not in the kitchen, no one is.
"I also learned from [Redinger] that you don't retire, you die in the kitchen," laughs Pont. "The owner worked until he was 85 years old."
Deciding that if he were, in fact, to die in a kitchen, that he wanted it to be his own, Pont left Jack's and opened his first restaurant in Alameda in 1975. The name: Chez Daniel. "That's why I called this one Chez Daniel," he says, referring to the Folsom location. "Because this is my last [restaurant]; so the first and last ones have the same name and same concept—a four-course dinner."
But four years into running his own place, Pont was spooked by a Bay Area quake in 1979, and worried about the safety of his wife and young daughter. He lived in San Francisco's Marina District at the time and remembers grabbing his daughter and running under a doorway arch in their home. Suddenly, he wanted out of California.
So he packed up the family and moved to Arizona, where he ended up as the GM of a highly rated restaurant called A Different Pointe of View (which has since been purchased by Hilton Hotels). Pont says the owner there taught his staff to never rest on their laurels, but to always keep improving.
Pont recalls a poster in the boss's office that resonates with him to this day. It read, "I'm so far behind that sometimes I think I'm first," Pont says. "That's how I feel." He recognizes that his philosophies on cooking and service are old-fashioned by today's standards, "but it works for me."
After a few years there, Pont felt himself ready for a change again, and in the early '80s, he landed a coveted position as the maître d' of Beverly Hill's legendary Scandia Restaurant on Sunset Boulevard, then a magnet for Hollywood royalty.
Pont's customers included Michael Jackson ("He was very nice," says Pont, recalling that the King of Pop stepped into the kitchen briefly to thank the staff), Dean Martin and Sammy Davis Jr. ("Money destroyed their brains," says Pont, citing their rudeness), and one very intoxicated Elizabeth Taylor. One night, he recalls, Sammy Davis was dining with his wife, along with Taylor. Davis asked Pont to find an orchid for Taylor at 7 p.m. on a Saturday night. "You can't say no, right?" Pont asks now. He told Davis he'd do his best. So Pont spent nearly two hours searching for an orchid until he found one and brought it to the table. "[Davis] didn't say thank you or give me a tip," recalls Pont.
After Scandia, he knew he would never apply for a job again. "I knew I would always own my own restaurant from then on."
And since 1985, he has done just that.
For the next 20 years or so, Pont owned and operated two Bay Area restaurants—each for about a decade—both as modest as the new Chez Daniel in Folsom. The first, Le Maconnais, was squeezed into a small house next to a discount auto shop in Hayward. The second, La Maison, was located in Castro Valley next to a trailer park and across the street from a Long's drugstore. But despite their humble surroundings, both, of course, had white tablecloths, and the focus, as always, was on the food.
"It would seem he doesn't care a whit about glamour and prestige," wrote one critic of La Maison in The San Francisco Examiner. "His expertise and culinary wisdom speak for themselves in each and every element of his cuisine. … I didn't rush to La Maison, but when I finally did sit myself down in this charming little dining room and slipped one spoonful of soup into my mouth, I was sorry I'd waited even one day."
Happily, his loyal former patrons at La Bonne Soupe Café no longer need to wait one more day. Daniel Pont is back at work and busier than ever, starting each day at 7 a.m., then heading out to shop for food, beginning his prep work by mid-morning, and working straight through until he locks the door at Chez Daniel around 10 p.m. before driving 45 minutes home to Natomas, five nights a week.
While most people are wrapping up their careers at age 73, he's starting fresh once again, looking forward to each day. "I love what I do," he says. "I love the smell of my food; I love the smiles on my customers faces. This is my life."