The Other Red "Meat"
The newest breed of vegan burgers popping up on restaurant menus around the region are so juicy and, well, meaty, they won't have you wondering, "Where's the beef?"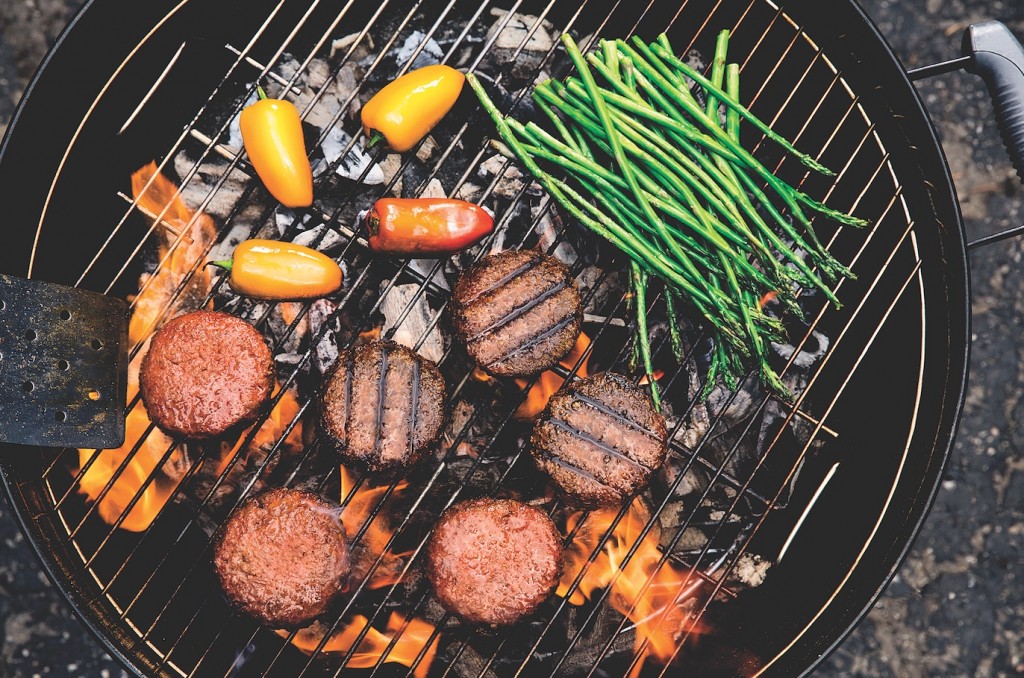 TThere's no denying it—Sacramento is a burger town.
"We have burger battles, for crying out loud," says Marvin Maldonado, owner of Federalist Public House. "We rally around restaurants that have fantastic burger offerings." And our tastes cover a vast range, everything from Squeeze Burger's signature version with its outflowing cheese skirt to Empress Tavern's iteration with two patties, mortadella sausage, onion relish and cheddar cheese, which won judges' choice in the aforementioned annual cook-off this past September.
So when husband-wife team Phil and Danea Horn held a pop-up last May in midtown for The Burger Patch, their upcoming meat-free fast food joint, curious diners showed up in droves and waited for up to three hours to nab a vegan burger featuring the Los Angeles-based Beyond Meat's plant-based patty. (The Horns are hoping to open a permanent location later this year.)
As that lengthy wait time indicates, we're not talking about your garden-variety veggie burger here. There are two upstarts that are shaking up the food industry: Beyond Meat, which began showing up in grocery stores like Raley's and Whole Foods last summer, and Impossible Foods, which is based in Redwood City and started rolling out in burger chains like Umami Burger and restaurants like San Francisco's Jardinière in 2016. Both make 100 percent plant-based products that mimic the look, texture and taste of beef to an eerie degree.
"Trying to explain that to people is almost impossible—no pun [intended]," says Fred Haines, the executive chef and co-owner of SRO, Inc., who introduced the Impossible Burger at three of his restaurants—Wildwood Kitchen & Bar, 33rd Street Bistro and Bistro 33 in Davis—in September.
Indeed, Impossible and Beyond burgers do sizzle and have a crispy, charred exterior when cooked. The "meat" crumbles like ground beef and retains a pinkish hue in the middle of the patty. (Impossible's potato-and-wheat patty uses an iron compound called heme with genetically engineered yeast to create the beefy flavor and mouthfeel, while Beyond's version is largely made of pea proteins and uses beet juice extract for that perfect medium-rare color.) In fact, the imitation products are so similar to the real thing, it may cause some non-meat eaters to, well, have a cow.
"I'm a meat eater and I'll never eat a real burger again. [But] when you get a die-hard vegan who is trying the Impossible Burger for the first time, [the reaction] is a bit binary," says Maldonado, who started offering it every Thursday at his midtown pizza place in October and layers his completely vegan burgers with toppings like tofu cheese, beer-battered onion rings, maple barbecue sauce and house-made peppered facon (fake bacon). "This stuff is so much like meat that most vegans won't eat it. It's almost too real."
"We had a lady send it back to us, saying that we were lying and giving her beef," adds Haines, recounting a diner's response at Wildwood, where his Impossible burgers have been otherwise popular, with orders of more than 500 a month. "We were like, 'We swear, it's 100 percent plant-based.' She wouldn't believe us."
While some might find the primal resemblance off-putting, other herbivores have been excitedly reconnecting with a food that would otherwise be off-limits. Eben Mahoney, the director of operations for Dad's Kitchen in Land Park, who hasn't eaten beef for about 20 years, says his first bite of the Beyond Burger—which got permanent placement on Dad's menu in December—evoked fond memories. (Local burger mecca Broderick also offers Beyond patties, with vegan cheese and vegan bun, in their West Sacramento, midtown and Roseville locations.)
"You grow up eating hamburgers your whole life and to taste something that has that grilled meat [flavor]—it was pretty amazing," Mahoney says. "I asked [the chef] to make it so it was actually overdone. That was how my grandma would do it. I was teary-eyed. It was such an American moment for me."
For carnivores, these meatless burgers offer a healthier, more sustainable substitute for beef. "As Americans, we love our burgers," says Maldonado, whose vegan version tends to sell out at Federalist during the weekly pop-ups. "And if we are going to love our burger, let's do it with a product that is more environmentally conscious."
In a 2016 report, the World Resources Institute stated that "beef uses more land and freshwater and generates more greenhouse gas emissions per unit of protein than any other commonly consumed food." The notion that cultivating plant-based "meat" could significantly affect the environment has drawn investors like Bill Gates and Leonardo DiCaprio to Beyond Meat and Impossible Foods.
And with Gen Xers and millennials driving the need for more earth-friendly, plant-based foods, the number of consumers adopting vegan diets has skyrocketed in recent years and continues to rise. The New York-based market research group 1010 Data recently reported that plant-based product sales in America have nearly tripled since 2016, and predicts that veganism will be one of the country's biggest food trends this year. Even the largest meat suppliers and buyers—such as chicken giant Tyson, which invested $55 million in Beyond last year, and McDonald's, which debuted its McVegan burger in Sweden and Finland in December—are scrambling to meet demand.
So it's only fitting that with Sacramento's status as America's Farm-to-Fork Capital, local restaurateurs are eager to bring the sizzle too. At this rate, it won't be long before the staunchest traditionalists jump on the beef-free bandwagon. One juicy burger, please—hold the meat.