The Patriot plans July opening at Carmichael's Milagro Centre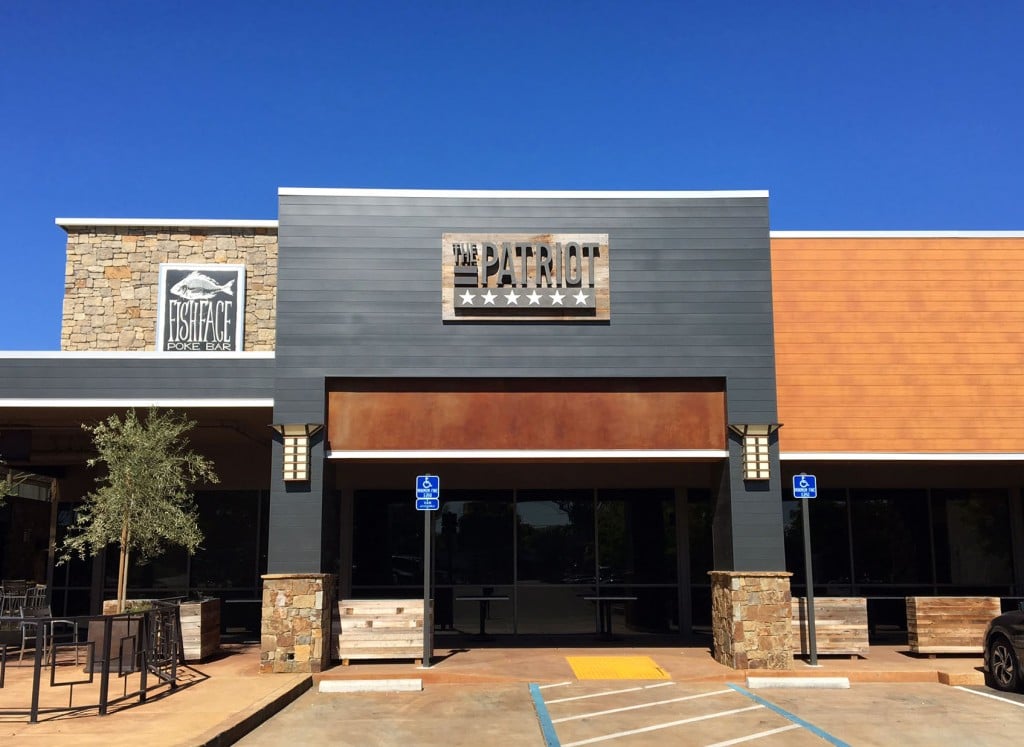 After some stops and starts, The Patriot—the much-anticipated new eatery by local restaurateur Chris Jarosz of Broderick fame—is readying to open at Carmichael's Milagro Centre.
Executive chef Jeremy Zimmerman—who came on board in September after Allyson Harvey departed to become chef de cuisine at The Kitchen—says he and Jarosz are aiming for an early July launch.
The 6,000-square-foot restaurant's large dining room will feature eclectic wooden sculptures, a reclaimed wood bar and mod chandeliers. The spacious digs will also include a full bar, a pizza kitchen, a private dining room and a patio that will seat about 60 to 70 diners.
The menu has not yet been finalized, but expect to see a hearty lineup of house-made pastas, salads, pizzas, sandwiches and small plates made for divvying up with friends at one of The Patriot's long communal tables. Grilled steaks and seafood plates—with everything from clams and oysters to shellfish—will also make it onto the menu. "Chris's background is up and down the East Coast where he grew up, and I'm a California kid, so we'll definitely be focused on some good seafood sourced from purveyors on that side of the country, and then doing my California spin on things," Zimmerman says. "To me it's all about working local and seasonal. You're never going to see tomatoes on my menu in February."
The chef—who is originally from Ventura County and now lives in Carmichael with his wife, a Granite Bay native, and two children—attended Le Cordon Bleu College of Culinary Arts in Scottsdale, Arizona, and cut his teeth at the likes of the Westin Monache Resort in Mammoth Lakes and the upscale Hawaiian-Japanese fusion chain Roy's, where he worked his way up from line cook to sous chef and helped launch the company's San Diego and Pasadena locations. Most recently, he served as chef de cuisine at Sonoma's celebrated The Girl & the Fig.
Zimmerman is particularly excited about The Patriot's pizza kitchen, where patrons will be able to belly up to the curved counter, chat with the pizzaiolo and build their own pies from a variety of sauces, cheeses and seasonal ingredients. (He's imagining anything from English peas and wild mushrooms to slices of coppa.) Display cases with both house-made and sourced charcuterie and cheese for sale will sit nearby, for folks to sample or take home. "We'll have a Berkel slicer sitting on the counter, so if anyone wants to try something we can give them a nice thin slice of it," he says. "You'll get that chef interaction almost like you would when you're sitting at a bar having sushi."
The restaurant's craft cocktail program is expected to offer high-end whiskeys and "an eclectic mix" of wine. Zimmerman is in talks with a winery in the foothills to create a special blend to put on tap at The Patriot.
The Milagro Centre currently houses Ernesto Delgado's popular Mexican restaurant Mesa Mercado, as well as purveyors like Ghiotto Gelato, Jaynee Cakes and Insight Coffee. Zimmerman is already running the kitchen at the event center next door to The Patriot, an 8,500-square-foot venue that seats 345 people for private events, which he will continue to manage after the new restaurant opens.
6241 Fair Oaks Blvd. milagrocentre.com
You Might Also Like
The owners of LowBrau to open new restaurant at the Ice Blocks
The Milagro Centre welcomes a sweet new bakery
Once Upon a Time in Mexico: Carmichael's Mesa Mercado