The "Sactown" Kings to debut new hometown court tonight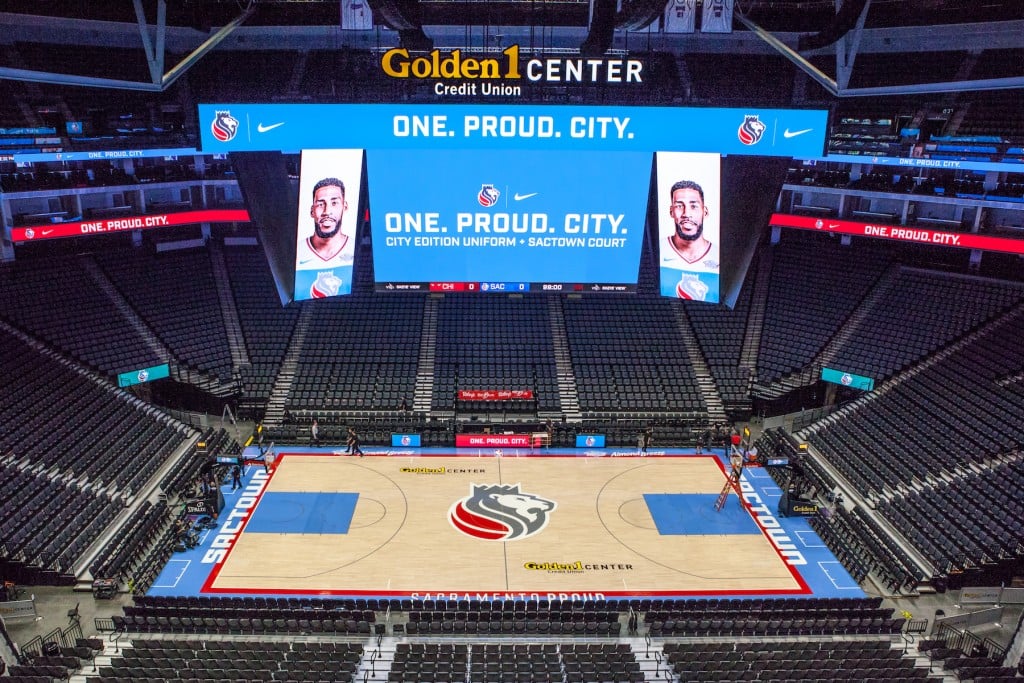 The Sacramento Kings will display their Sactown pride tonight with the debut of their new City Edition court design.
When the Kings take on the Chicago Bulls at 7 p.m. at Golden 1 Center, the court will be emblazoned with a slate gray lion in the center, baby blue lanes (hearkening back to the predominant team color in Kansas City and the first few seasons in Sacramento), and red sidelines, which point to the accent color on the Kings' uniforms going as far back as when they were the Rochester Royals from 1945 to 1957. The third court design to be used this season (in addition to the original purple hardwood and the international black court), the floor of Golden 1 will also feature "SACTOWN" stamped in white on each baseline, and "Sacramento Proud" displayed on the sideline across from the scorers' table.
"The [Sactown] nickname graces our court for the first time in franchise history — but has been used belovedly by neighbors, friends and guests who have fallen in love with our great city," says John Rinehart, the team's president of business operations.
Created to match the team's Nike City Edition uniforms, which also bear the lion logo and the red, white and powder blue color scheme, the Kings announced the design of the court in December. The team will wear the uniforms, which also feature the words "Sacramento Proud," and play on the Sactown court for eight home games in February and March this season. Fans can also get in on the retro-cool action with special edition hoodies, jerseys and tees (as well as caps and socks).
For a full list of City Edition game dates (the next ones will be Feb. 9, Feb. 26, and March 3 and 4) and to check out its gear, visit nba.com/kings/city.
You Might Also Like
The Game Changer: how Vivek Ranadive became a king of Kings
Punch Bowl Social and other Downtown Commons eateries open their doors
Crowning Glory: a flashback to Sacramento's rally to save the Kings