The team behind Preservation & Co. opens Sacramento's first distillery since Prohibition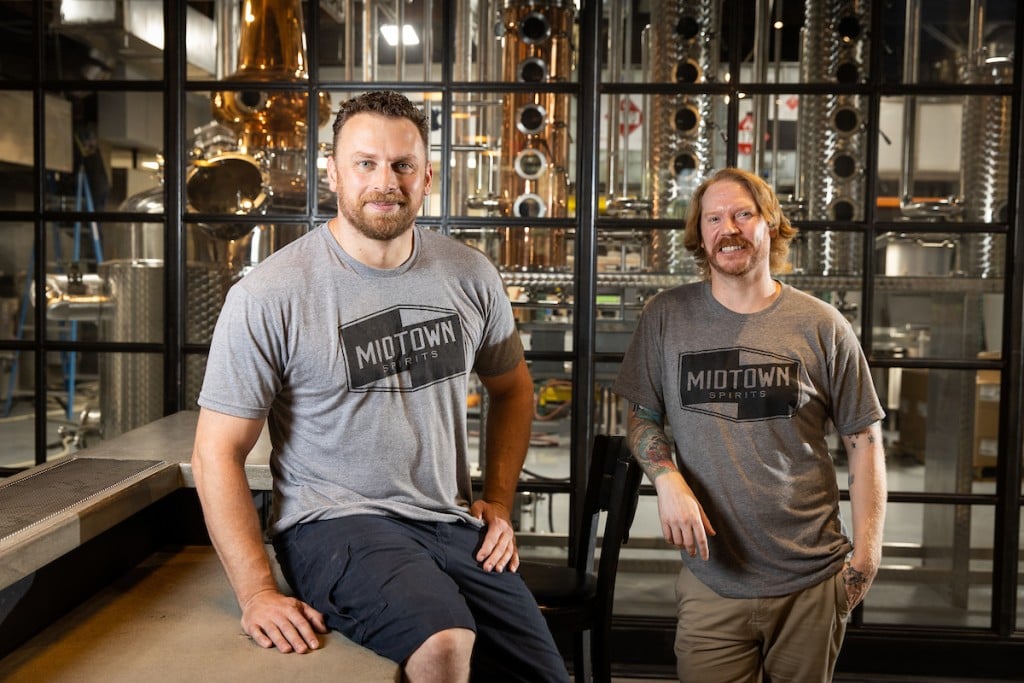 Update: Midtown Spirits opened as planned on Nov. 11 and currently offers outdoor dining. Their hours are Wed.-Fri. from 3-9 p.m. and Sat.-Sun. from 11 a.m.-9 p.m. Days and hours of operation may fluctuate as Covid restrictions change.
---
On Nov. 11, Sacramento's long booze-making tradition—even in Prohibition, the city was deemed the "wettest" in the U.S., a defiant distinction based on the era's sheer number of illegal downtown speakeasies and local rumrunners—continues when Midtown Spirits opens at 19th and Q streets.
"We are the first distillery located within the city limits since prohibition," says co-owner Jason Poole, a veteran of the Sacramento liquor scene, first as a bartender at such establishments as Zócalo and Pour House, and then as the co-owner of Preservation & Co., producer of artisan pantry staples including all-natural Bloody Mary and margarita drink mixes. In fact, Poole's desire to "complete the cocktail"—that is, craft the spirits to go with the artisanal mix-ins he's been making since 2011—is the driving force behind this new venture.
With guidance from Cris Steller and Casey Newman of Dry Diggings Distillery in El Dorado Hills, Poole and Midtown Spirits co-owner, David Abrahamsen (previously with Pour House and Blackbird Kitchen), have created a vodka that gets its "clean flavor and light viscosity" from a "ferment of rice," says Poole, who adds that the grain is locally sourced and processed by Rue & Forsman Ranch in Yuba County. A gin called the Not So Dry is flavored with a maceration of refreshing botanicals like citrus, chamomile and cucumber. "It's gin for people who think they don't like gin," says Poole.
Midtown Spirits' initial takeout-only offerings will include jarred cocktails made with the signature potent potables, like a tarragon gin lemonade, swirled with hibiscus liqueur and a simple syrup steeped with fresh stems of the fragrant herb, as well as a Bloody Mary made with Midtown Spirits' peppercorn citrus vodka. Actually, there are two dozen house-made vodka infusions—available by the shot, even to go—on the bar menu, including flavors like caramelized pineapple (6 pounds of fresh fruit, blowtorched to coax deep and nutty flavors from the natural sugars, infuse each 3-gallon batch) and roasted s'mores (Poole and Abrahamsen actually blister 2.5 pounds of marshmallows for each batch of this campfire-inspired hooch).
Chef FJ Villalobos, who ran the kitchens at both Station 16 and 58 Degrees & Holding Co., will helm the gastropub fare, ranging from a charcuterie board that features artisan cured meats, Preservation & Co. pickles, and gourmet hot dogs. The latter is an homage to the tail-waggers running amok at the Bark dog park across the street from the distillery—in fact, Poole and Abrahamsen are donating 5% of sales from the frankfurters—a jalapeño-and-cheese-loaded Devil Dog, for example, or the Chicago-style Sheboygan with grilled sauerkraut and celery salt—to Sacramento's Front Street Animal Shelter.
On Dec. 5, patio and in-house dining—the latter depending on county restrictions at the time, of course—will commence at Midtown Spirits, which occupies the former Preservation & Co. space (you can still purchase Preservation & Co. products at Midtown Spirits). Customers will be able to eat, drink and be merry in sight of shiny new distillation stills and vessels, separated from the bar through a floor-to-ceiling grid of windows. The saloon's vintage-industrial aesthetic—think exposed brick walls, a muscular concrete bar top and wood accents salvaged from an old chicken coop—tributes the Sacramento speakeasies of yesteryear. "It's a huge honor for us to carry on the tradition," says Poole.
Weds.-Fri. 3-9 p.m. Sat. & Sun. noon-9 p.m. 1717 19th St. midtown-spirits.com
You Might Also Like
Sacramento chocolatier Ginger Elizabeth Hahn launches her first pâtisserie
Sacramento chefs take you back to school with live online cooking classes
The team behind Allora launches a farm-to-fork meal delivery service