Sneak Peek: Sacramento chocolatier Ginger Elizabeth Hahn to launch her first pâtisserie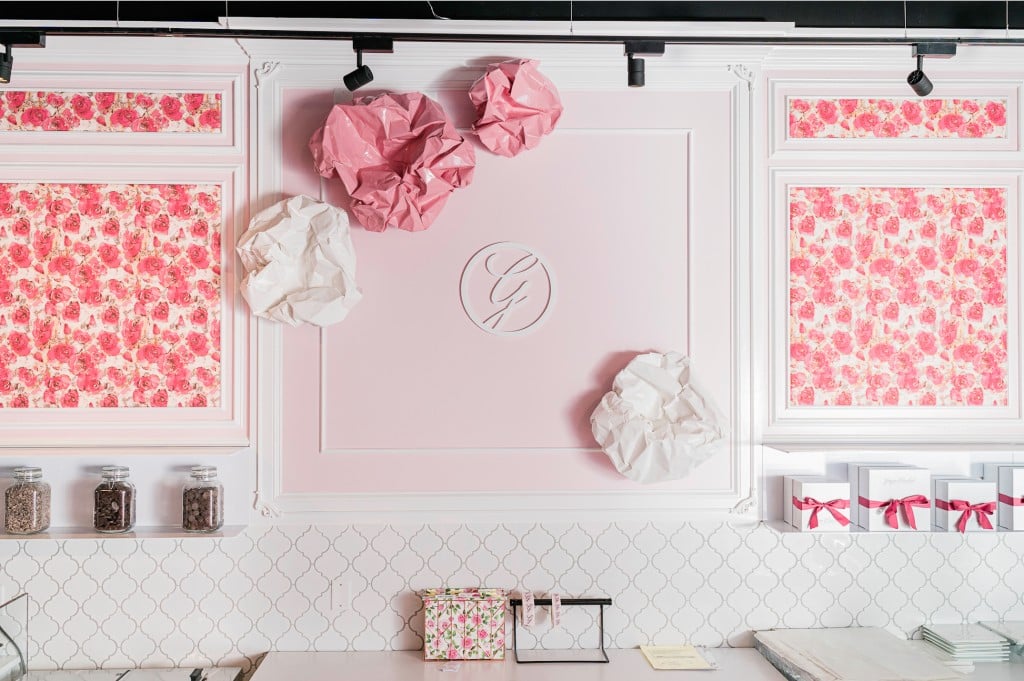 The new Ginger Elizabeth Pâtisserie will open on Oct. 14 with a tempting selection of incurably buttery and shatteringly crisp French-style pastries, also known as viennoiserie, in addition to the artisanal chocolates that have made confectioner extraordinaire Ginger Elizabeth Hahn a household name.
After closing her San Francisco chocolate shop in June, Hahn says she wasn't planning to open another storefront until Julie Young, a longtime customer and developer of The Didion apartments at 24th & J streets asked her to fill a recently vacant storefront, a former auto-body shop next to the shiny new housing complex. Mulling over the possibilities of what a second midtown location would look like—her first, a chocolaterie located at 18th & L, opened in 2008—she settled on an ambitious concept: a French pâtisserie.
"It's something I've always wanted to do," says Hahn. "I've always wanted to get better at making pastries and you don't get better without practice."
The takeout spot—which neighbors Babes Ice Cream & Donuts (a vegan and gluten-free dessert shop by Danny and Olga Turner of Pushkin's Bakery) and the soon-to-open Ro Sham Beaux Bar (a low-ABV wine lounge by the owners of The Snug and De Vere's Irish Pub)—melds the building's 1,800-square-foot industrial environs with Hahn's pretty-in-pink aesthetic.
The building's concrete walls and floors juxtapose a rosy color scheme and details that include abstract wallflowers—powder-coated aluminum blooms hang on a wall—and textiles of impressionist-style roses framed within prim architectural molding. Hahn warned of the dainty detonation when she posted an Instagram story in June of a fabric swatch with the caption, "Sh-t's about to get girly."
While most of Hahn's baking operations for the original midtown location—favorites there include salty caramel cupcakes and cocoa nib shortbread—moved to a West Sacramento warehouse in 2013, the new pâtisserie will be entirely self-sufficient, not only producing the shop's share of the decadent chocolate ganache macarons and lavender-caramel bonbons that Hahn is known for, but the viennoiserie as well. (Large windows to the kitchen give patrons a behind-the-scenes look of the baking process.)
Considering the elaborate composition of French pastries (known for a gossamer crumb and infinite buttery layers), they can also be considered a counterpoint to the former garage, especially when lovingly displayed in a glass case on a white marble counter. The daily lineup will include the classic pain au chocolat, twice-baked apricot almond croissants and kouign-amann dusted with caramelized sugar, alongside updated riffs on bakery classics—pumpkin cheesecake cruffins, for example, and decadent apple crisp cream puffs. And just in time for sweater weather, Ginger Elizabeth's famous rose petal Valrhona hot chocolate, once a seasonal simmer at the original store, will find year-round permanence on J Street alongside espresso from Camellia Coffee Roasters.
Hahn expects the menu to expand over the coming months—jewellike petit gateaux and house-made English muffins are on the horizon, but for now she's just excited for people to experience something new, even for her. "Above all, this is a bakery," she says. "When people walk in I hope they feel warm and welcome."
2413 J St. 7 a.m.-3 p.m. Wed-Sun. 2413 J Street. gingerelizabeth.com
You Might Also Like
Love at first sip
Vega and gluten-free Babes Ice Cream & Donuts opens
A new artisan chocolate company sets the bar for mixing sweet goodness with wellness