Three new breweries coming to Placer County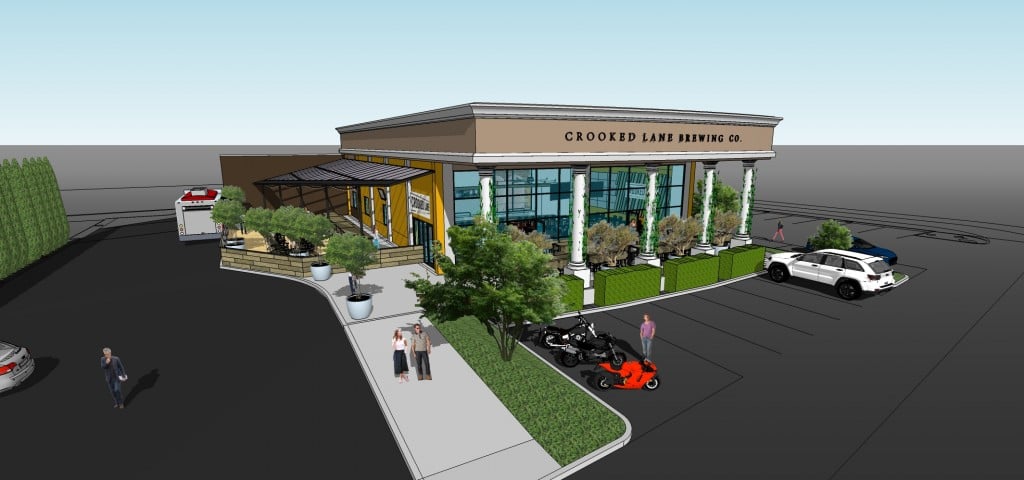 Placer County is becoming a beer destination with three breweries set to open tasting rooms by next year.
Moonraker Brewing Co., Dueling Dogs Brewing Co. and Crooked Lane Brewing Co. will join the ranks of taprooms such as Goathouse Brewing Co., Knee Deep Brewing Co. and Loomis Basin Brewing Co. on the burgeoning ale trail in Placer County in 2016.
Home brewer and Auburn resident Dan Powell and his partner Dave Dwelle, along with newly hired head brewer Zack Frasher (formerly of Mraz Brewing Company, Frasher won first place at this year's California State Fair home brewing contest for his session IPA), aim to have Moonraker Brewing Co. Brewery and Tasting Room open in January.
Powell, a solar developer with Pacific Power Renewables, is planning for the 3,500 square-foot space in an industrial park in Auburn (just down the road from Knee Deep Brewing Co.) to be largely self-sustainable, powering the electric boilers with solar panels that will cover the roof as well as a solar canopy over the outdoor patio. The industrial-modern tasting room will have an "intimate connection with the brewing process," says Powell, with a separate area for barrel aging stouts and barley wines.
Moonraker (named for the topsail on tall ships, of which Powell has been a fan all his life, and the kind that brought IPAs to India) will have 16 taps total pouring 12 regular beers like IPAs, pale ales and maybe a blonde, as well as four rotating taps which will highlight more niche offerings like session IPAs or a wit bier.
"It's about making great-tasting beer," Powell says. "We're going to have food trucks, we're going to have a lot of fun—people are going to be happy that they came out to visit us."
In Lincoln, husband-and-wife team Earl and Adriana Stephens are hard at work converting part of their home property into a family-oriented brewery destination replete with picnic tables, a pond, and a "dogs and kids are welcome" attitude.
While the décor of Dueling Dogs Brewing Co., which gets its name from the couple's two labs Rocco and Newton, is yet to be determined, the brewery is being built into a hill on the property of their Tuscan-style home, and Adriana anticipates stone and wood accents to play up the rustic, homey farm feel.
As for the beer, Earl, a civil engineer who started dabbling in home brewing during his college years, will be crafting a wide array of styles including Belgian ales and wheat beers, hoppy IPAs and chocolate porters, incorporating ingredients from his own farm like mandarins, four different types of hops, basil, berries and honey, for a truly local beer experience.
"We're trying to keep everything [in] Placer County if we can," says Adriana, who hopes to have the brewery open by spring.
Named after the street on which two of the three co-founders live, Crooked Lane Brewing Co. will break ground in December at the site of their new tasting room in Auburn, and expect to be serving beer around the middle of 2016.
Co-founders Adrian Psuty (head of brewing operations), Kirt Braun (president) and Paul Schilling (marketing) aim for their brewery—with indoor seating, a 3,000 square-foot beer garden and a 1,200 square-foot patio—to function as a community gathering place, where Placer County residents can converge to grab a pint.
"What we envision for the space is community, it's about family," says Schilling. "It's not your typical industrial park brewery with millennial men throwing cornhole."
The trio plans to have three sets of taps with 12 handles each, but only about five or six core offerings of their specialty—English and German style ales and lagers. The rest will be small-batch beers, including porters, stouts, Kolsches and what Psuty describes as "hybrid styles" that are less popular in the region, but all the brews will incorporate ingredients from local farmers like mandarin blossom honey from area mandarin orchards. And youngsters can get in on the on-tap action with offerings like root beer, sarsaparilla and ginger beer.
"In talking with other breweries, both established and those just coming out, everyone is so willing to share—[it's like] adding another one in the brotherhood," says Schilling. "It's legitimizing this area as a destination for craft beer."
Follow their progress at moonraker.beer, facebook.com/DuelingDogsBrewing and facebook.com/CrookedLaneBrewing
You Might Also Like:
11 fun ways to give back this holiday season
Five questions for rock climber Alex Honnold
New tours takes visitors behind the scenes of wineries and breweries in Placer County