Thrift store tour in Roseville to turn up fabulous fashion finds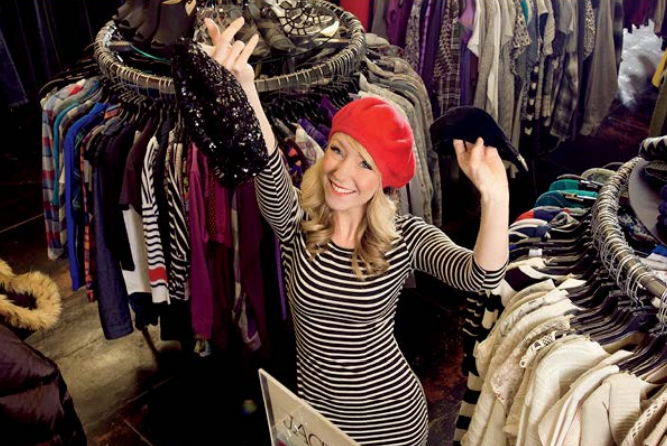 One of Sacramento's most fashion-forward bloggers is reteaming with the City of Roseville next month for a Fabulous Thrift Tour around the city, which invites shoppers to hunt for style bargains while helping raise awareness about the often overlooked issue of clothing waste.
The popular tour is led by Phoebe Verkouw, who writes and photographs her fashion finds and shopping tips at her blog The Dress Fiend. The daylong excursion will begin at the Roseville Utility Exploration Center with a complimentary breakfast, after which time a party bus will pick up shoppers and drop them off at stops throughout Roseville (including Crossroads Trading Co., Sei Bella Boutique and Threads Clothing Exchange), selected by Verkouw.
"We have so many great shops here, so it's really to help everyone find something they like," Verkouw says. "Some people really want to dig into clothing, so a thrift store is perfect for them. But for some people, that isn't for them so we also have the consignment stores where they can pick from a smaller, curated selection."
Each shop will offer exclusive discounts, as well as bottomless mimosas and food from the Roseville breakfast and lunch hotspot Peg's Glorified Ham and Eggs. While guests explore the racks of both vintage and modern fashions, Verkouw will supply some of her best advice for scoring deals (such as what days to shop and what to look for) and present styling advice she has learned from years of bargain hunting.
"90 percent of us are on a budget, but you don't have to spend a lot to look great," says Verkouw, who will also be raffling prizes for hair salon services, nutrition services and more throughout the tour. "Half the time my outfit head-to-toe is less than 20 bucks. People can tell me what they're looking for, and I'll keep my eye out for them while they're shopping. I'm their thrift guru and stylist for the day."
The tour is in partnership with the city of Roseville and Utility Exploration Center, which aims to improve the city's environmental quality of life while encouraging community engagement. According to the Natural Resources Defense Council, the average person discards about 68 pounds of clothes and textiles each year—much of which often end up in landfills, says Rachel Tooker, the city's Interpretive Services Supervisor.
"We wanted to show how to shop local while helping the environment and community," says Tooker, who reached out to Verkouw to help create the tour last year. The previous tour last November attracted a nearly full-house 40 shoppers from around the region (the organizers expect the February event to sell out). "We had people from Elk Grove and even the Bay Area come out [last tour] and learn about reusing and recycling."
Verkouw says she hopes the tour will bolster self-confidence for its attendees.
"It's empowering women," she says. "Not only does it make you feel confident, it is really a canvas for expressing yourself. When I get ready each morning I think, 'How am I gonna paint myself today? Who will I be?' When you project that feeling onto people, it really makes a difference."
Feb. 21. 9:30 a.m.-5:50 p.m. $35 for Roseville residents; $40 for nonresidents. To order tickets call 746-1550. For more information, visit roseville.ca.us/explore.
Related Links
–Sacramento menswear designer R. Douglas launches women's line
–11 nifty New Year's resolutions to try around Sacramento
-Oscar-nominated short films to screen at Crest Theatre