Through the Glass Darkly
A strong, moody new album finds Roseville-raised singer-songwriter Chelsea Wolfe on the verge of rock stardom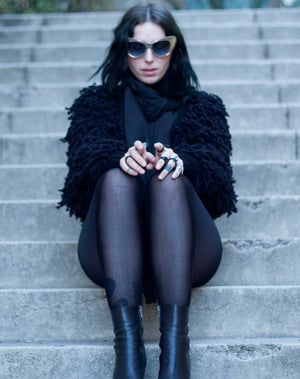 AAs a child growing up in Roseville, singer-songwriter Chelsea Wolfe used to have a strange, recurring dream. She'd find herself in a tiny white room with an object that always changed—a telephone one night, a notebook the next, a variety of other objects in nights that followed. Young Chelsea watched as the object grew larger and larger, filling the room before shrinking back down, even smaller than its original dimensions. It was like something from Alice in Wonderland, filling her with equal parts fascination and frustration over the mysterious visions that came to inhabit her waking life.
"I didn't understand why I was having these dreams," says Wolfe, 31, from her home an hour and a half north of Los Angeles (she relocated from midtown Sacramento to LA in 2010). "I think maybe it's some weird natural obsession with different, contrasting viewpoints of things. We live in a world where at any given time, there are so many beautiful things and so many ugly, hideous, horrible things all at the same time. And everything has its balance."
This contrast and others—light to dark, soft to hard, quiet to loud—have guided much of Wolfe's work since her days as an up-and-coming musician in Sacramento. It's as evident as ever in the texture of her new album Abyss, which the indie record label Sargent House will release Aug. 7. The balance, though, isn't immediately obvious: Heaving to life amid the warm currents of Wolfe's voice, Abyss grinds and shimmers like a sea beneath thunderclaps of guitar and bass. Woe and gloom abide with songs like the album opener, "Carrion Flowers" (whose title invokes blooms that smell curiously like rotting flesh) and the first single "Iron Moon" (which references a dead sun, a tomb heart, decaying worlds and, indeed, an iron moon). The ballad "Dragged Out" teeters and wails before plunging into a thick, distorted riff swamp, as if emulating Abyss' cover painting of Wolfe falling through a blue-black miasma. 
Then, just when you're about to abandon all hope, Abyss scales back like the objects in Wolfe's dreams, retreating into the types of cool, crystalline, reassuring lulls that both reflect and build upon her work since her 2010 debut The Grime and the Glow—an album made on the tape recorder her country musician father gave her as a teen starting out in Sacramento's rock scene. Since then, Wolfe's two albums and a collection of acoustic songs have earned her devotees as diverse as John Cusack, actress-porn star Sasha Grey (who herself hails from North Highlands), and celebrated vocalist Mark Lanegan, who covered Wolfe's 2012 song "Flatlands" (along with numbers by Frank Sinatra and Nick Cave) on his 2013 cover album Imitations. Her song "Feral Love," from her acclaimed 2013 release Pain Is Beauty—which earned positive reviews from media outlets like NPR and The New York Times—accompanied trailers for season four of HBO's Game of Thrones. 
It's heady success for an artist who still can feel awkward even acknowledging she has fans at all—a performer who spent a period of her solo career concealing her face with a veil when playing live. "I still don't think of myself as someone who can get on stage until I'm actually doing it," says Wolfe, who nevertheless has rocked festivals like South by Southwest and toured the world as a headliner as well as opening for major acts like Eels and Queens of the Stone Age. 
Well before booking those high-profile slots, Wolfe was refining her songs at open mic nights around Sacramento at venues like Luna's Cafe and Old Ironsides, and also through performances with former trio Red Host. (A video on YouTube shows the band rocking KCRA's morning show in 2008.) Her musical impulse first struck years before that: Wolfe recalls writing her first poem at age 7 and recording songs in her father's home studio by age 9, teaching herself voice, keyboard and later guitar along the way. Friends picked up on her talent instantly—notably her voice's powerful, ethereal vibrato. She discovered her vocal range almost by accident, thanks to learning on a broken old classical guitar—passed down by her mother—that forced her to sing and write in a lower key.
"People here and there would encourage me to play a live show or record more or something," says Wolfe, who wrote a song on Abyss with Sacramento-based musician Karlos Rene Ayala ("Iron Moon") and collaborated with former Sacramentan Jesse K. Phillips on another ("Color of Blood"). "It was enough for me to keep going. Eventually I realized I needed to take it seriously and put effort into it if I was going to be doing it. It took me a while. There were a lot of sloppy years in Sacramento playing and not knowing what the hell I was doing. But people were nice enough to encourage me to keep going."
Wolfe still reaps that creative encouragement at times. For Abyss, it came from industry heavy hitter John Congleton, the Dallas-based record producer who has also worked with David Byrne, Brian Wilson and The Roots, and who won a Grammy Award this year for producing the self-titled album by alt-rock phenom St. Vincent. Congleton, a fan of Wolfe's earlier albums, says he was especially interested in drawing out the emotional potential he heard in Pain Is Beauty. 
"I felt like it was really the sound of an artist who is really starting to find her voice, and that's usually right when I like to work with somebody," says Congleton, who gently prodded Wolfe to craft a loud, dark rock record that showcased her voice—sometimes despite her reluctance. "There was a tendency to want to bury the vocals or effect the vocals to the point of not being particularly clear to my ear. And I was really resistant to that, kind of saying, 'This is the thing that's really going to make people connect with this record.' At the end of the day, we got there."
Wolfe echoes that perspective. "This is the first album I made that had a full-on producer involved. It took me a while to accept something that had so much outside influence because I'm usually such a control freak about every little sound," she says. "But I think giving up that control helped [the album] have more of a raw feeling, which is definitely what I wanted. I'm really happy with it."