Thunder Dome
From sea to shining sea, state capitols are taking center stage at spectacular Fourth of July and New Year's Eve celebrations. It happened here once, too. Let's do it again.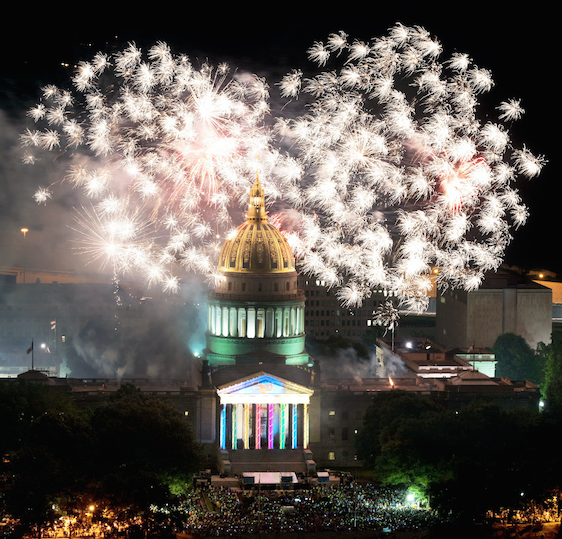 The Idea
One of Sacramento's many charms is that we're a big fireworks town. In addition to New Year's Eve and Fourth of July shows, we have nightly fireworks during the California State Fair and throughout the baseball season during River Cats games. But what we're missing is a picture-postcard backdrop for those pyrotechnics, at least on Independence Day.
That's why we should launch a new tradition of celebrating the Fourth at the State Capitol.
Not only will the fireworks over the Capitol dome provide the ultimate visual feast, but thousands of people can watch from Capitol Mall—a viewing corridor tailor-made for such a spectacle.
Similar presentations are already taking place around the country, with capitol buildings in Austin and Washington D.C. serving as backdrops for pyrotechnic displays on the Fourth. Also, the Capitol in Hartford, Conn., is the main attraction during that town's New Year's Eve fireworks; and the Capitol in Little Rock, Ark., is the centerpiece for that city's annual Christmas Holiday fireworks show. There have also been anniversary fireworks encircling the domes in Oklahoma and West Virginia (pictured above).
And in fact, it's happened here before (with lasers!), most recently in 1982 at the celebration of the Capitol's restoration project (pictured above at left).
The Players
The state's Department of General Services, as well as Parks and Recreation, will certainly need to get involved, along with the city of Sacramento. And like in Austin and D.C., where their regional symphonies accompany the festivities, the Sacramento Philharmonic should take a starring role here, performing patriotic classics before fireworks become bombs bursting in air over the Capitol's flags.
In 1996, a code was adopted that outlaws fires on state property. California Highway Patrol, which oversees Capitol security, says the ban includes fireworks. Fourth of July needs to be an exception.
The Bottom Line
Our Capitol is one of the most beautiful buildings in the state and a structure that represents what the Fourth stands for—democracy. The downtown renaissance is in full swing. It's time to celebrate.
SaveSave