Time Machines
You don't need to be H.G. Wells to dream of time traveling. Many cities are telling their own stories using historic tours to preserve their distinctive identities. After all, what better way to journey through history than by sitting in a piece of it?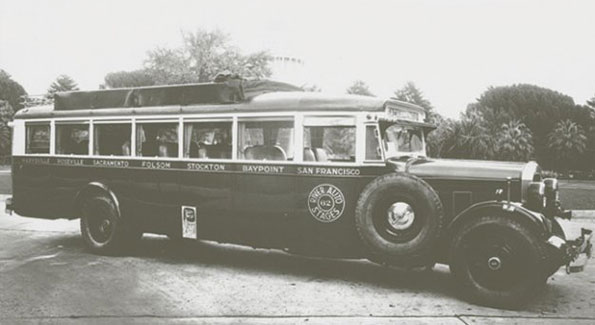 The Idea
City bus tours are a staple of the tourism trade for most large cities. And Gray Line bus tours, which ceased operations in Sacramento back in 2000, is probably the country's most ubiquitous of them. But more and more cities are turning to vintage (or vintage-looking) vehicles to help bring their histories to life. Both New York and Los Angeles have used London-style red double-decker buses for years. San Francisco's Mr. Toad's Tours boasts five pre-1930s vehicles and is adding a 1920s bus this summer (all using clean-burning propane or natural gas). Memphis' Backbeat Tours gives passengers a rolling history of the city's rich music scene aboard a 1950s bus. Minneapolis' Twin City Trolleys is doing so well that it just expanded to New Orleans and Baton Rouge. And in 2007, Yellowstone National Park brought back eight of its 1930s yellow buses, a move that proved wildly popular. Sacramento has its own rich history worth telling, and there's no better way than behind the wheel of a classic coach car, trolley or bus.
The Players
As it happens, Sacramento's Regional Transit (RT) owns, but rarely uses, a handful of historic vehicles, including a beautiful 1958 blue bus (which got a new engine in the '90s) and several wheeled trolleys that use compressed natural gas. In the 1980s, a group of former and current employees of Seattle's Metro Transit (their version of RT) volunteered to lead semi-regular tours on Metro's vintage fleet, with vehicles dating as far back as 1940. Metro owns, stores and covers the vehicles under its insurance and the volunteers operate and maintain them. Why couldn't that work here? Once the vehicles are in place, the key is to find some charismatic and knowledgeable tour guides to bring the city alive.
The Bottom Line
The tours don't need to run daily from Day One. Start the program out slow, perhaps only on weekends, working with hotels to get the word out. And with a range of specialty tours (politics, crime and architecture, to name a few), locals will get on board, too. Wherever the passengers hail from, it can only boost the city's economy by spreading the word about the city's colorful past, but also by exposing tourists to museums, restaurants or shopping districts they might not otherwise discover. And the passengers won't be the only ones appreciating the city's historical flavor; with a cool retro bus or trolley drawing stares around the streets of Sacramento, the rest of us will be, too.