Topping off the Town
Cities like Paris, St. Louis and Seattle are instantly recognizable worldwide, not because of office buildings, but for iconic observation towers that scrape the sky. It's time to top off Sacramento's skyline with an architectural exclamation point.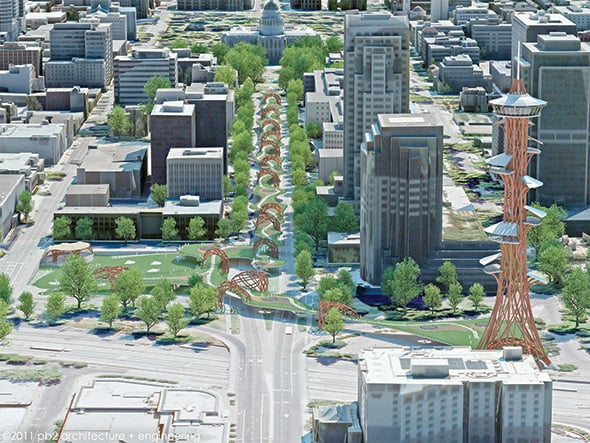 The Idea
When St. Louis wanted to revitalize its waterfront in the '30s, private and public interests combined to sponsor a national design competition to create an iconic symbol to make a major statement about the city. The result was the stunning 630-foot Gateway Arch. In Paris, the 1,063-foot Eiffel Tower was built for the 1889 World's Fair. And in Seattle, the Space Needle was created for the 1962 World's Fair. Sacramento's skyline lacks a towering, distinctive architectural landmark by which the city would be instantly recognizable. Let's change that.
The Players
The location of the tower will be critical, and a few areas come to mind as ideal sites. For example, rail-yards developer Larry Kelley might spearhead a group to create such an attraction for that key infill project. Or maybe the owners of the Sacramento Kings, who are acquiring Lot X at the foot of Capitol Mall, could take this on. After all, branding the team and the city internationally could be mutually beneficial. Whoever decides to adopt this idea should invite the greatest architects from around the world to help us envision a new civic symbol.
The Bottom Line
Observation towers are far less expensive to build than office towers. The 605-foot Space Needle was built for about $35 million in 2015 dollars (compared to Sacramento's 423-foot-tall Wells Fargo Center, priced around $90 million today). Plus, it's profitable, generating revenue from its rooftop restaurant, viewing deck and private events. Short on tourist attractions, Sacramento would not only profit from a new experience for locals and tourists, but also by its incalculable global marketing value. Things are looking up here, but it's time to look a little higher.