Tree Mail
When Melbourne, Australia, assigned each of its trees an individual email address, they hoped residents would write in to report damaged or dying trees. Instead, the elms, oaks and others received an altogether unexpected form of communication -- love letters. We think Melbourne is barking up the right tree.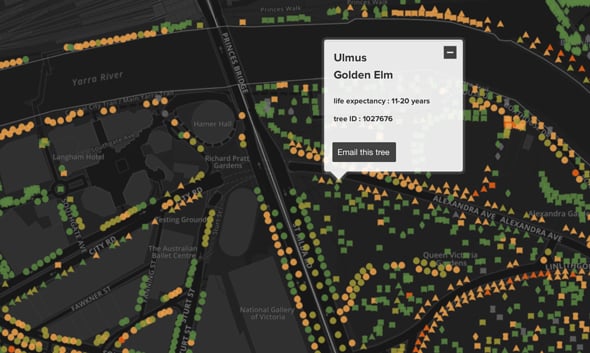 The Idea
In 2013, the city council in Melbourne, Australia decided to map every tree in the city and assign each its own ID number and email (tree-mail?) address. With drought conditions damaging trees throughout the city (sound familiar?), they hoped to crowdsource problems like fallen branches or signs of disease. To the city's surprise, it also began receiving personal notes—mostly fawning love letters. And recently, some of the trees—with a little help from city staff—began "responding" to the queries, sometimes with tree facts, or even notes of thanks, composed in the voice of said tree.
In fact, the city has received about 3,000 notes since the program began. One in May read: "My Dearest Ulmus. As I was leaving St Mary's College today I was struck, not by a branch, but by your radiant beauty. You must get these messages all the time. You're such an attractive tree." Another: "My dog peed on you the other day. Sincerest apologies."
Here in the City of Trees, not only is the drought a real threat to our urban forest, but so is Dutch elm disease. However, a system like Melbourne's, with an interactive online map that identifies every tree in town (perhaps in app form as well), would not only make reporting problems or threats easier, but it could also help rekindle our civic love affair with our own trees. And beyond identifying the genus, health and life expectancy of each tree, as they do in Melbourne, perhaps we could take it a step further and give details about each tree's estimated age, characteristics and history. For example, one of the trees in Capitol Park was only feet away when an assassination attempt on President Gerald Ford took place in 1975. And one of the coastal redwoods near the Capitol's security entrance—aka the "Moon Tree"—was sent to space as a seed on the Apollo 14 mission in 1971.
The Players
While the city council in Melbourne took the lead there, the Sacramento Tree Foundation, run by former city councilman Ray Tretheway, is the obvious choice to shepherd such a project here. And hopefully the city's Parks & Recreation department and the state arborists would lend a hand as well.
The Bottom Line
The city has been losing trees to Dutch elm disease for decades, and the drought is making it worse. The cost of monitoring their health is significant and more public input could help. Further, the quality-of-life benefits that our dense tree population provides are immeasurable. What better way to protect our urban forest, and also to personally connect with our oldest living neighbors—many over a century old—in such a thoroughly modern form? This is one app that definitely wouldn't fall far from the tree.