Truth and Consequences
After taking on the National Football League with his stunning discovery about the long-term damaging effects of concussions, and then being portrayed by Will Smith in one of the most high-profile dramas of 2015, Dr. Bennet Omalu has now become a powerful voice for athletes, military veterans and children alike. Here's how a Sacramento pathologist journeyed from a poverty-striken childhood in Nigeria to his new role as a global game changer in the world of science.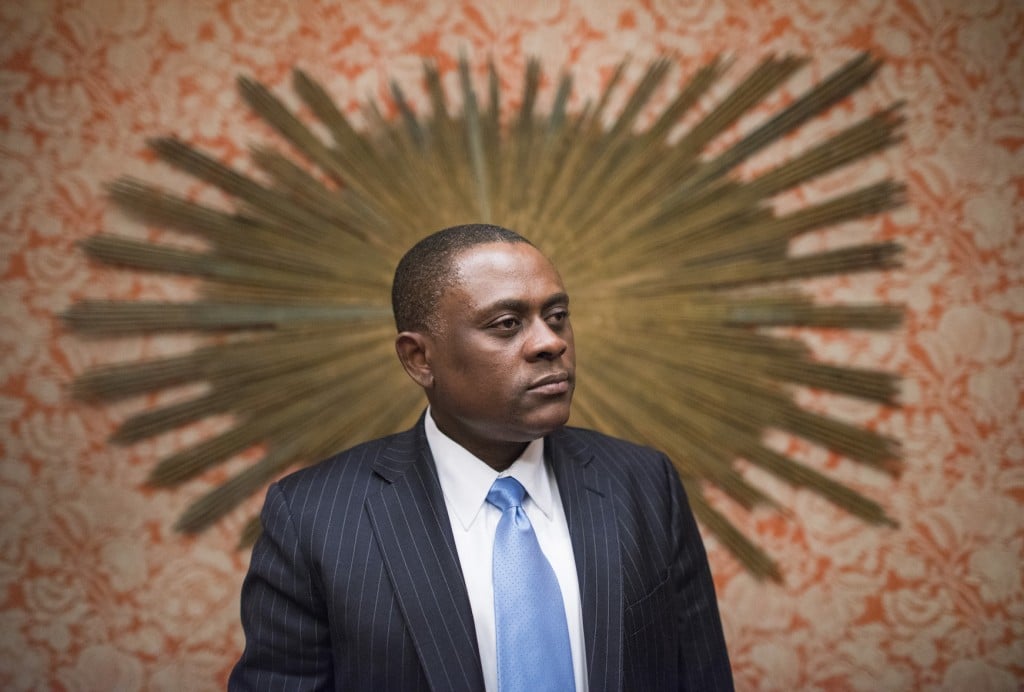 D​
Dr. Bennet Omalu perches on the edge of his seat, knees bent, feet planted, arms crooked, poised like a sprinter ready to leap off the blocks. His broad face is wide open, lit from within as he quotes Will Smith playing him in the movie Concussion: "God did not intend for us to play football!"
It's late February, and Omalu is on stage with Sacramento Mayor Kevin Johnson, who is interviewing him at the Guild Theater in Oak Park as part of Indivizible, Johnson's African-American empowerment lecture series, before an audience that includes athletes, coaches, activists, religious leaders and community members of all stripes.
The real Bennet Omalu is both more intense and more joyous than Smith's sober-minded portrayal of him. In person, Omalu quotes Scripture liberally, and can be funny and self-deprecating, not what you'd expect from the crusading firebrand pathologist who first discovered and documented a degenerative disease in the brains of NFL players, and who suffered years of slander and ostracism as a result.
Today he is prepared to voice uncomfortable truths not just to the NFL, but the mothers and fathers of all those future players. "The younger you are when you begin to play, the greater the damage," he says. "In order to become educated, you need to have the acumen to pay attention, to keep away distractions and focus. Exposure to repeated blows takes away that acumen."
He smacks his fist into his palm rhythmically, illustrating the repetitive blows to the head experienced by professional football players—nearly 70 percent of whom are black, a disproportionately high figure considering African-American males make up only 6 percent of the U.S. population.
"As you are growing up, you learn etiquette, behaviors of society, to regulate your violent tendencies. Playing football destroys that capacity of the brain," he continues. "So you ask yourself: The high criminality we have among young black men, how much has football contributed to it?"
You can hear the room groan and shudder. "It's a civil rights question you need to ask yourselves," Omalu says.
Later, his voice drops as he intones the symptomology: "Memory disturbances, loss of memory, paranoid behavior, aggression, major depression, and then a gradual loss of intellectual functioning, executive functioning. If you have a business, your business will crash. You will lose all your money. Sexual improprieties. Alcohol abuse. Drug abuse. And it's permanent."
Pausing for effect, Omalu delivers his grim punchline. "And the single group that is most commonly involved is what?" His voice rises in indignation.
There's a moment. Will the audience shoot down this messenger? But the brief pause is filled by a rushing gasp of recognition. You can almost hear the tide of opinion turning in the room, feel the frisson of people connecting with a new and surprising truth about the world.
"Black people!" someone calls out.
"Black boys," another shouts.
"Black people," Omalu confirms. "So we need to wake up!"
Omalu may sound like a civil rights activist, but he's really more of a human rights activist. While he believes more African-Americans may be at risk for the brain disease known as Chronic Traumatic Encephalopathy (CTE) because their numbers are overrepresented in football and other contact sports like boxing, he's an equal opportunity pathologist—advocating for everyone from the young to the poor to military veterans.
"I have done autopsies on men and women who are worth hundreds of millions of dollars. And I've done an autopsy on a homeless man who is worth nothing," he says. "And guess what? On the autopsy table, once I've washed them and cleaned them up, you cannot tell one from the other."
******
Bennet Omalu, 47, did not intentionally set out to become an anti-football crusader and advocate for brain health. An immigrant from Nigeria, he was only vaguely aware of the game, to the extent that he found it funny "that they call it football, but they throw the ball with the hand!"
He was a forensic pathologist working at the Allegheny County medical examiner's office in Pittsburgh when he first discovered CTE in the brain of renowned Pittsburgh Steeler "Iron Mike" Webster, who landed on Omalu's autopsy table in 2002 after dying a painful and ignominious death, homeless after years of pain and mental illness. At the time, Omalu didn't know anything about football, and he didn't even recognize the city's favorite son.
What he did recognize was that something was terribly wrong here: a 50-year-old man who'd been a professional athlete for most of his adult life, the picture of health, heartiness and moral character, should not have sunk this far this fast, should not have died this way.
As a devout Roman Catholic who believed in the persistence of the soul, Omalu saw the bodies on his table as patients, not cadavers, and he always spoke to them gently and respectfully, even intimately, inviting their collaboration in work he saw as a sacred trust: getting to the truth of what had happened to end their lives. So he invited Mike Webster to a collaboration that would become one of the most important relationships in either of their personal histories.
What Omalu found the day he autopsied Webster was a puzzle that couldn't be explained by the visible evidence. He suspected a neurological problem, so acting on little more than a hunch, he had Webster's brain sent away to be sectioned and dyed for viewing under a microscope. This wasn't standard procedure at the morgue, and Omalu paid for this work to be done out of his own pocket.
The slides took weeks to arrive, and Omalu was in no hurry to examine them when they did—he actually took them home and stuck them in a closet—but eventually he found some spare time to return to the mystery, and what he found astonished him. Webster's brain was riddled with Tau protein, a buildup of tissue usually found only in the brains of elderly patients with advanced dementia and those of punch-drunk prizefighters.
He did not at first assume he'd discovered anything unprecedented. "When I saw CTE, in my mind I did not want to believe that I had seen something new. Why? Because I did not position myself to be smarter than anyone else," Omalu remembers. "I saw myself as ordinary. So when I saw this disease, I went to the library thinking I'd find papers published by others about this disease in America's most popular sport. And the more I searched, the more I became convinced that no one had seen this. And I did not want to believe it, I just couldn't—not in America."
Omalu published his case study in the medical journal Neurosurgery in 2005, as one does, and went on about his business. What happened next both uprooted his life and gave him a calling.
The NFL descended upon Omalu with all of the brute force a multibillion dollar corporation has to bear. Its own panel of scientific experts, the Mild Traumatic Brain Injury (MTBI) Committee, called for a retraction, something virtually unheard of in a peer-reviewed journal. The MTBI Committee has since been widely discredited as biased and unqualified, but for the next few years, Bennet Omalu found his name and reputation besmirched at every turn as he was accused of everything from incompetence to practicing "voodoo."
Omalu persevered, publishing several more papers on his findings of advanced CTE in the brains of other professional football players, including Terry Long, Justin Strzelczyk, Andre Waters and Tom McHale, none of whom survived to age 50. Omalu was scheduled to participate in the autopsy of Junior Seau after the San Diego linebacker's 2012 suicide, until the NFL contacted the family directly and told them Omalu was a troublemaker and not to be trusted. Other pathologists found CTE in Seau's brain nonetheless.
---
The audience response in Oak Park may be a sign of changing times. Members of a community that has long embraced football seemed ready to hear Omalu's message, including the mayor himself. Kevin Johnson played 12 seasons with the Phoenix Suns before returning to his hometown to launch a political career founded on a base of public advocacy. The Guild Theater is part of the 40 Acres Art and Cultural Center, a 25,000-square-foot facility created by Johnson's St. HOPE foundation.
Johnson found Omalu's words astonishing—and compelling. "At the end of the day, he said it's about our children, and you have to get the truth out to protect our children. That was my big takeaway," the mayor says. "We may not like some of the things he's saying, but given the information, let us process, and then we have to make choices. That's what free will is all about."
Johnson's mother agrees. Georgia "Mother Rose" West runs Underground Books, also part of the 40 Acres complex, where Omalu decamps after the lecture to sign copies of Concussion, the 2015 book by Jeanne Marie Laskas, which was an expansion of her GQ article that inspired the movie. A throng of audience members wait to have their picture taken with him, and thank him for his message.
"You are amazing!"
"It was incredible! Wow!"
"So powerful!"
Mother Rose and her employees are ringing up books as fast as they can. An energetic woman in a bright red sweater and a rhinestone pin that says "HOPE," West was also moved by Omalu's talk. "I'm amazed," she says. "I was a nurse for many years, and I was just shocked at the spirituality this man has. His truth is just amazing. And I know in the end people are going to accept his work. That's the way it always is. People always say no in the beginning, and then find out down the line, when we should be finding out now." She grimaces wryly. "We're a people who find out after the fact," she says.
As the mother of a professional athlete, how would West be feeling right about now had her son gone out for football instead of hoops? "I would feel terrible, but I would not let him play football," she insists. "I am one that would not let him play."
But not everyone is persuaded by Omalu's research, or his arguments. Sacramento High School football coach Justin Reber, fresh off a winning season, brought several of his star players to Oak Park to hear Omalu speak. "I respect the doctor's opinion and study. He is a much smarter man than I am. However, I love the game of football and believe that children should play the game," the coach says after the talk. "I believe that it is a game that teaches so many positive life lessons—sacrifice, leadership, commitment, discipline, an ability to deal with adversity, balance and an ability to complex problem-solve."
Omalu hears this argument all the time. He refers to it in terms of what logicians call "confirmation bias," or the tendency to view information that agrees with one's personal or cultural values as more credible than information that contradicts it.
"How does conformational intelligence hold us down in every aspect of our lives?" he asks. "Many black men and boys believe playing football, playing sports, is what will lead them to the glory of economic freedom. That is a big lie."
"If you play football—not just football, but high-impact contact sports [like] ice hockey, boxing, mixed martial arts, wrestling or rugby—as a child, with or without a helmet, with or without concussions, every game you play undermines your intellectual capacity," he adds.
Omalu cites his position as a cultural outsider as enabling him to see what others hadn't, to open the door to the possibility that a sport as beloved as American football was destructive to the brains of those who played it.
"There was a reason it had to take an African like myself, a foreigner, an immigrant who had no inkling about football," he says.
******
Born in 1968 in the midst of Nigeria's civil war, Omalu cites early malnutrition as the reason he is the smallest of his six siblings (he's between 5-foot-7 and 5-foot-8), saying he turned to a life of the mind as a result of his physical limitations. His family returned from a refugee camp in Biafra to their homeland after the war and later prospered, putting expectations of high achievement on all of their children. Omalu's father was a respected figure, earning the title of oba, or chief. The family's surname translates roughly to "He who knows, should come forward to speak."
Two weeks shy of his 16th birthday, Omalu entered medical school, because "in those days the smartest kids went to medical school," but this didn't square with young Bennet's self-image of an "easygoing guy who loves the good things in life." His childhood dreams were a great deal more glamorous—he dreamt of being an airline pilot, with a girlfriend in every city.
The regimented life of med school sent him spiraling into a major depression, and he contemplated suicide at 17. He credits "walking toward overcoming that darkness" as what led him to America.
Throughout his childhood, Omalu saw America as the place "where God sends the children he loves most," a place of great intelligence and virtue, and getting here was what he set his sights on to pull him up and out of the depths. His view was rose-colored; his parents, perhaps in reaction to the horrors of surviving a genocide themselves, chose to shield their children from a great deal of the world's evils, so when 26-year-old Omalu arrived in Seattle in 1994 to pursue an advanced fellowship in epidemiology, he was decidedly naive.
"I did not know about the American experience of slavery. I did not know about the Holocaust," he says. Living in a predominantly white suburb of Seattle, he encountered racism for the first time when store clerks monitored him and police followed him home at night.
Responding to the challenge the way he knew best, Omalu simply continued to overachieve. He left Seattle for Columbia University in New York to begin his residency in pathology. Overwhelmed by his experiences in his new country and not yet free of depression, he felt more comfortable working with the dead than having to deal with the living on a daily basis. After all, he had never really wanted to be a doctor.
When he decided to pursue a career in pathology, Omalu naturally wanted to learn from the best, and to him, that was Cyril Wecht, Allegheny County's medical examiner and a noted forensic pathologist who has written books on the Kennedy assassination and the JonBenét Ramsey case, and was the pathologist who first suggested that Elvis died not of a heart attack but of a drug overdose. Omalu took a job at a lower salary than he might have earned elsewhere, strictly in order to work under Wecht's mentorship.
Omalu thrived in Pittsburgh, where he joined the local congregation and met his future wife, Prema, a native of Kenya. He also continued to study. In all, Omalu earned board certifications in public health, neuropathology, pathology and epidemiology, as well as a master's degree in public health from the University of Pittsburgh and an MBA from Carnegie Mellon.
This is the man the NFL attempted to brand a quack. It seems dramatic now in hindsight, as Omalu has become the protagonist of a book and a movie, but at the time, this battle was unfolding far from the court of public opinion, within the insular worlds of medicine and academia. Medical experts on the NFL payroll directed their opprobrium at Omalu's science, not his person, which was far more damaging. It wasn't until GQ published an article in 2009 called "Game Brain," the story on which the film and book Concussion are based, that CTE entered the public consciousness, and Omalu's personal story along with it. He is amazed to this day that people now recognize him. He was waiting to board a plane recently when he was spotted by fellow passengers.
"And do you know what they did?" he says, sounding still incredulous. "They rushed to the airport bookstore and bought books so I could autograph them for their brothers, sisters, uncles, husbands!" He signed copies of Laskas' Concussion until the bookstore ran out, then when the flight boarded, he was recognized all over again by the flight attendant who greeted him. "Unfortunately I've never been the type that likes attention," he says. "But it is what it is."
He credits Will Smith with teaching him how to cope with such incidents with grace. "I remember Will Smith saying, 'Bennet, anytime anybody comes up to you, you must acknowledge that person, because they're doing it out of love, admiration and respect.' "
The movie almost didn't come to be, according to Giannina Scott, who co-produced it with husband Ridley Scott. "Will was on the fence because he loves football so much and was worried about the repercussions about making a film about this," she says. "But when he met Dr. Omalu, he fell in love with his mannerisms, his wonderful laugh, his honesty and his selflessness."
******
In January, Omalu speculated to an interviewer from People magazine that O.J. Simpson probably suffers from CTE. The story blew up in the national media, and much to his consternation and surprise, he found himself at the hub of a new controversy. When Kevin Johnson asked him about it on the stage in Oak Park, he delivered his version of events as a self-deprecating story about how he, a naive epidemiologist, had intended the remark as "a public health educational statement" that might serve to alert partners of athletes in high-contact sports to the behavioral changes to look for. "But I'm being serious now—I did not make that statement to justify his actions. What I said has been distorted and sensationalized [by] the media!" he cried, with a wink, mocking his own innocence in hindsight.
Omalu isn't going to have the luxury of slipping back into anonymity anytime soon. He recently received congressional honors, meeting President Obama. Concussion just came out on DVD in late March, and he is in high demand as a speaker, which keeps him on the road a lot. In February, he signed a six-figure book deal to write a memoir to appear in 2017.
Will Smith "was worried about the repercussions of making a film about [CTE]," says Concussion producer Giannina Scott."But when he met Dr. Omalu, he fell in love with his mannerisms, his wonderful laugh, his honesty and his selflessness."
Still, Omalu is humble and somewhat pained when called upon to slip into his public persona. He is a study in contrasts, a powerful orator who also gives the impression that he genuinely dislikes being in the spotlight. He deals with the attention by viewing himself as a vessel, channeling the truth on behalf of the souls of dead football players. But it is a sacred duty, not a passion.
"I wish I'd never met Mike Webster" is something Omalu is quick to claim, even long after he has been vindicated—and he means it. As someone who has suffered through major depression and weathered professional ostracism, he appears to be immune to the heady aspects of fame, and he steadfastly refuses to romanticize his role in the controversy around CTE in football. Omalu doesn't see himself playing David to the NFL's Goliath. "I'm not a public policy expert. My role is to sow a seed that will instigate a discourse."
He moved across the country almost 10 years ago in 2007 in an attempt to dodge the unpleasant career fallout of his dustup with the NFL, fleeing Pittsburgh, where he had made a home, for Lodi, and a job as San Joaquin County's medical examiner and becoming a clinical professor at the UC Davis department of medical pathology and laboratory medicine in 2008. He moved to South Sacramento last year to be closer to his children's parochial school. Ashly is 8, and Mark is 6. Omalu doesn't have to forbid them from contact sports; they have heard enough stories at the family dinner table that they don't want to play them. Mark has declared that he wants to be a neurosurgeon when he grows up.
Omalu sees himself as a quiet family man, and has no interest in confrontation and no taste for the controversy he sparked. In 2013, he was offered the job of a lifetime as chief medical examiner for Washington, D.C. "It would've made it about me," he says. And would've made him a bigger target. On his wife's advice, he turned it down.
He isn't even invested in any particular outcome from his work, other than continuing his research into diagnosing, treating and preventing CTE. He calls himself a capitalist, and emphatically states that he respects the NFL's right to pursue its interests as a business. That said, he doesn't trust the NFL and wishes no further contact, likening the organization to "a girlfriend you learn is a pathological liar." For all the attention he has drawn, his only agenda, if you can call it that, is to speak the truth.
There is one part in the movie Concussion where Will Smith's portrayal approaches the vehemence of Omalu's delivery, and it is, of course, the most talked-about scene, quoted by Chris Rock in his opening monologue at this year's Oscars: Omalu is in a hotel bar, confronting an unnamed NFL doctor, whom he exhorts over and over to "Tell the truth! Tell the truth!"
******
Seven years after Mike Webster's autopsy, the NFL finally acknowledged the existence of CTE, and just this past March, Jeff Miller, the NFL's senior VP of health and safety, conceded a causal link between football and the disease. The organization had previously held out on this admission even after it had begun taking measures to protect players in response to public pressure. In the intervening years, many other researchers have joined Omalu in documenting the existence and extent of CTE, both in collaboration with him and independently.
Omalu received early support from Dr. Julian Bailes, chairman of neurosurgery at the Illinois-based NorthShore Neurological Institute and a former team doctor for the Pittsburgh Steelers, who was portrayed in Concussion by Alec Baldwin. Bailes remains a staunch supporter. "We have worked together for 10 years," he says. "He's a tenacious scientist. When he perceives a problem, he's dogged and persistent. That's what makes him successful. He's passionate."
However, unlike Omalu, Bailes, who is also the volunteer chair of the medical advisory committee for the Pop Warner organization, remains sanguine about the future of America's favorite sport. "I'm passionate about football and its importance," he says plainly. "There are risks. But hopefully it is safer than it's ever been and will continue to become even safer."
Bailes' support was a milestone for Omalu, an acknowledgement from someone close to the football-industrial complex that his work had merit. The two continue to work together closely. Omalu and Bailes co-founded the Brain Injury Research Institute (BIRI). Bailes is also a trustee on the board of the Bennet Omalu Foundation, formed in the wake of the movie by the Scotts along with the film's director Peter Landesman.
"I knew that we needed to do more than make a movie," says Giannina Scott, who serves as the nonprofit's president and CEO. "The foundation's mission is to fund research, raise awareness, provide care and find cures for people suffering from CTE and TBI [traumatic brain injuries]. Our goal is to advance the humanity of science."
Despite Omalu's position as the public face of CTE, other researchers have stepped into the breach and done just as much as he to further the research needed to bring about change. Doctors Robert Cantu and Ann McKee at Boston University, for example, have conducted numerous autopsies confirming CTE in football players, and have formed BU's CTE Center, which includes a brain bank. With less of a purist attitude, they have accepted funding from the NFL and the NIH. Whether that comes with the strings and compromises Omalu shuns remains to be seen.
In the meantime, Omalu's singular message is resonating with people in unexpected places.
Dr. Ann Schafer is a clinical psychologist with a certificate of neuropsychology from UC Berkeley who founded the Learning Disabilities Program at Sacramento City College, a position she retired from when she reunited with her college sweetheart, who had been a star player on the UC Davis football team. The two moved to Groveland, just outside of Yosemite, and opened a bed and breakfast.
"About 10 years after we were here, he started being a class-A jerk," Schafer says. "He was tested and diagnosed with early-onset Alzheimer's." The diagnosis spelled the end of the relationship, as he eventually left to live with his daughters.
When Schafer saw a clip of Bennet Omalu being interviewed on CTE, she immediately recognized the symptoms, and a light bulb went off. The direction of her life changed all over again. "Dr. Omalu is my hero," Schafer says.
Schafer has never met Omalu, but she is in the process of relocating back to the Sacramento area, where she'll be helping found a nonprofit under the aegis of Colorado-based New Hope for the Brain, aimed at providing free and low-cost neurofeedback treatment for former football players and veterans.  The treatment is experimental, but New Hope's founder Penny Montgomery has seen football players achieve symptom relief from neurofeedback, including former Denver Bronco Dave Studdard.
Schafer also identifies with Omalu's struggle for recognition, based on the pushback she experienced when introducing policies to protect the learning disabled at Sacramento City College in the late '80s and early '90s. "Nobody wanted to believe there were learning disorders," she says. Referencing another of her heroes, Carl Jung, she adds, "The universe has this way of putting us in these spaces we need to be in."
These days, Omalu is continuing to forge ahead in the realm of CTE research. He has published his findings of CTE in the brains of veterans of the Iraq and Afghanistan wars, and is preparing to co-author "a paper very soon on PTSD in veterans that is actually brain damage from exposure to ordnance."
"If the origin of the disorder is purely psychological, how come the majority of them never recover?" he asks with his typical brand of passionate skepticism. "Knowing what we know now, we're beginning to think that many of them suffer from traumatic brain injury."
Omalu is also involved in research into brain imaging via PET scanning that promises to diagnose CTE in the living. The current standard allows CTE to be diagnosed provisionally through observed symptoms, but the ability to detect it in brain tissue at an early, even presymptomatic stage in younger individuals would open the door to studies evaluating treatment modalities. "My focus always has been and remains the humanity of science, and not science for the sake of science," he says.
As for the future? "I feel a sense of purpose and a sense of peace," Omalu reflects. "And that is something I also learned from Will Smith." The actor, with whom he forged a lasting friendship during the time they spent together before filming and on set, gave Omalu the missing ingredient he needed to gain the perspective for dealing with a life in the public eye. "Will Smith, who is such a beautiful human being, advised me, 'Bennet, never make it about yourself,' " he says. "And I've never done that, thankfully. Rather, this has been about using what God has given me and what this wonderful country has given me: knowledge and education. Bearing that as my cross, [I hope] to be of service to my fellow man. And that gives me tremendous peace."