Two local pop-up shops to open at Downtown Commons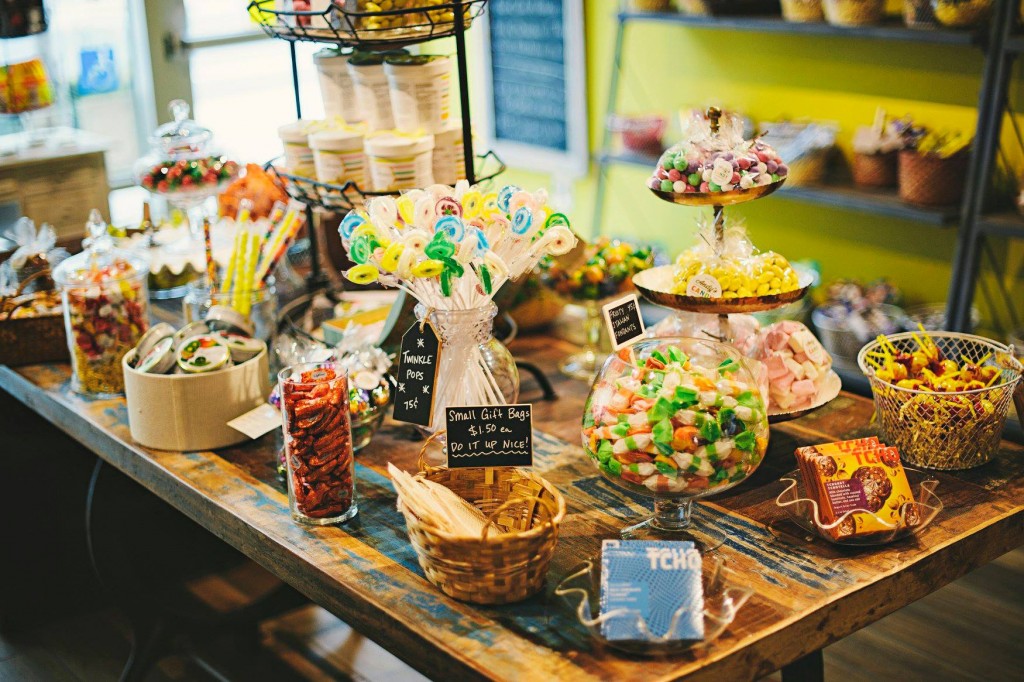 Starting this weekend, Downtown Commons will sweeten the pot with new ways to shop local, as Andy's Candy Apothecary and Display x Damas open pop-ups at the retail center.
Andy Paul—who launched his eponymous candy store in 2013 a few blocks away, on 9th Street—is outfitting his new 1,000-square-foot DoCo outpost with signature sweets, such as sour gummy candies and artisan truffles by Sacramento's Puur Chocolat and Berkeley's Casa de Chocolates, and plans to open on Sunday, Sept. 23.
Located next to Echo & Rig, the steakhouse on the ground floor of the Kimpton Sawyer hotel, the pop-up will look like a mini version of the current downtown location and feature half of the items the current store carries, according to Paul, who adds that he is looking forward to the opportunity to reach sweet tooths beyond his current downtown base. "DoCo is a totally different environment," he says. "There's not a ton of downtown business people [there]. It's people visiting from out of town and people going to the arena."
Meanwhile, the 1,500-square-foot space on the other side of Andy's Candy Apothecary will house Display x Damas, the new Oak Park store that debuted on Sept. 7 and is a marriage of two previously separate shops, Display: California and Damas, both of which are owned and operated by Maritza and Roshaun Davis' event and retail company Unseen Heroes. The DoCo shop—slated to soft-open to the public on Sept. 29, with a grand opening celebration scheduled for Oct. 17—will mimic the original store's setup: The Display portion will highlight California-crafted items, everything from jewelry and candles to books and clothing, while the Damas section will feature women's clothing and accessories made by female designers and female-owned companies.
The new location plans to spotlight what the River City has to offer, carrying more than 50 brands that are based in the Sacramento area, says Lili Avila, communications manager for Unseen Heroes. It will also be the exclusive retailer for People of Sacramento, which creates clothes, tote bags and hats that pay homage to this region, like a recent T-shirt design that included the names of all the artists who participated in the 2018 Wide Open Walls mural festival.
And while there is no set end date for either pop-up—Avila anticipates Display x Damas will stick around beyond the holiday season and Paul expects Andy's Candy to stay at DoCo through Easter—both shops are testing the waters and hoping to set up permanent shop at the plaza.
"There's a lot of excitement about [DoCo]," says Paul. "There are a lot of cool things going in there and we wanted to be a part of it."
Andy's Candy Apothecary is set to launch Sunday, Sept. 23, at Downtown Commons, with Display x Damas due to follow suit on Saturday, Sept. 29. Both stores will be open Monday through Saturday from 10 a.m.-9 p.m. and on Sunday from 11 a.m.-7 p.m. For more information on these and other openings at DoCo, visit docosacramento.com.
You Might Also Like
A sneak peek inside Camden Spit & Larder
A pup-focused pub to open in South Land Park
Ruhstaller's new downtown taproom opens