Urban farming, local food showcased this weekend at West Sacramento movie screening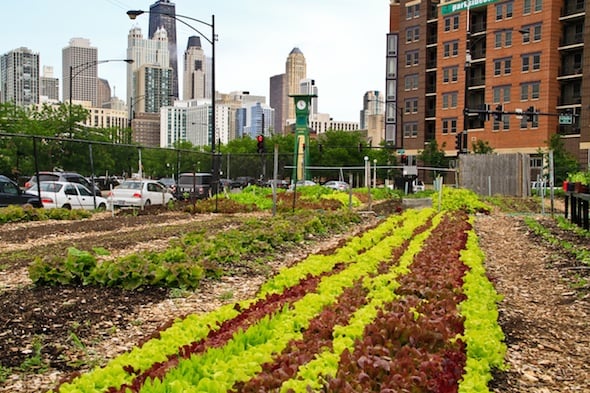 Food and film enthusiasts can dig into the value of urban agriculture on Jan. 25 at a screening of the documentary Growing Cities at Yolo Brewing Company in West Sacramento.
From a rooftop tomato patch in Los Angeles to a radish garden in downtown Denver, the movie follows filmmakers Dan Susman and Andrew Monbouquette as they journey between coasts exploring ways American cities can reap the benefits of urban agriculture.
Hosted by the Winters-based Center for Land-Based Learning and the Sacramento Urban Agriculture Coalition, the screening showcases a movement gathering momentum around the Sacramento region—particularly in Yolo County, where, in 2014, the new West Sacramento Urban Farm transformed an old gas station site into an acre-wide vegetable garden serving residents across the county with organic heirloom tomato beans and five varieties of peppers.
"[The documentary] is really showing how urban farming can work in a wide variety of settings and cities across America," says Christine McMorrow, director of development for the Center for Land-Based Learning. "From the backyard to more of a production-type agriculture, [urban farming] is feeding people and growing food for the masses."
A panel discussion with local urban farmers, policy makers and urban farming advocates—including Chanowk Yisrael (founder of the Oak Park-based Yisrael Urban Family Farm) and West Sacramento City Council member Chris Ledesma—will follow the screening, inviting attendees to learn more about urban farming's impact in Sacramento's own backyard.
Meanwhile, Yolo Brewing Co. will supply its house-crafted beers, and the Culinerdy Cruzer food truck will be on-site with special menu items featuring produce from West Sacramento Urban Farm, including roasted vegetables with creamy polenta and braised chard, smoked tri-tip with farro grits, and tempura broccoli (as well as other favorites from the truck's regular menu like The Twisted Cuban and the Applejack Cheeser sandwich).
"[This event] shows us as being a leader in some of these issues that are going on around our community, around our country and around the state," McMorrow says. "It's a way for us to just host a nice evening in the community where we can talk about something that is timely and relevant and on people's minds."
$5. 5 p.m. Yolo Brewing Company. 1520 Terminal St. West Sacramento. 530-795-1520. landbasedlearning.com
Related Links
–Dozens of craft breweries take center stage at Art of Beer Invitational
–Hawks Provisions & Public House set to open in March
–New food truck to bring fresh Maine lobster to the streets of Sacramento this spring