Valentine's Bay
With exotic flowers, oysters on ice and romantic sunset views, now's the perfect time to visit San Francisco for a lovely (and lusty) weekend.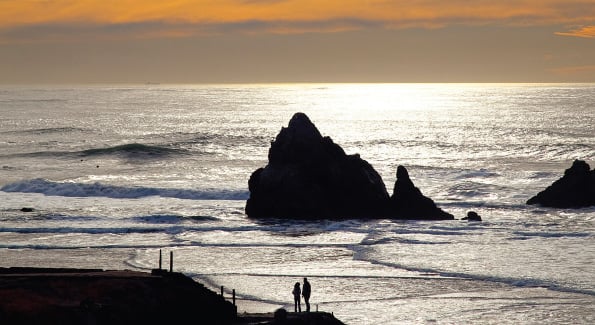 It might come as a surprise, especially with the season of St. Valentine's and spring romance upon us, but
San Francisco
is not widely thought of as a haven for people in love. San Francisco undeniably is a city of love, but it is often described as a romantic place—as opposed to a place for romance. It's a subtle distinction: There is the romantic notion of San Francisco, the petite Baghdad by the Bay, where you fall madly for heart-bursting views and develop a schoolgirl crush on all things quirky and comic. But while this is the home of Danielle Steel, the queen of the romance novel, the culture and history of great love seems tepid at first glance. The city, however, has never been a shrinking violet when it comes to passion, and despite perception, there are plenty of places (sunny spots and dark corners) where you can take your partner or spouse for a quick romantic getaway. And as with every good relationship, there are equal parts nice and naughty—the trick is finding balance in a city that, it turns out, has plenty of both.
WHAT TO DO
Conservatory of Flowers
You could be predictable and send flowers on Valentine's Day, or you could treat your significant other to a jungle where the flowers are still very much alive—and much more interesting than roses. The Golden Gate Park's Conservatory, built in 1879, is the oldest  existing wood and glass public greenhouse in North America and has blossomed with expanded facilities since a $25 million renovation in 2003. Expect the sweet scent of citrus blossoms in early February, and stroll among the more than 1,700 species of flora, from lotus flowers to Dracula orchids, all ofwhich will be alive long after the bouquet from 1-800-FLOWERS has hit the trash. When docents are available, public tours are at 11 a.m., 12:30 and 2:30 p.m. Parking on side streets is free but can be, at best, unlikely to be found, and on Sundays many roads in Golden Gate Park are closed to vehicle traffic. Grab a spot in the pay garage under the Music Concourse and the de Young Museum (enter at Fulton Street and 10th Avenue) and walk a few minutes east on Kennedy Drive. 100 John F. Kennedy Dr. 415-831-2090. conservatoryofflowers.org. Open Tues.-Sun. 10 a.m.-4:30 p.m. (Last entry is at 4 p.m.) $7 per person.
Sutro Heights
If your watch says 5 p.m., cruise out to Sutro Heights, the closest San Francisco came to having its own Hearst Castle. In the 1880s Adolph Sutro, millionaire, mining engineer and onetime San Francisco mayor, built a Victorian estate with elaborate public gardens, a mansion and a castle-like parapet, in addition to the Sutro Baths, an indoor swimming complex, all at the southern entrance to the San Francisco Bay. Most of it is gone now, but the foundation remains and is now part of the Golden Gate National Recreation Area. And the circular, walled parapet overlooking Seal Rocks, Ocean Beach and the old Dutch windmill is arguably the best spot in the city to watch the sunset (exactly 5:46 p.m. on Valentine's Day). There are picnic tables, so if you're early, stop by Fredy's Ocean Beach Deli (on La Playa Street at the base of the cliff below the park) for a sandwich and a bottle of zin to share. Fredy's cooks its own roast beef and turkey, and the soft, tangy sourdough is a moral imperative, even with pastrami. Point Lobos and 48th avenues. 415-561-4323. nps.gov/goga. Free.
Good Vibrations
There's a fine line between being romantic and, ahem, "feeling romantic," and adult toy store Good Vibrations appears to have everything imaginable that you might need once you cross that line (or if you need a little help crossing it). The San Francisco-based chain—celebrated sex expert Carol Queen is the "staff sexologist"—is several stages of evolution beyond the traditional sex shop (think well-lit with chic décor), and is all about information. Clerks are quick with disarming banter and give you the straightforward facts about the several hundred gadgets that department store catalogs used to classify as "personal massager," as well as the shelves full of other products for the amorously inclined. The store has even snagged mentions on Oprah.com, and in Marie Claire and The New York Times. The downtown shop (there are a few others in town) is on the ground floor of the Fifth & Mission parking structure, so you can leave your purchases in the car if you don't care to tote them around all day. Downtown location: 899 Mission St. 415-513-1635. goodvibes.com. Open Fri.-Sat. 10 a.m.-11 p.m., Sun.-Thurs. 10 a.m.-9 p.m.
WHERE TO EAT
Allegro Romano
He's no longer in Rome, but chef-owner Lorenzo Logoreci still does as Romans do—serves you fine Roman pastas, fish and meats in a 32-seat ristorante that looks, feels and tastes as though it should look out on Piazza Navona. It seems like every customer knows "Lorenzo" (in his trademark pink trousers), who appears to be the embodiment of the ultra-attentive, big-hearted Italian chef stereotype (think the spaghetti scene from Lady and the Tramp). If you think that's amoré, wait until the creamy, salty risotto with scallops in black ink and fig-balsamic sauce arrives. Pace yourself; don't hesitate to split an appetizer or pasta course—the dishes aren't necessarily huge, but most are very rich—and plan to do as Romans do and make the meal last. And check out the website's photo gallery to see the scores of celebs, from Brad Pitt to Conan O'Brien and 49ers legend Joe Montana, who've dined at the restaurant. 1701 Jones St. 415-928-4002. allegroromano.com. Open Mon.-Sat. 5-10 p.m. Entrées $15-$25.
Gitane
French restaurateur Frank LeClerc has built a culinary fiefdom on Claude Lane with three restaurants in the same 50 yards or so of a narrow alley off Bush Street. The most intimate is Gitane, where you'll find a menu that speaks Spanish, Portuguese and Moroccan, a wide, worldly wine list and a feel that has been described as "Casablanca meets Paris" (although the bar vibe borders on a hangout for Anne Rice characters). For dessert, split the beignets (not intended to resemble their country cousins in New Orleans—think really swanky doughnut holes), which come with dipping bowls of melted Valrhona chocolate and a vanilla sauce called "Naughty Cream." Be brave. Reservations seem imperative, although the bistro seating outside is available for same-day reservations if you can't book a table inside at the last minute. 6 Claude Ln. 415-788-6686. gitanerestaurant.com. Open for dinner Tues. & Wed. 5:30-10:30 p.m., Thurs.-Sat. 5:30-11:30 p.m. Entrées $20-$28.
Mayes Oyster House
Nothing says romance like three dozen oysters in a place that Zagat says "exudes a bordello vibe." In its defense, Mayes is the oldest seafood restaurant in San Francisco and was around when there really were Barbary Coast bordellos, although the current souped-up version of the place combines hip cocktail lounge and DJ- or band-fueled nightclub after the kitchen closes. Who knows how much diners paid for the oysters in 1867, but during the happy hours of 4 to 7 p.m. on weekdays (noon to 7 p.m. on Saturdays), Sister Point, Fanny Bay and Hama Hama oysters are a buck a piece, so you can get three trays—and any resulting romance—for less than it costs in some SF eateries just to order your wine. The best part: Sunday is happy hour all night. Boost the intimate factor by saucing and slurping these bivalve mollusks at a table by the gas fireplace (first-come, first-served seating). 1233 Polk St. 415-885-1233. mayessf.com. Open Sun.-Wed. 4-11 p.m., Thurs.-Sat. 4 p.m.-2 a.m. Bar bites menu items $3-$17.
WHERE TO STAY
Hotel Abri
Sure, it's a stone's throw from the city's best shopping district, but what good is that if your significant other has to lug around the bags? Under the hotel's Shopping Valet program, you can call the hotline and a valet will be dispatched to pick up your purchases and deliver them back to the room. From a romance standpoint, it also doesn't hurt that the recently renovated (and seriously stylish) 91-room hotel has a fireplace lounge; a "Romantic Adventures in SF" package, which includes bike rentals, a disposable camera and photo album, wine and cheese, and list of the top 10 places in the city to kiss (for example, the Lyon Street stairs in the Marina District); a "Luv Shack" package, which you can order at the time of booking and includes a vodka kit; plus, a late 1 p.m. checkout. 127 Ellis St. 415-392-8800. hotelabrisf.com. Rooms $139-$369 per night.
Mandarin Oriental
If your idea of romantic is sharing the best views of the bay in your pajamas (or nothing), the Mandarin Oriental is the place to wake up. All 158 rooms are between the 38th and 48th floors—the highest accommodations in the city. Book one with a view of the Golden Gate Bridge if you can. The bathtub in the Golden Gate Bridge Mandarin Room is at the picture window so you can share the view while soaking, and if money is less of an issue, the Taipan Suite offers a jet-stream tub, private terrace and a Swarovski telescope (presumably not for spying on amorous neighbors—probably). And if you want to stay in, the concierge can arrange in-room massages. The hotel is going through an extreme makeover until the end of May, when it celebrates its 25th anniversary (and will be closed March 11-April 9), but disruptions should be minor. 222 Sansome St. 415-276-9888. mandarinoriental.com/sanfrancisco. Rooms $445-$4,200 per night.
Phoenix Hotel
Whether you've got a rock 'n' roll love like Sid and Nancy, or just love rock 'n' roll like Joan Jett, the only way to sleep with more rock history in San Francisco would be to pass out on the floor of the Warfield. (FYI: Not recommended.) Despite looking like a slightly swankified 1960s motel on the edge of the Tenderloin, the Phoenix has hosted the likes of Pearl Jam, The Killers, Psychedelic Furs, Red Hot Chili Peppers and the aforementioned Ms. Jett. There's more whimsy than fancy in this Joie de Vivre property, but the price is right and the new poolside, Vegas-chic restaurant turns into a cool cocktail lounge after dinner. Bonus: free on-site parking and Wi-Fi. 601 Eddy St. 415-776-1380. jdvhotels.com/phoenix. Rooms $109-$349 per night.
Spud Hilton, a graduate of Sacramento State, is the travel editor of the San Francisco Chronicle.