Veggie Supreme
Two alums of Berkeley's famed Cheese Board Collective launch Majka Pizzeria & Bakery in Sacramento, offering a different produce-packed sourdough pizza every day and miso chocolate chunk cookies for dessert. Here, eating your vegetables is as easy as pie.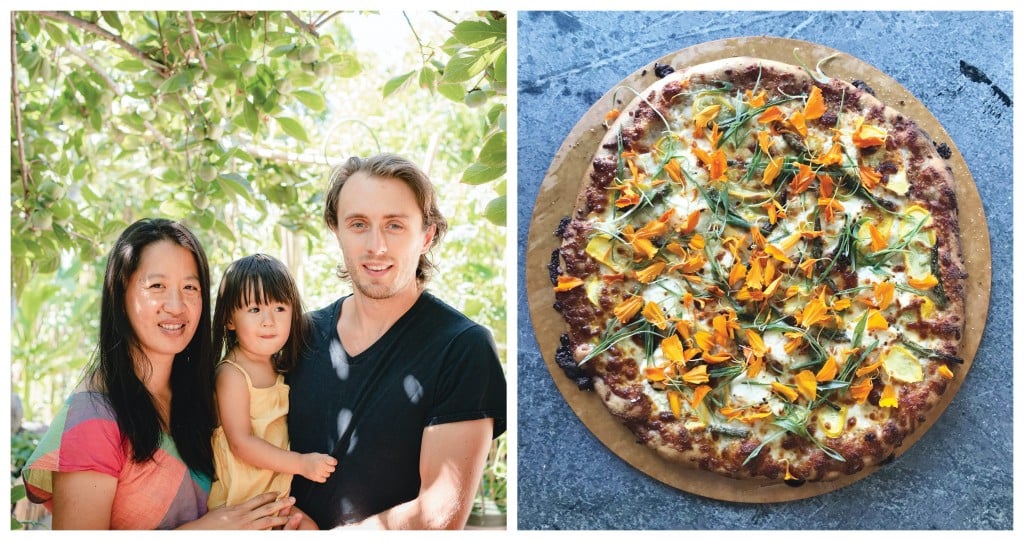 BBehind a small, signless storefront on the ground floor of a new residential tower at 15th and Q, two masked bakers make exactly 50 vegetarian pizzas and three dozen miso chocolate chunk cookies a day. Turns out, no street identification and a hard cap on the delicious daily yield have unexpectedly produced a cult following for downtown's Majka Pizzeria & Bakery, which opened in late June. But given the origin story behind the new restaurant (the pandemic has so far reduced the original vision to online preorders and a cute little pickup window), perhaps such a devoted patronage shouldn't come as a surprise after all.
In fact, the praise on social media for Majka's limited offerings often references married owners Alex Sherry and Chutharat Sae Tong's former place of employment, The Cheese Board Collective, where they met eight years ago, and also where they cut their teeth as bakers. For example, on Twitter, @LawJith commented, "Excited to confirm the pizza is Cheese Board quality," and on Instagram, @kristee00 wrote, "We are following you from Berkeley all the way to Sacramento."
Located in northern Berkeley near Alice Waters' iconic restaurant Chez Panisse, the Cheese Board is renowned for its sourdough pizza and creative vegetarian topping combinations, a farm-forward style that is well suited to the Sacramento region and its bountiful cradle of crops.
Sherry, the pizza maker at Majka (pronounced like "Micah," the word means "mother" in Serbian, a nod to his heritage), seems to be taking full home-field advantage. His unapologetically produce-packed pies have so far included a sunny combination of yellow squash, green beans, scallions and marigold petals hand-plucked off the bloom; and a Cal-Mex version loaded with just-shucked corn, zucchini, red onions, cilantro and lime wedges for on-the-spot spritzing. Even the zesty "green sauce"—think of it as pizza dip—is chock-full of serrano pepper, cilantro and lime. To gather the freshest ingredients, the chef poses a near-daily question to farmers like Scrivner Hoppe-Glosser at Azolla Farm in Sutter County or Lucy O'Dea at Flying V Farm in Placerville: "What looks good today?"
"We're doing truly seasonal pizza at Majka—you'll never see a simple cheese-and-tomato sauce version from us," he says. "The closest we get to that is in the fall, when the dry-farmed tomatoes are super sweet." After slow-roasting the juicy fruit for what he predicts will be a circa-October pie, Sherry, 32, will add Bellwether Farms ricotta, a drizzle of Bariani olive oil from Yolo County, some house-made balsamic reduction, torn basil leaves and sea salt. So close to a cheese-and-tomato-sauce pie, and yet so far away.
Sherry can trace his thin-crust destiny back to a brick oven he built at his family's Rhode Island home while he was in high school. In fact, photographic evidence of this auspicious event was the clincher on his application for the Cheese Board, which launched in 1967, at the height of the counterculture, with a mission to serve fresh, seasonal food to the community. "They had never seen anyone build a pizza oven before," he says, laughing.
In 2012, the pizzaiolo was a budding mechanical engineer disenchanted with what he foresaw as an office career—"I'm a very active person and I just couldn't imagine that existence," he says—so only a few months after graduating with a master's degree from UC Berkeley, he started from scratch, so to speak, with one of his passions: food. More specifically, Cheese Board pizza, a staple of his college diet. Twentysomething crisis averted.
Indeed, Sherry's high energy comes in handy for pizza—at Majka, he makes and monitors five to 15 pies at once, shuffling them in and out of the gleaming stainless-steel bread oven, where they blister on a 550-degree stone deck for eight to 10 minutes. "Alex is so agile and fast in the kitchen," says Ambri Pukhraj, the couple's close friend and former Cheese Board co-worker. "And yet he has such a knack for staying calm under pressure."
Majka's open kitchen—Sae Tong, who studied architecture at UC Berkeley, outfitted the mid-century-modern-inspired space with modular storage bins and butcher-block tables on wheels for easy rearranging—details the day's orders according to their pickup times.
Even though the idea of feeding the community wasn't new to Sae Tong, a Bangkok native (she explains that a common Thai greeting, "Kin khao reu yang?" doesn't translate to "Hello, how are you?" but rather, "Have you eaten yet?"), she became truly invested in the concept when she lived in an undergrad coop and was tasked with cooking for 60 people once a week. Lasagna, mostly, but sometimes a beloved Thai omelet soup with homemade chicken broth, vermicelli, tofu and cilantro—her mother would gently guide her via phone.
"That soup was one of my favorite childhood comfort foods," says Sae Tong, 41, who spent her teenage years in Antelope, where the couple lives now with their 3-year-old daughter, Esme. The soul-soothing bowl was so well received, bringing as much joy to the co-op—evidenced by a chorus of voracious slurping—as it had to her youth, that any aspirations of a career in design and architecture went out the proverbial window.
"I felt like all I wanted to do was cook and feed people," says Sae Tong, who went on to work in the Cheese Board's bakery and rind shop for 12 years, enough time for the virtues of an artisanal, ingredient-driven, Old World-style hearth to seep deep into her bones.
Take, for instance, the pastry chef's miso chocolate chunk cookies, Majka's debut dessert. Each hefty, palm-sized confection, made especially for those who like a bit of whole-grain cookie and a touch of umami complexity with their copious amounts of puddling dark chocolate, is a minimum of six months and three days in the making. In keeping with baking's Slow Food traditions, these are the lengths of time required to crock-ferment the house-made miso and to ripen the cookie dough, respectively. But many other artisan-ingredient histories are unaccounted for in this recipe timeline, including how long it takes to grow the green grass that makes the Jersey cows at Petaluma Creamery happy and fat, and their milk subsequently thick and luscious, all of which culminates in fresh-churned butter the color of sunshine.
Or, for that matter, how long it takes to grow the golden California wheat that Sae Tong and Sherry painstakingly mill themselves in the bakery. They use all kinds of varietals, from slightly sweet einkorn to robust yecora rojo—in fact, the sourdough for pizza is made from Sherry's proprietary blend of three different whole-grain flours.
Each Majka pie starts with the bakery's 3-year-old sourdough starter (a living, breathing cultivation of the wild yeast that occurs naturally in the flour—just add water) and a long, 24-hour fermentation time of the pizza dough. "Don't get me going down the rabbit hole of sourdough," says Sherry, who goes on to extol its virtues, such as its long fermentation time, which "makes the bread more digestible." To further emphasize the untamed quality of natural fermentation, Majka also sells bottles of regional wine produced in the same way, like a sparkling zinfandel rosé from The End of Nowhere in Amador County or a nebbiolo from Haarmeyer Wine Cellars in West Sacramento.
While Majka has meant early rises and late nights for the husband-and-wife workforce, Sherry and Sae Tong are getting into a groove—the pickup window has grown on them—and they're planning to slowly add more baked goods to the small lineup this fall: a sorghum oatmeal raisin cookie (which will deliver a satisfying Rice Krispies-like crunch), an einkorn sesame loaf (daughter Esme's bread of choice), and Sae Tong's feat of experimental quarantine baking, a vegan and gluten-free hazelnut-buckwheat cake with coconut ("It's my favorite cake," says Sherry. "But wait, how can that be?").
Currently, Majka is offering a cheese box featuring three small wedges (varieties may include the classic French triple crème, Brillat-Savarin, and the slightly tangy La Tur, a soft-ripened variety from Italy), Red Flame raisins on the vine and olive oil-sea salt crostini. A larger, holiday-size box with even more unique cheeses is soon to follow. "We love showcasing cheeses that people may not have heard of," says Sae Tong, formerly the buyer for The Cheese Board's rind shop.
"Alex and Chutharat care so deeply about the quality and origin of their ingredients," says Martha Wold Cornwall, another close friend from the Cheese Board. "And to think, it all began rather simply, from their love and enjoyment of food and feeding people."
Majka Pizzeria & Bakery. 1704 15th St. 916-572-9316. majkabakes.com