Video footage of Sacramento's inaugural Dîner en Blanc released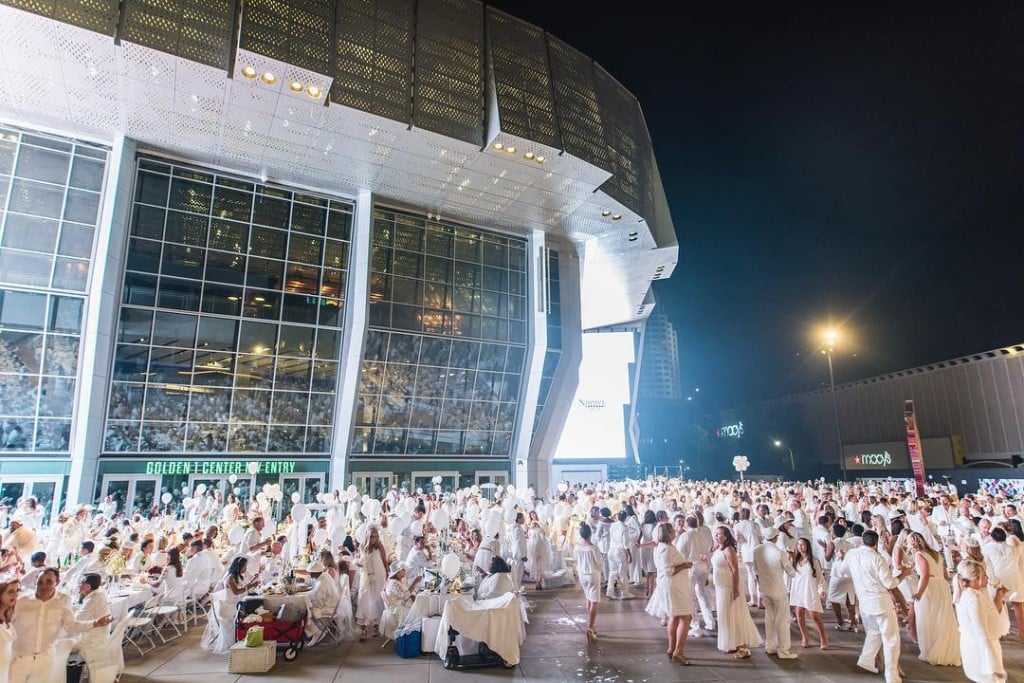 On the evening of Oct. 8, over 1,000 people descended upon Golden 1 Center's newly unveiled plaza dressed all in white, toting dinnerware and dancing to the strum of a harp—a heavenly scene that left many passersby awestruck.
The pop-up celebration was Sacramento's first Le Dîner en Blanc, an international event that began in Paris in 1988 and has since spread to over 70 cities across all six continents, including 28 events sprinkled throughout the U.S.
The location for Sacramento's Dîner en Blanc was kept a secret until the day of the event, and attendees gathered at four meeting points, escorted by volunteers to the front of the arena. Participants were required to bring their own tables, chairs and linens, and tickets ($37 each) were provided on an invite-only basis.
"We had an unbelievable, overwhelming response from attendees that, yes, they [had been] skeptical, but it could not have been a more joyous experience," says co-organizer Christine Ault of Valley Vision. "That was the feeling that I had as I walked around that night. It was just happiness all over the place."
Sacramento-based videographers The Film Squad have now released footage of the night, which can be viewed below:
"It really captures the spirit of the event and gives people a flavor for what it was like to be there," Ault says of the video, which depicts the evening's merriment, food from the likes of Mulavney's B&L, and musical acts that included the Sacramento Philharmonic & Opera's Madroña Trio.
Ault also added that she and fellow organizers—restaurateur Bobbin Mulvaney, placemaker Tre Borden, Maritza Davis of event marketing firm Unseen Heroes, freelance event consultant Libby Siino, and Michelle Odell of Kaiser Permanente—are confident they can make this event an annual affair in the capital city. Ault says they will speak with Dîner en Blanc's international committee this month to debrief about the inaugural dinner and discussw future efforts.
A wait list for a potential 2017 soirée is already up to 3,277 individuals. Folks can add their names to the list in hopes they are invited. More information is available at sacramento.dinerenblanc.info.
You Might Also Like
An exclusive Parisian-inspired pop-up event paints our town white
Why Not Here? Great ideas from other cities that we'd love to see here
The California Museum announces its 2016 Hall of Fame inductees