Walk This Way
Downtown's K Street recently marked five years as a non-pedestrian mall. So it has cars on it. Sort of. Well, most days, but not during fun times. It's complicated, but it shouldn't be.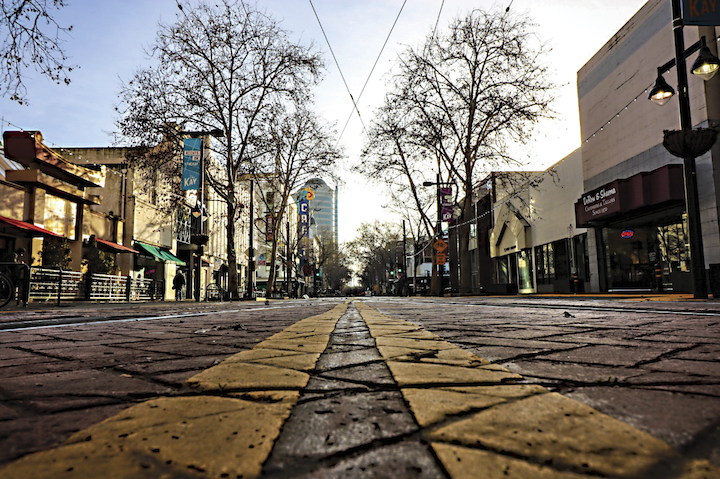 Throughout much of the '30s, '40s and '50s, K Street was Sacramento's grandest urban boulevard. TLined with bright neon movie marquees, hot restaurants and shops galore, it was, effectively, the center of Sacramento—our version of New York's bustling Times Square.
But times changed. After World War II, a flight to the suburbs decimated downtowns across the country as the promise of affordable homes with pools, garages and backyards beckoned. One by one, downtown movie palaces and retail venues closed their doors as suburban megaplexes and shopping centers with abundant parking flourished.
By the 1960s, things were looking bleak. And so in 1969, seeking to breathe new life into the one-time people magnet, city officials closed K Street between 7th and 13th to automobile traffic and spent $2.1 million to create a pedestrian mall filled with large-scale concrete sculptures.
In addition to the new design, suggestions were floated to only allow unique vehicles on said stretch—including horse-drawn carriages or even double-decker buses—to help create a destination vibe.
Unfortunately, budget shortages prevented the mall from being executed as planned. Shortcuts were taken, and less than a decade after the transformation, city leaders like then-Mayor Phil Isenberg wanted to rip it up and start from scratch. In 1978, The Sacramento Bee quoted Isenberg as saying, "To my knowledge, there is not one person in America who believes that the K Street Mall is beautiful."
So rip it up they did. In the '90s, a new, two-story Downtown Plaza was built on K from 4th to 7th streets. And 8th to 12th streets remained closed to traffic except for the north-south lanes slicing through them.
But "The Kay" continued to stagnate.
By 2009, the Great Recession was in full swing, and civic leaders cried out to open K Street to cars once again. Surely that would help, right? Business owners and city officials hoped the increased visibility would help drive business—literally.
But to where would these drivers drive on this meager four-block stretch? There was, to quote Gertrude Stein, "no there there" to see, with the notable exception of the Crest Theatre and a few newly subsidized clubs and restaurants. Opening K to vehicular traffic was a solution to a problem that simply didn't exist. K Street didn't need cars; it needed businesses. It needed people.
It took over two years of conversation and planning (of course), but in November 2011, cars were once again allowed to navigate their way from 8th to 12th streets on the mall. It was the first time in 42 years that the rubber had met this road, and expectations ran high.
Now, just over five years later, the verdict, albeit a silent one, is in.
It didn't work. It just didn't.
Reintroducing cars to K Street was a failed experiment by virtually any measure.
To wit, one night in mid-January, as thousands of fans vacated the Golden 1 Center, the sidewalks swelled with people, but the street itself remained empty. Traffic was heavy on J and L streets, but K Street was a superfluous boulevard—a vehicular bridge to nowhere.
Part of the issue is that in 2014, less than three years into the grand experiment, the city found that there was a bottleneck where cars dropped off and picked up friends or family members at some of the bars and nightclubs near 10th and K. The city's astonishing solution: it closed all of K Street from 8th to 12th streets from 10 p.m.-3 a.m. on Thursdays, Fridays and Saturdays.
So, amazingly, the city added cars to increase vibrancy and accessibility to K Street in 2011, but in doing so, replaced one problem with another that needed to be corrected. The end result is that very few cars now travel these paltry few blocks. And they're not allowed to be there at all during the time when most streets in big cities come alive.
This stretch of K went from having cars until 1969, to not having them for 42 years, to having them for three years, to having them, well … sometimes.
Stand on any sidewalk on K today, and you'll notice that what few cars do trundle up and down the street move tentatively, as though they're unsure if they're really supposed to be on the road or not, or they're trying to find their way off of it. There's not a sightseer to be found.
We here at Sactown moved our headquarters to 9th and K in the fall of 2015, so we've had a front-row seat to this stretch of downtown for well over a year now. I also walk to and from work on K Street every single weekday.
Throughout much of each day, the street is all but devoid of cars. When I contacted the city's transportation department to request the numbers of vehicles that traverse this stretch each day—information available for virtually every street in the city—I was informed that no such records exist. "Since it was opened, we [have not seen] much traffic going on K Street," I was told.
Incredibly, when Sacramento decided to spend millions of dollars reopening a street for cars for the first time in generations, the city never bothered to count said vehicles or measure the effort's progress. That's an egregious oversight, because cities tend to make decisions based on numbers. And without those numbers, the city is far less likely to correct a mistake it has made.
However, if one looks closely enough, there is ample evidence of this civic wrong turn on every corner.
First, we have eyes. It doesn't take more than a few minutes on any given day to see that the street has virtually no traffic.
Second, the proclaimed hope put forth by civic leaders in 2011 was that businesses would see an increase in visibility and, by extension, an increase in business. Not so much.
Consider the brief history of K Street's fortunes after reopening the street to cars. The Cosmopolitan Cabaret closed in 2012, and then became a concert hall called Assembly, which itself closed in 2014. In 2013, the once-popular Pyramid Alehouse at 11th and K shut its doors for good. In 2014, Marilyn's on K ended a nearly decade-long run at 9th and K. Last year, Esther Son closed Estelle's Patisserie on 9th, and she will reopen a new incarnation soon in Downtown Commons a few blocks west in, of all places, a pedestrian mall. In late 2016, trendy retailer Denim Spot shut down its K Street storefront and relocated to H Street.
So if driving on K Street isn't creating the retail renaissance that stakeholders hoped for, why not create a destination by using the street in a different capacity? Why not design a 21st-century pedestrian mall that brings people to the street, but not for driving?
And in October 2016, Randy Paragary announced that he was closing both KBar and Cafe Bernardo at the corner of 10th and K.
Did the reintroduction of automobiles to K Street kill all of these businesses? No, but it sure wasn't the panacea many hoped it would be.
Kim Anderson, who runs Ambrosia Café at 11th and K, for one, doesn't believe the reemergence of cars brought any tangible benefits to the eatery. Ryan Donahue, co-owner of Mother (opened in 2014) and Empress Tavern (opened in 2015), wasn't operating his restaurants before cars were allowed on K Street, but he's also skeptical that the change made a difference. In fact, when he and his partners instituted valet parking for Empress last July, the K Street configuration didn't allow for it, so they had to set up a valet stand on 10th Street around the corner. By November, they shut it down. It was too far from the entrance, and few people used it. And while Randall Selland says he personally likes being able to drive down K Street, he also can't say that the addition of cars has improved his bottom line at Ella at 12th and K.
So if driving on K Street isn't creating the retail renaissance that stakeholders hoped for, why not create a destination by using the street in a different capacity? Why not design a 21st-century pedestrian mall that brings people to the street, but not for driving?
In fact, we already have the mother of all built-in feeders of guaranteed foot traffic—the Golden 1 Center. On any given event night, thousands of people pour onto K Street, either walking back to their cars or foraging for food and drink. This is a variable that didn't exist in 2011 when the cars came back. This isn't a case of "build a pedestrian mall and they will come." As of this past October, they're already coming, so let's build something great.
Let's harness that foot traffic and pull it as far into downtown as we can. When plans to return vehicular traffic to K were brewing in 2009, the critical issue of a city's "walkability" wasn't nearly as relevant as it is today. Now, walkability is a key metric for millennials determining where they want to live. Sacramento currently ranks 23rd in the country, according to Walkscore.com. San Francisco ranks second. We have much room to improve, and kicking cars off the road could be a big start.
Think pedestrian malls can't be wildly successful? Don't tell that to Denver, whose 16th Street Mall—a 1.25-mile-long streetscape designed by I.M. Pei in 1982—is the No. 1 tourist destination in the Mile High City, according to Visit Denver. It's ahead of the zoo, art museum, the Capitol and everything else in this ruggedly cosmopolitan city. It's a street filled with sidewalk dining, beautiful landscaping and shops and restaurants open late, with hybrid electric buses that ferry people from one end to the other completely for free.
For our K Street makeover, let's push to move light rail from K to H Street, a replacement route already long considered by Regional Transit.
As for the newly freed-up street, let's create a public outdoor cafe space like in the reimagined Times Square in New York, where dozens of tables now dot Broadway in the heart of Manhattan. We can also fill it with bold new public art. We had Art Hotel and now ArtStreet; how about ArtBoulevard? Let's create designated areas for much-needed street musicians. We can fashion miniature parks with green grass inviting pedestrians to relax or picnic, and program the street with maker fairs and farmers' markets. K Street could become the urban canvas that we constantly reinvent.
I can think of no better place in Sacramento to create a hub of urban design innovation, where artists, architects, designers and placemakers convene to reimagine the downtown core.
Few cities in America have the makings of a transformative opportunity like this one. We have a failed transportation experiment that needs fixing; we have a new half-billion-dollar arena that provides guaranteed foot traffic; and we have a downtown thirsting for more visitors, art, music and creative programming.
Executed right, K Street can become the destination it once was. This is one downtown street where we need to leave cars in the rear-view mirror.