We the People
Crowdfunding websites might be best known for launching cool products, but these days, they're also being used to help citizens improve their cities, one downtown waterslide at a time.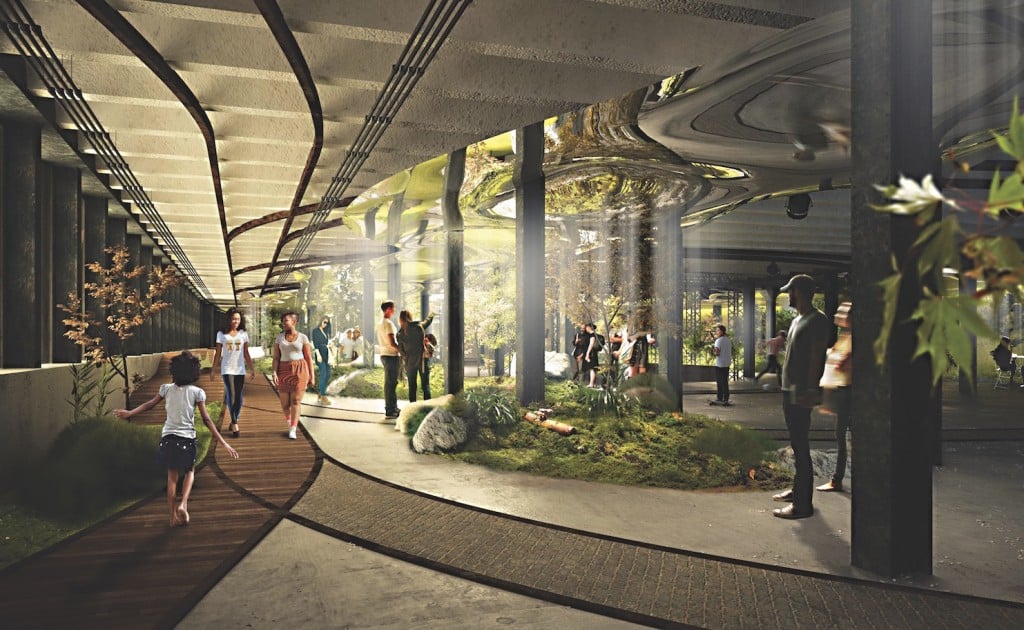 Sometimes it takes a village to build a city.
Take Nevada City, for one. In 2015, local leaders launched a yearlong pilot program to string terrazzo lights above a popular street to improve safety and enliven its commercial appeal. The lights were a big hit with the public, but the city wasn't paying for a permanent, eco-friendly replacement.
So… the people did.
The local chamber of commerce created a GoFundMe page this past March, and within three months, raised over $3,500 from 62 citizens who donated $5 to $100 each. The new lights were installed in June.
Nevada City is just one example of citizens pitching in to fund civic projects ranging from functional to fanciful.
Sacramento and other cities in our region could use more of this creative energy. I believe people instinctively want to improve their neighborhoods, and crowdfunding sites are giving them a low-risk, low-cost and high-impact way of doing just that.
One popular category of civic campaigns is for parklets—those bite-sized urban gathering places that are squeezed into former parking spaces. Sacramento has had a few, but I suspect we'd have more if we followed the lead of crowdfunders in other cities, from Raleigh, N.C., to Vancouver, Berkeley, Chicago and so on.
One such campaign on Kickstarter (which has a "civic design" category) yielded $12,828 from 211 backers for a parklet in Rochester, N.Y. And the Aug. 4 ribbon cutting, with the city's mayor in attendance, is more than just a one-off. From the outset, local leaders there committed that, upon the project's completion, they would establish "a municipally led parklet program city-wide." So that initial project will pay dividends for decades to come.
In fact, many cities are seeing long-term benefits from these campaigns, including communities that are making protected bike lanes a priority. As we reported recently, Sacramento currently trails the nation in these lanes that encourage more biking with the use of physical barriers—planters, poles, etc.—that prevent cars from entering the lanes. Part of the challenge is funding, and here's one way to help jump-start the process.
In the fall of 2013, Memphis was trying to build its first protected bike lane, a $4.5 million endeavor that would create a 2-mile lane through a critical part of the city. After raising both public and private funds, the city was about $70,000 short. Faced with waiting for another budget cycle, they turned to a site called Ioby—a civic innovation crowdfunding site that "helps neighbors grow and implement great ideas one block at a time." The name, by the way, is an acronym for "In Our Backyards"—a clever antonym for NIMBY.
The campaign launched in October 2013 and by November, more than 700 individuals and small businesses had donated $68,928. The median gift amount was $50. The city broke ground on the project in February 2014.
Since then, Memphians have raised over $650,000 for civic projects on Ioby alone, ranging from new crosswalks ($4,760) to restriped basketball courts with new backboards ($6,131). The average donation for all projects is about $35.
Inspired by Memphis' successful campaign, the Downtown Denver Partnership launched a similar project on Ioby in October 2014. Its city was also struggling to complete fundraising for a protected bike lane. Because one of the grants the group had received required matching dollars from the public, it needed to raise $35,000.
Within six weeks, 253 donors contributed $36,085.
The opportunities for Sacramento are obvious, yet none of Ioby's many current or past campaigns have taken place here. Other cities, however, are lining up to fill in the gaps left by local governments or agencies.
These campaigns don't always need to be small, or focused strictly on infrastructure. Sometimes, they're used to kick-start incredibly ambitious civic amenities.
Consider Louisville, Ky., where concerned locals recognized a dearth of bus shelters and benches in two underserved neighborhoods. A partnership was formed between the neighborhood associations, the mayor's Metro Office of Sustainability and a local architecture firm that donated its time. Together they launched an Ioby campaign in 2014. Even the city's transit authority jumped on board, using Facebook to encourage contributions.
The campaign successfully raised $8,155 to cover the costs of the materials and installation for two new shelters.
Like Louisville, Sacramento has several neighborhoods—Oak Park, for one—in need of shelters to shield riders from the sun or rain as they wait for their bus. These sites provide citizens with the ability to address these basic needs.
But these campaigns don't always need to be small, or focused strictly on infrastructure. Sometimes, they're used to kick-start incredibly ambitious civic amenities.
Take the Lowline Underground Park in Brooklyn, a spin on Manhattan's wildly popular High Line. The Lowline founders proposed converting an abandoned, subterranean trolley terminal into "a vibrant community green space using new solar technology," but they needed $100,000 to create a demonstration model.
The idea was so captivating that in 2012, 3,300 backers on Kickstarter donated a total of $155,186—exceeding the organizers' goal by over $50,000—to help launch this mammoth project. And it worked. The installation proved successful, and the Lowline, with an estimated $83 million price tag, is currently projected to open in 2021.
Perhaps such an effort could be launched here to create a dynamic environment for Old Sacramento's underground tour.
Back above ground, sometimes artists decide to make cities their canvases, and the results can be stunning.
In 2015, for example, two friends were looking to repurpose a 19-story LED wall on the side of Miami's InterContinental Hotel. Their vision was to create "a digital canvas for performative architecture" by reprogramming the existing animated sequence and setting it to music. The goal was to invite a local orchestra to perform an original work while Miamians watched the synchronized light show on the skyline above. The duo raised $11,000, and the result was a visual and aural treat.
Sacramento's own M5Arts group successfully raised $18,877 on Kickstarter last year for its ArtStreet project, and $11,864 for the Art Hotel the year before. So we know crowdfunding can work here. We just need a lot more of it for projects that push our city forward.
And occasionally, these campaigns are simply about making city life a bit more fun. A few years ago in Bristol, England, a local artist proposed turning a busy street into a block-long waterslide for a single day. He raised the $9,500 he needed on a British civic crowdfunding site called Spacehive, and when the project's date was announced, the response was overwhelming. Even though there was only enough time to accommodate 360 sliders on that day, more than 96,000 people entered a lottery for the opportunity to ride the waterslide on a city street for a few brief seconds.
"The publicity it's gotten for the city across the world is wonderful," said one of the artist's friends in a video made on the day of the event. "But the real point, I think, is the way it makes people see the city in a new light."
What kind of clever, smile-inducing civic theatrics might our own residents dream up? The possibilities are endless.
We clearly have the creativity and energy to make all these kinds of projects happen, and now there's a better way for neighborhood groups, elected officials, transit agencies, artists and everyday people to make a real difference in their communities.
Just point and click, Sacramento. It's time to join the crowd.