What's Her Excuse?
In 2012, an Elk Grove mother of three caused a social media stir with a single Facebook post. By 2013, that post went viral, transforming Maria Kang into a polarizing figure at the center of a national debate on obesity and fitness. With a new book out and her nascent "no excuses" movement growing, she's grabbing the spotlight again. Is she helping or hurting? It's more complicated than you might think.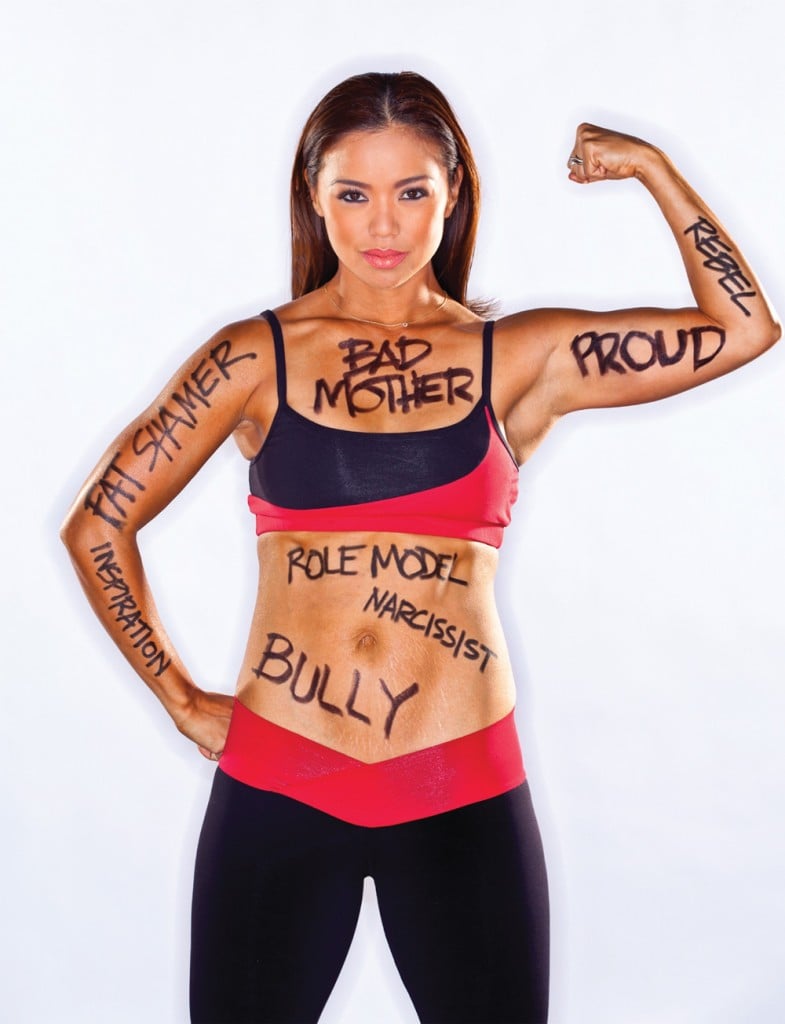 FFit Mom vs. Curvy Girl: It was the body image brawl that dominated social media and daytime television in the fall of 2013.
In one corner was Chrystal Bougon, owner of a San Jose lingerie shop that caters to women size 12 and above and champion of heavyweight ladies across the globe for promoting a beautiful-at-any-size mantra.
In the other was Elk Grove mother-of-three Maria Kang, 125 pounds of blunt force drama and contender for the title of America's most outspoken fat shamer after posting a glamour shot of herself in a sports bra and short shorts with her three young sons and the in-your-face tagline "What's Your Excuse?" on her Facebook page.
For weeks, the two women went at each other, defining opposing sides in the national debate on whether heft precludes health, with Kang saying that obese people are likely going to wind up sick and Bougon saying that Kang wasn't a "magical unicorn" who could judge a person's vigor solely from appearance.
Sometimes interviewed together, sometimes alone, they fiercely argued their viewpoints on CNN, Good Morning America, The Dr. Oz Show and elsewhere, Kang always perfectly made-up with long locks softly curled like the former pageant queen that she is.
Bougon, tough and poised, took her share of hits. But people seemed far more obsessed with Kang. Comments and calls came in by the thousands, many dubbing Kang a bully and narcissist—just another "stick-figure silicone Barbie doll," as the Meghan Trainor song goes, making them feel bad for failing at an impossible ideal. Just as many—if not more—defended the brown-eyed beauty and her enviable abs, saying they understood the inspirational intent of her slogan.
More than a year later, the weight debate is as fierce as ever, and so is Kang. She's polished up her packaging but remains defiant about the contents of her message—which the masses can read the old-school way with the recent release of her first book, The No More Excuses Diet. Ambitious and contentious, flawed and extreme, and with a penchant for putting it all out there (whether she's talking about her stretch marks or her religion), Kang's got that magnetic draw that could make her a compelling reality show heroine. Or villain.
"I really do have good intentions, but sometimes people don't like me," she admits.
•••••
Kang was no newbie to controversy when she hit the talk show circuit in 2013. An aspiring lifestyle guru for more than a decade, she began promoting herself seriously in 2012 at age 31 when she first posted that infamous photo. Back then, she only had about 50 followers on Facebook and was mostly known just to the local women who attended her free weekly workouts. She decided to have professional photos taken to stir up some interest in her ventures.
"I knew it was going to be a provocative image," she says. "Don't get me wrong. I'm not like, 'Oh, I didn't know that was going to hurt people's feelings.' I knew it was going to rub people the right and the wrong way."
But the portrait rapidly spiraled beyond her like-minded students and into the cyber abyss of the Mommy Wars, where women of all shapes and sizes routinely battle over issues of parenting, poundage, feminist politics and just about anything else that crosses the female consciousness. The inclusion of her kids—Christian, then 3, Nicholas, 2, and Gabriel, 8 months—in the picture made it especially insolent to some.
Kang, intelligent, impetuous and direct to the point of curt, answered back, often in take-it-or-leave-it terms that belied her ultimate goal of encouraging action rather than contempt. Watch the YouTube videos of her appearances, and you'll see a raw charisma, full of jagged edges that often seem to snag the nerves of interviewers and audiences, despite a genuine underlying concern about obesity, a problem that she sees as pandemic and devastating.
"The biggest thing, and what is so sad, is that I'm actually trying to empower you because the first thing you have to realize is that this is a choice. You are the reason why you're successful and you're the reason why you fail. And it sucks but it's true, and if you can focus on that accountability, you can make things happen," she says. "It's not like 'What's your excuse' had someone's name on it and I was talking to you and I know everything about your life and all your excuses. You know, people really need to get over it. We live in such an egocentric society."
Love her or hate her, people "liked" her. Kang's Facebook followers jumped from 50 to more than 23,000 within two months of her bikini shot, eventually reaching more than 320,000 followers over the course of a year as she continued to brashly espouse her certainty that obese people are unhealthy, and that anyone can change their weight through the self-control of good eating and exercise. But Kang's critics were just as vocal and harsh as they perceived her to be.
You don't need an excuse. It's not okay to shame women for not having the perfect body after having kids. If I ever have kids, I'd rather enjoy their company than be worried about my weight. Yes, it's great that you've managed to get your body back into shape but that doesn't make it okay for you to shame women into thinking they need a body that society has defined as "perfect," wrote one commentator on Kang's Facebook page in April 2013.
Others went further, writing across social media and in the comments for the dozens of articles posted on the web:
If Maria was happy about the way she looked she wouldn't be making such arrogant claims, getting implants or airbrushing the hell out of her pictures. It's too bad there's no exercise to fix that face of hers.
You're a classic version of "ugly on the inside" and at the very best, you're average on the outside as far as the superficial fitness community goes. You should be absolutely ashamed of yourself for posting that in the first place.
She is our modern day Hitler and KKK. I'm sure if she were given a chance, she would eliminate anyone bigger than a size 6.
"I knew it was going to be a provocative image," she says. "Don't get me wrong. I'm not like, 'I didn't know that was going to hurt people's feelings.' I knew it was going to rub people the right and the wrong way."
Perhaps stung by months of criticisms, perhaps simply promoting her personal brand, or perhaps both, when "Curvy Girl" Bougon got press for starting a campaign to promote "real" women in plus-size undergarments, Kang shot back on her Facebook page:
I woke up this morning to news stories about how overweight, nearly obese women should be proud of their bodies (as they posed in lingerie). I think we should all accept how any healthy body through good nutrition and exercise manifests, but I'm starting to get annoyed. … I know it's not easy to break habits and build new ones. I know your environment challenges you and I know making your health a priority amongst the many priorities to stay afloat in today's world is difficult. But I will tell you this: IT IS WORTH IT. … We need to change this strange mentality we are breeding in the U.S. and start celebrating people who are a result of hard work, dedication and discipline.
A Yahoo journalist tracked Bougon down in the green room of former Real Housewife Bethenny Frankel's now-defunct talk show to get a reaction on that rant. "I was pissed," says Bougon. "Tell her I said f-off," she recalls saying. A few days later, Bougon reported Kang to Facebook for writing what she tagged as hate speech, resulting in Kang being banned from the site for two days. Kang took to Instagram to let her fans know.
The media machine was spinning fast and hard. But as Kang's husband, David Casler, a former Marine with an easy charm and intense dedication to his wife's success, says, "No media is bad media."
•••••
Kang's newly gained notoriety has brought Kang closer to her goal of establishing herself as a fitness expert. A month after the Curvy Girl carnival, she rebranded her Fit Mom project under the "No Excuse Mom" name (which is trademarked) and now runs it as an international nonprofit "movement" aimed not just at women, but men and kids as well.
It's the start of a viable empire that so far encompasses over 300 free weekly workouts for adults and children in 25 countries, led by a loyal team of volunteer disciples and regional managers. In February, she was emcee at an L.A. fitness expo where she met Tae Bo king Billy Blanks, an idol of hers. She's been on the cover of Shape Malaysia and other fitness magazines. Her book, most notable for its balanced approach and simple plan of moderation, was published in March by Harmony Books, a division of Random House—which has led to a new round of appearances, including on the Today show—and she's got a growing catalog of calendars (featuring Fit Moms of various sizes) and DVDs she sells on her website.
Someday, she hopes that her fitness business will be profitable through donations, grants, sales and events. But for now, her main income comes from running two elderly care homes in Sacramento and Elk Grove with her husband—her family owns a total of 13 of them in the region.
But even if financial success doesn't materialize, she'll keep doing what she does, because for Kang, this is a pathway to both recognition and redemption. Ask her what it was like to be at the center of that media blitz, and it's not the green rooms or glamour that she remembers best.
She'll tell you about riding to the airport in New York after being a guest on Bethenny and the Today show, sitting in a cab and feeling like everyone was talking about her. "Who's not talking about it?" she recalls thinking of her picture.
"And I didn't think about the photo shoot. I didn't think about the first time I became a mom," she says. "That's the moment I just started crying uncontrollably because I was realizing this all started when I was a little girl and seeing my mom sick."
•••••
Personal responsibility is intrinsic to Kang because she grew up with too much of it for a kid. Her mother, Caroline, the daughter of a Philippine diplomat, married at 16 and had four children before she was 22 (Kang is the oldest girl). They lived in San Francisco's rough Bayview district, just above Hunter's Point, long before the trendy Dogpatch neighborhood existed, and "Maria played a big role in trying to keep everything together," says her mom, who developed lifestyle-related diabetes in her 20s.
Kang's father, Francis, was a police officer. Caroline ran a parking garage for the state. Starting when she was 12 years old, Kang would wake up with her mom at 5 a.m. to iron her mom's clothes, pack lunches for her siblings and help her mother get everyone ready for another day. "She was always like that," says Caroline. "She was always taking control." So much so that she called her brother and sisters "the children."
Kang felt she had to be in charge. "I don't like to use the word obese, but [my mom] is very overweight," says Kang. That fact, she says, led to a string of increasingly serious health problems starting with diabetes and progressing to heart attacks, a stroke and eventually kidney failure that necessitated a transplant.
"I never played sports as a child because we didn't have much money and my mom was pretty sedentary," she adds. "I think with most trainers, most of their parents are overweight. People don't realize that [many of] these people who are so inspired to be in the fitness industry come from a place of fear."
Caroline remembers one time that her doctor called the whole family in and told them they needed to help her manage her stress or she would get sicker. Kang, then 15, tried harder, but her mother's health continued to decline. The day of Kang's wedding in 2010, Caroline went into septic shock and had to be placed in an induced coma, missing the big event. She was on a ventilator when Kang visited her. "It was awful," says Caroline. "She was very hurt. She was angry because she blames me, but how would I have control [over an illness]?"
But for Kang, it goes back to no excuses.
"My mom and I are very close, but I have a lot of resentment," she says. "What people don't realize when you are overweight is that it's selfish because it's kind of like being a drug addict. It affects the entire family. It's painful." She chose to go ahead with the wedding despite her mother's absence. At the time, her family didn't tell her how serious the situation was because "they didn't want to stress me out," she says.
"It's tormenting to a child, the fear that your mother will die," says Caroline of her many health crises. "She almost lost me so many times in her life, so that would put fear in any child at any age."
Kang channeled much of her choler into not following in her mom's footsteps. The family moved to Elk Grove in 1991 after the Loma Prieta earthquake in 1989 made Caroline want out of the Bay Area, and for the first time, Kang had space. "I would count how many steps it would take for me to get from one house to the next house because in San Francisco everything is stuck together," she recalls. She began exercising, stacking phone books to make a step platform for aerobics and running laps around her family's new pool.
"I know Maria's passion in this is because of me. I know she wants me to get going and do something," says Caroline, to whom Kang dedicated her new book, citing her mother as her best friend and inspiration. "I know what I need to do, but it's hard to do it."
She excelled at school and became a cheerleader, but she wasn't popular like her bad-boy older brother. She was bullied. "I realized every single time I excelled or did my best, there were people who truly supported me and were sincere, and then people who just didn't like me because I was different or thought I thought I was better," she says.
Her first week at Laguna Creek High, a group of girls threw orange juice on her. Twice. At lunchtime, she hid in the library reading psychology books, trying to understand "why people didn't like me or why people acted the way they did."
She would come home from school and hurt herself. "This is when I first realized I was self-destructive," she says. "I would sit in my closet and would just pull my hair out and I would scratch my arms and I would cry because I wanted the pain externally."
She begged her parents to switch schools. "I always told her to pray," says Caroline, a devout Catholic who passed her faith onto Kang. "Pray for those who hurt you, pray for things to get better."
At 16, Kang says her mother pushed her into a beauty contest—the Miss Philippines Sacramento pageant (Kang is half Filipino and half Chinese). With her usual intensity, she went at it to win. "I studied really hard," says Kang. "I learned how to do my hair. I learned how to walk. I watched every beauty pageant tape." She got the crown.
It sparked a run of pageant wins over the next few years—Miss Petite Teen International, Miss San Francisco Chinatown, Miss Philippines USA. But she felt her height (Kang is 5-foot-4) and mixed-race features made it hard to compete at higher levels. So she switched to fitness competitions, where muscle definition was more prized than cup size (though she'd gotten breast implants by then), winning Miss Bikini California in 2003. A crossroads came just after that win, at a photo shoot in Los Angeles where she felt the atmosphere was tipping into soft porn.
"I looked at the pool where they were shooting and these women were in thongs and just totally provocative and I thought, 'My gosh. You know, I trained so hard for this physique and it's totally being exploited,' " she says. "I felt exploited by the contest promoters. I felt exploited by the photographers. I felt exploited by the people who chose to be around me because I make them look good, whether it was a friend, or whether it was a boyfriend. I just realized that people didn't know who I was and I felt empty."
She canceled that shoot and one other and drove home alone. It was her last body-baring competition.
"If you just focus in on eating appropriately for who you are and moving, you will have benefits," says Cinder Ernst, a fitness coach in San Francisco and spokesperson for the National Association to Advance Fat Acceptance. "The 'no excuses' thing—not only is [Kang] saying you're wrong, but you're bad."
At the time—having graduated from UC Davis with a double major in history and international relations the year before—she had just moved to San Francisco and was working for 24 Hour Fitness. But the pressure of being alone in that city without the structure of competing was too much. She felt she had been using her own body "like it was an object," she says, with the breast augmentation now a regret. "[The implants have] always been a very shameful part of my past." She became bulimic.
"I was really addicted to the aftereffects of throwing up. It released chemicals in my body that made me feel calm, because I had anxiety all the time," she says. "I also felt like spiritually, at that time, I was manifesting an emptiness that I was feeling. I mean, how could you not feel empty? I'd been playing in a superficial world for a long time."
She got the bulimia under control by becoming "more spiritual," she says. "It's not about the body. It's about the soul and the spirit, and being forgiving of yourself."
She made herself eat something "bad" every day and keep it down. "It was maybe a cookie and in the past a cookie would have created a binge," she says. "I told myself, 'I'm going to eat healthy and I'm going to exercise and however my body manifests, I will love it.' "
She stabilized at about 145 pounds—which she felt was overweight. Around the same time, she moved back to Sacramento to help her mother, who was in dialysis. She met her future husband, David, on MySpace, attracted to his poetry. An avid writer who had kept journals since fourth grade, she also started getting serious about her drive to be a fitness expert.
She began a personal website in 2005, in which she extensively documented her life, and launched a nonprofit called Fitness Without Borders in 2007 to educate and train community leaders in low-income neighborhoods about the importance of fitness. It was the seed of her "No Excuse" movement, perhaps a way to show her mom that other people in tough circumstances could make the changes she wished Caroline would make, that jobs and kids and life didn't keep others from taking care of themselves.
"I know Maria's passion in this is because of me. I know she wants me to get going and do something," says Caroline, to whom Kang dedicated her new book, citing her mother as her best friend and inspiration. "Changing other people—she ultimately wants me to be the one to wake up. But I'm awake. I know what I need to do, but it's hard to do it."
•••••
Caroline Kang is far from alone in struggling with the issue. According to a recent study, more than half of Americans will be obese by 2030.
That reality, say many Kang critics, means we need to stop worrying about size—big really is the new norm—and simply focus on being as fit as possible. "It is not a popular or a sexy truth that we all really would be better off if we stopped focusing on weight loss," says Cinder Ernst, a fitness coach in San Francisco and spokesperson for the National Association to Advance Fat Acceptance. "If you just focus in on eating appropriately for who you are and moving, you will have benefits. The 'no excuses' thing—not only is [Kang] saying you're wrong, but you're bad."
Kang is right, though, that obesity is a risky state of being. There is little dispute in the medical field that obesity leads to health problems, including diabetes, heart disease, arthritis and even an increased risk for certain cancers. "Most of us who have treated obesity for a while do not believe that you can be obese and be healthy," says Dr. Ed Hendricks, a bariatric specialist who runs weight loss clinics in Sacramento and Roseville and is board certified in obesity medicine. "Being overweight is dangerous. Being obese is horribly dangerous."
But diet and exercise alone offer slim chances of fixing the issue once a person has been obese for more than about a year, says Christopher Ochner, PhD, a weight loss and nutrition expert at the top-ranked Icahn School of Medicine at Mount Sinai in New York and a spokesperson for The Obesity Society. Less than one percent of people, he says, can fix obesity without medical intervention if they've been obese for an extended period of time—biological changes make it nearly impossible. That's when the message of personal culpability becomes detrimental in his view.
"It promotes the not only incorrect but damaging notion that individuals with obesity can just stop making excuses and eat less and move more and look like [Kang]," says Ochner. "What really becomes damaging is the assumption that if that's not sufficient [for reducing weight]—which we know it is not—then it is their fault."
It's a nuanced debate. Catch people before they develop obesity, and "no excuses" is a powerful preventive approach. Apply it to the already obese, and it's an equally powerful problem.
•••••
If it's a Tuesday morning, Kang can be found at Kunsting Family Park in Elk Grove. There, out by the climbing structure, she's been running her original free workout session for moms for more than six years. Today, despite a cold fog, 12 women have turned out, toting 13 kids ranging in age from 4 months to about 8 years old. Some are confined in strollers, some share yoga mats with their mothers. Older ones run around the play equipment or join in the exercising.
Kang, enthusiastic and gracious, walks up with a determined bounce in her step and a swing in her ponytail, and greets most by name. She is rarely without a smile. She tells the group that the focus is abs and she jumps right into a two-minute-long plank position, complaining about how sore she was after the last class. Toddlers scramble onto their mothers' backs. One new crawler makes a break for it across the circle, and his mom swipes him back to her side. Some of the older kids help Kang count down the last 10 seconds.
There's a strong camaraderie among them.  This is the heart of the small circle of followers Kang originally thought her "What's Your Excuse?" photo would inspire, who know her as imperfect, overworked and often overwhelmed, just like every other busy mom trying to be her best and failing on multiple fronts.
Being preventative and vigilant, says Kang, is the key. "I don't want people to get to a point where they can't overcome their excuse anymore because they have so many limitations," she says.
This band of mothers represents a success for both the participants and Kang. For caretakers of young kids who require 24/7 attention, finding time to exercise without guilt is a struggle. Here, Kang has created a place where the kids are a welcome part of what's happening, but the workout is still real and demanding—and free. Kang didn't just ask these women what their excuses were, she provided solutions to some of the most common ones.
Genevieve Villaruel, a 36-year-old mother of four, drives 50 miles each way from Vacaville to attend, and just started leading her own "No Excuse" class in February. When she first found Kang through that viral photo, "I was kind of turned off by it," she says. "It made me feel a little intimidated and kind of embarrassed because I was nowhere near like that, and you know, I did have a lot of excuses." She worked full-time, as did her husband, and felt guilty about stashing the kids in the gym's child care in the evenings. But then she saw another photo of Kang—this one in a hot pink bra and slightly longer short shorts, annotated with answers to some of the criticisms ("no nanny or chef" and "works 8hr+ days" among them) and started reading her website, eventually making the drive to join the group.
"[Maria] is genuinely nice," says Villaruel. "She isn't fat shaming. She isn't about that. She wants people to be as healthy as they can be."
Kang has shifted her message these days to focus on family fitness. As a working mom herself, it was what she knew best. But she honed her ideas through the media firestorms—with a lot of coaching from husband David. "Positivity. Motivation. Don't answer anything else," he counsels. "If they ask you why you hate something, don't answer that. Tell them why you love something."
So the "No Excuse" tagline is now "Health Starts at Home" and "You're the Hero of Your Home." Her new social media campaign features people from across the country telling their own challenges and often posing with their kids. She's preaching that fit parents will raise like-minded children, with the restraint and discipline to stay in shape from the start—a vital change in a culture where currently 18 percent of those under 20 are obese.
"I hate to say it, but it's true," says Mount Sinai's Ochner. "Left unchecked, most of our kids are going to develop obesity."
Being preventative and vigilant, says Kang, is the key. "I don't want people to get to a point where they can't overcome their excuse anymore because they have so many limitations," she says.
She's gotten savvier about how she approaches people, but not softer. When she gets bloodied, David, who says he likes metaphors, is in her corner with tape and tissues. He tells her, "I know it hurts. I know you just got done crying because 100 people say you suck, but 10,000 say you rock. The ocean is the people who respect your message and love the message. So these waves don't represent the whole ocean. They're just the things hitting you right now. All you have to do is either wade deeper into the water or get out to the shore."
Get out? Kang? She's not retreating, and David knows it. She's not apologizing for her check-me-out photos, and she isn't sorry for telling it how she sees it. Her brashness got her where she is and she likes the spot—fit and sort of famous.
She's got our attention. Her 15 minutes are adding up, maybe making her a contender to jump to real-world fame, albeit of a modest sort. But win or lose, the Internet Coliseum has made her thick skin thicker and her competitive edge sharper, and that makes exchanging haymakers half the fun in a viral free-for-all. Now she's got the mental moxie to match her physical muscle and it takes a lot more to knock her off balance.
So bring it, if you want. She'll serve it back cold.
"I feel like I'm a fighter," she says. "And I'm fighting for something I truly believe in."