Where the Streets Have Two Names
The practice of bestowing honorary street names on illustrious locals is a fast-growing trend. Imagine living on Oprah Winfrey Way in Chicago or Austin's Willie Nelson Boulevard. Here's why we need to pave the way for our own Avenue Q-Rating.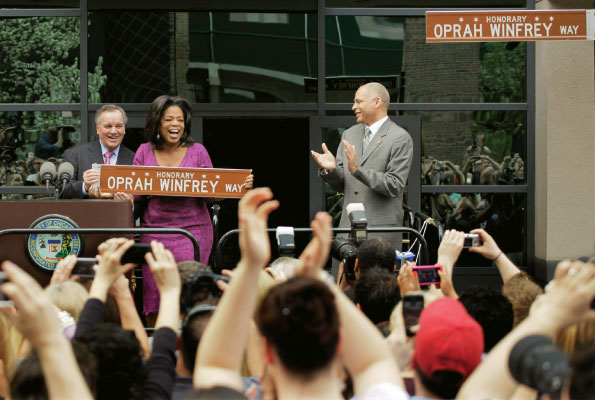 The Idea
In 1984, the city of Chicago introduced a project where the city began honoring notable locals with special street signs placed just below the names of actual city streets. As of today, the city has bestowed nearly 1,300 such tributes around the Windy City for the likes of Bob Fosse, Hugh Hefner and Oprah Winfrey, as well as lesser-known local leaders. And in recent years, many other cities have started or expanded similar programs. In New York, you'll find a Joey Ramone Place in the East Village; in 2008, Bakersfield christened Merle Haggard Drive; Providence, R.I. recently dedicated Jeffrey Osborne Way; there's a new Burt Reynolds Road in West Palm Beach, Fla.; and in Dallas, Herb Kelleher Way was dedicated in June, named for the Southwest Airlines founder. And on an episode of Gene Simmons Family Jewels this summer, the city of Saskatoon in Canada honored former Playboy bunny and Simmons' longtime love Shannon Tweed with Tweed Lane. In most of these cases, the honorees made public appearances at their dedications, injecting some welcome excitement into their respective cities.
And closer to home, last year Yuba County renamed five miles of Smartville Road that leads to Beale Air Faorce Base in honor of legendary pilot Chuck Yeager.
While Sacramento has no such program in place for local luminaries, there are plenty of great options here. Why not create Wayne Thiebaud Way adjacent to the Crocker Art Museum? Or how about Justice Anthony Kennedy "Court" near McGeorge Law School, where he used to teach? And in Seattle, they recently renamed a street outside of Safeco Field for longtime Seattle Mariners' play-by-play broadcaster Dave Niehaus; so let's see that Sacramento arena committee work a Gary Gerould Court into the plans. Plus, don't forget other deserving names with local roots like Joan Didion, Charles Schwab, Cornel West and Tom Hanks.
The Players
In most cities, the mayor and city council take the lead and the departments of transportation handle the logistics. Typically, the honorary sign does not replace the original street name, but rather sits a few inches below it with a different color sign. Some cities don't recognize them as official street names, but some do. Austin Mayor Lee Leffingwell made it clear last year that residents on Willie Nelson Way could, in fact, receive mail using that street name as the address. How cool is that?
The Bottom Line
This certainly isn't an expensive endeavor. It will require minimal city staff time to establish guidelines (there are already many examples to crib from) and vet submissions, but the signs only cost a few hundred dollars each to make and install. And the PR value of connecting the city to prominent people like these can't be measured. The one caveat, especially in Sacramento: Beware of naming streets after politicians. In 2009, then-San Francisco Mayor Gavin Newsom proposed a Willie L. Brown Jr. Boulevard on 3rd Street, but the public's response was so contentious that it never materialized. So we might want to leave any Schwarzenegger Boulevard ideas on the back burner for just a bit.