Wine Director of The Firehouse Restaurant Mario Ortiz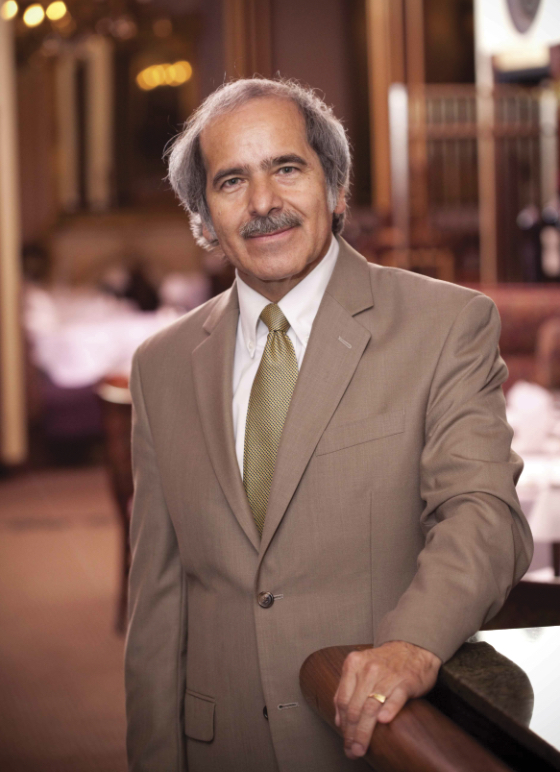 Mario Ortiz recently celebrated 40 years at The Firehouse Restaurant. He started as a 16-year-old busboy and is now the GM, and curates the region's largest restaurant wine cellar (25,000 bottles!). The area's best-known sommelier talks about his philosophy on wine, his encounters with everyone from Robert Mondavi to Andy Warhol, and some very spooky paintings.
I have to start with this because Halloween is coming and if anyone would know, it would be you. Is the Firehouse haunted?
One chef actually said he saw a ghost. I haven't, but I've heard a lot of talking and I don't know where it's coming from. Sometimes when we're doing inventory late at night, there's definitely something. There's some kind of walking and talking going on upstairs, but then you go upstairs and there's nobody there. There are a couple of paintings—you'd swear that they're watching you. Sometimes it can be kind of scary.
When you started at the Firehouse, you were just 16 years old. Was that scary?
Oh yeah. I came from a big family and we were very simple. Going there and seeing a lot of fancy people dressed up, the servers wearing tuxedos, candles on the table—I was going, "Whoa, this is like on television." I didn't feel comfortable at all but I thought I would just do my job, and learn and listen. And I loved it. I thought it was fun because everybody was so nice.
How did you get that first job there?
It was just a temporary thing on the weekend for a private event. Carlo [Bardaro, the Firehouse maître d' then] was my father's very good friend and soccer buddy, and he said, "Is Mario doing anything this weekend? I can use him for a little bit." He told me to get a nice bow tie and be there tomorrow. Afterward, Carlo said, "What'd you think? Do you want to do it again?" And I said, "Yeah, I like it, and now that I have a white shirt and a bow tie, what else am I going to do with them?"
And here you are, 40 years later, just like that. Do you still remember that excitement from your early days?
I do. After so many years, I go to work and every day is still different. It's almost hard to explain. I meet new friends every day and get to see old ones. Having somebody say, "Wow, I've never had this fish done this way before," or "Wow, I love that wine," it's still exciting.
Speaking of wine, how did a young, almost-over-his-head busboy start paying attention to wine?
I used to play soccer [in a league] against people in Napa Valley and I'd see all the beautiful property. When I was younger, I wanted to be alone a lot, and I liked to paint. I would have a friend drive me over, and I'd look at the vineyards. We used to pull up to a winery and I'd ask somebody if I could paint the nearby vineyards, and they'd say, "Yes, of course you can. But first you have to come in and taste our wine." I was kind of nervous because I didn't know what it would taste like. This was in the '70s. You would go to Robert Mondavi Winery, and Robert Mondavi would be there.
Was Robert Mondavi one of those guys who said to come taste his wine?
I wanted to paint the building. When I was there I asked someone, "Is Mr. Mondavi here?" And they said, "Yeah, he's around somewhere." It wasn't like I had to go through four or five people. He was just working, talking to people. I told him, "I'm doing some drawings outside, but I wanted to say hello." He said, "Well, you want to taste some wine? Give me about 20 minutes." I'm going, "Oh my God, this is incredible." Throughout the years, I would have a glass of wine with him now and then. My wife and I ended up being with him and drinking wine
a couple times.
So your first wine education came from Robert Mondavi and the people you met in Napa?
Over the years, I talked to Myron Nightingale at Beringer, André Tchelistcheff [from Beaulieu Vineyards], Sam Sebastiani. Justin Meyer [of Silver Oak] was a big mentor. But the first thing I did was, I went home and went to the library to get some books on wine. Then I started going over to Darrell Corti and asking him questions about everything. And to David Berkley. I didn't buy anything, I'd just ask them questions. When you ask Darrell a question, be ready for an hour-long answer. He tells you everything you want to know.
You hit on one of the things about wine that people love or hate—probably more people hate it. There's so much to learn. How do you handle that with your customers?
I'm really excited about seeing more focus on wine these days. But sometimes if you order a bottle of wine in a restaurant, they'll come back and focus, say, on the vintage, and they'll start telling you other things you wouldn't think about. That makes people feel like they don't know anything. I don't like that approach. You want to make people feel like you're just guiding them and they know what they are talking about. You just want them to feel comfortable.
We have people who come in and they're so excited about their special occasion, and we're thinking, "They're going to order something spectacular." And then they'll say, "I'll have a glass of white zinfandel." So we go, "OK, perfect. Let's talk about the white zinfandel." And then they get excited, because we tell them about their wine. Then, you talk to them about the difference between that and a rosé, and then you bring them a taste of the other wine and maybe they like it. If they don't, OK. You just have to have them try it, and let them tell you on their own if they like it, instead of telling them, "Well you don't want to drink that stuff."
What's the question that you get about wine that you like the least?
"What is the most expensive bottle you have?" There are people—I'm not going to use names—they have no clue about wine, which is fine, but they're showing off. They just order by the price or the label. Price isn't everything. Some expensive wines are expensive for a reason, but there are lots of wines all our customers can afford that make you go, "Wow." Justin Meyer used to say that there's basically good wine and bad wine, red wine and white wine, and it just depends on the conversation and the friends.
You have a massive wine list, 2,400 wines and about 25,000 bottles, if I have it right. What should people know to feel comfortable with it, besides not asking for the most expensive wine?
Yeah, it's about 2,400 wines, and we have about 40 by the glass. It's nothing intimidating. A lot of people love to look at the list. Of course, a lot of people say, "You gotta help me out." I just say, "Tell me where you want to be. Red? White? Do you want something you'll spend a long time with and experience something you can't find at other places, or do you just want to enjoy your wine and your meal and don't want to spend an hour talking about it? Don't worry, we'll find you something."
Is there one wine that really stands out in your career?
I opened a 1918 Château Lafite [Rothschild] a couple years ago. That was one of a kind. I had a client who wanted one of the most incredible wines that we had. We went into the wine cellar and picked out about 10 different wines, then narrowed it down to this one, and he goes, "1918?" It took me about 35 minutes to open it. I wanted to make sure the cork was going to be in one piece. I was fortunate enough to be invited to join them for a glass. I told him that with old wines, the flavors go fast once you open it. I said he was going to be incredibly happy with it if we drank it in 15 or 20 minutes. He just didn't believe it. He goes, "Well, I paid a lot of money for that." And I said, "I know. But it's going to be a beautiful 20 minutes." It was.
How much have your customers, and the entire culinary scene, changed in these last 40 years?
We [only] had maybe 20 wines on the wine list in the '70s. Mostly people would order a glass of Chablis or a glass of Burgundy, and actually by the glass. It wasn't real Burgundy or Chablis, they were the California blends. When we put chardonnay on the list, it shook some people up at the start. We had some French wines, too. Dom Pérignon was like $10 a bottle.
Back then, we had a lot of regular customers who'd always order the same meal. Now, so many people are more adventurous about food, whether they're trying new things or trendy things. Everybody wants to pair their wines with what they're having, so we do a lot of chef's tastings, so people can try several courses with several different wines. We also have a lot of younger diners. They have that "we need it fresh, where is it coming from" kind of mentality. There's so much knowledge that our servers have to have now, because people want to know where their tomatoes are from, where their fish is from—they ask you so many questions. They want to eat local.
Does the "local" extend to wine?
It used to be very difficult to sell wines from the foothills or Lodi. We had people who just demanded wines from Napa Valley. It was like, "We've come to the Firehouse, and you're so close to Napa, we want Napa wines." But now people know there are great wines from El Dorado County or Lodi or from Amador County. I mean, amazing wines. We carry a lot of wines from those areas. Our clientele is also still looking for wines from Napa, Bordeaux, Australia, Spain, but now they're looking for the foothills, too.
How did you manage to stay in one place for 40 years in an industry where everyone moves so much?
I love my job and the people here. I know that sounds cliché. I really liked the two owners of the Firehouse—the Cope family and [now] the Harvego family. I convinced Lloyd Harvego to buy it [in 1999], and he said, "Mario, do the wine program, and let's make it one of the best."
Wait a minute, you convinced him to buy it? Are there times he's a little ticked at you for that?
Yeah, I think about that a lot. Lloyd's a retired engineer. He never worked in restaurants. He was a regular guest here and I got to know him over many years, and he had the opportunity to restore it back to what it was once. I told him, "It's more than just a restaurant. It's an institution. It's something that has to continue." I guess he agreed with me.
The Firehouse has had a pretty ritzy clientele over the years. Who are some of the big names you've met?
Anybody who was anybody came to the Firehouse when they were in Sacramento—Clint Eastwood, Michael Jordan, Muhammad Ali, Michael Landon, all the governors. When Ronald Reagan was governor, he had his inaugural dinner here. He was here often, and people like Frank Sinatra, Jimmy Stewart, Sammy Davis Jr., would stop in and have a drink to see their friends the Reagans when they were in town.
Did anybody stand out for you?
Andy Warhol, because I'm an artist on the side. He was part of an event with Weinstock's [department store] and they brought him over. I remember I was so excited. It was probably only about two minutes that we talked, but that was an amazing moment for me. I don't remember anything he said, but being able to talk to someone like that, that made a huge
impression on me.
The other important person you met at the restaurant was, of course, your wife, right? Was she working there?
Oh, she comes first. She wasn't working here. Sue was assisting her boss doing an event [at the Firehouse], and her boss had to go out of town, and so I had to deal with Sue. I thought, "This is beautiful, I would rather work out the details with her." Then I said, "This isn't something I normally do, but I would love to have coffee with you, or a glass of wine." And she didn't drink wine at the time. Now, 25 years later, she loves to have champagne with me.
What about the rest of your life? What do you do in your free time?
We live in Land Park. In my free time I paint. I love to paint. I do a lot of landscapes, and I like to paint in the Toulouse-Lautrec style, the old French posters. And we go out. I enjoy food and I like to keep in touch with my friends and see all the great new places that are opening.
Does it bother you that the newer restaurants get the buzz and the Firehouse sometimes gets taken for granted?
A little. We have one of the most beautiful courtyards in Sacramento. The menu, the prices, the service, the food, it's just a wonderful place. People automatically think that we're more expensive, but if you look around town at the best restaurants, some of their prices are [higher]. But it's an elegant restaurant—you can't turn that into a casual place where you can go have a pizza and small plates, and that's popular right now.
You should advertise the ghost more.
Maybe. I'm serious, there's a painting here that really scares me.