World Cup fever gets even more colorful with "Art of the Ball"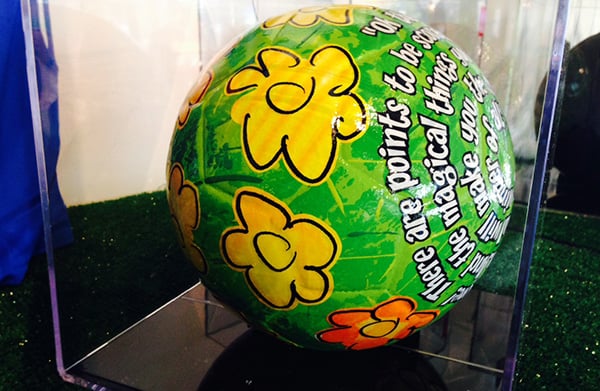 The 2014 FIFA World Cup is underway in Brazil, and soccer-crazed Sacramentans are glued to TV screens all over the city. The tournament has colorfully taken over the midtown pizza institution Hot Italian, where fans can cheer on their favorite teams all day long while also getting—and bidding on—their fill of soccer-related art.
Hot Italian is hosting the month-long exhibit "Art of the Ball," featuring a half-dozen soccer balls whimsically painted by six local artists. Developed in partnership with Friends of the Sacramento Metropolitan Arts Commission, the artwork will be auctioned off in the coming weeks to raise funds for SMAC.
Works include Eric Dahlin's soccer-playing rabbit (with a ball disguised as a carrot), Robert Ray's abstract patchwork of flags and faces, Donine Wellman's black shapes on a hot pink-painted ball panels, and Sid Wellman's charming floral treatment with a quote ("The magical things you can do with that ball will make you the winning-est winner of all") from Dr. Seuss' book Oh, the Places You'll Go!
"We always try to combine art with the sport to make it an little more exciting and leverage the excitement around the World Cup," says Hot Italian founder and creative director Andrea Lepore, who previously displayed a collection of reinvented soccer jerseys by area designers during the 2010 World Cup.
A silent auction through the World Cup final on July 13 will determine the winners of the balls. Visitors to Hot Italian can bid in person, while remote bidders can participate online.
Lepore says bids start at $100 (the pieces are valued at $450 each), and all proceeds go to benefit SMAC.
Meanwhile, Hot Italian will celebrate the first weekend of World Cup action by opening early for the days' full slates of matches at 9 a.m., noon, and 3 p.m. Free face painting will be available this Saturday, June 14—when the Italian team makes its 2014 World Cup debut against England at 3 p.m.—for fans eager to show their team spirit. Game on!
Hot Italian. 1620 16th St. 444-3000. hotitalian.net