Your guide to the Sacramento region's outdoor movie screenings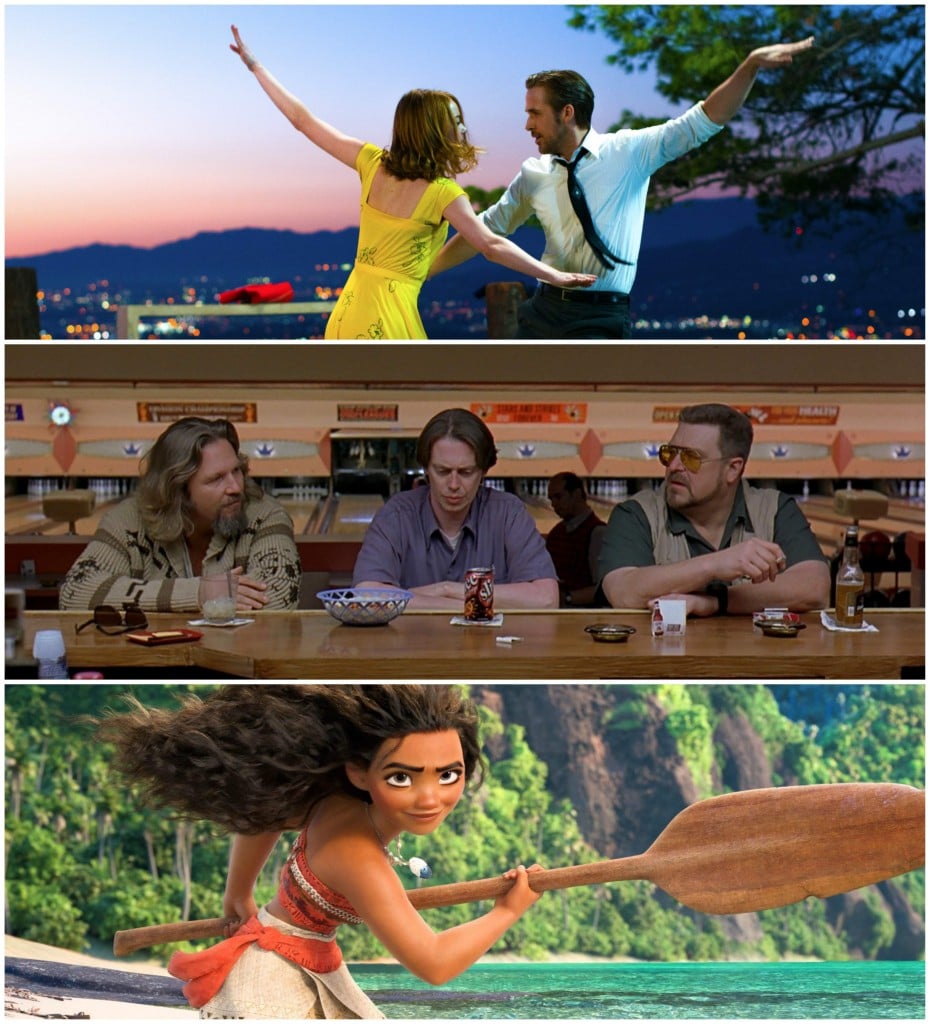 Hot days in Sacramento lead to cool evenings, perfect for stretching a blanket on the grass, grabbing some popcorn and watching Hollywood stars under the stars. Here are several places around the region hosting outdoor screenings of movies—from family-friendly flicks like Moana to a Coen Brothers film series just for grown-ups.
Friday Moonlight Movies (Rancho Cordova)
Indulge in freshly popped buttery treats from the Art of Popcorn and chill out with shaved ice from Sweet Treats before setting up a blanket and lawn chairs on Village Green Park's large grassy field for an adventure-themed flick every Friday in June.
June 2 Up
June 9 Pirates of the Caribbean
June 16 Guardians of the Galaxy
June 23 Finding Dory
June 30 Jurassic Park
Free. 7:30 p.m. seating. 8:30 p.m. screening. Village Green Park. 3141 Bridgeway Dr. Rancho Cordova. 273-5704. cordovacouncil.org
Movies in the Park (Arden-Arcade)
Grab a seat on the lawn (it packs up quickly, so get there early) at two summer movie nights made for Arden-Arcade locals.
June 2 Fantastic Beasts and Where to Find Them (8:30 p.m.)
September 1 Moana (7:30 p.m.)
Free. Arden Park. 1000 La Sierra Dr. aprpd.org
Sacramento Outdoor Movies (Midtown)
This month-long inaugural movie series for grown-ups will feature Coen Brothers' classics in midtown's Fremont Park. Munch on grilled cheese from Drewski's Hot Rod Kitchen and sip IPAs from Hoppy Brewing Company while you quiz your friends on their movie quote skills ("That rug really tied the room together, didn't it?").
June 3 Fargo
June 10 Barton Fink
June 17 No Country for Old Men
June 24 The Big Lebowski
Free. 6-11 p.m. 9 p.m. screenings. Fremont Park. 1515 Q St. 548-9996. facebook.com/Sacramento-Outdoor-Movies
Natomas at Nite (North Natomas)
Settle in for some animated favorites at North Natomas Regional Park this summer, presented by City Councilwoman Angelique Ashby. These events include complimentary water and popcorn.
June 9 Moana
June 23 The Secret Life of Pets
July 21 Finding Dory
Aug. 11 Cars
Free. 7:30 p.m. seating. Sundown screening. North Natomas Regional Park. 4989 Natomas Blvd. angeliqueashby.com
Movies in the Park (Roseville)
Roseville is hosting an assortment of animated family movies and cinematic fairytales throughout its many city parks. Enter a raffle to win the movie you're watching on DVD, feast on ice cream and popcorn, and bring a T-shirt to tie-dye.
June 10 The Secret Life of Pets (Jack Wallace Park, 401 Community Dr.)
June 24 The Jungle Book (Saugstad Park, 100 Bulijan Dr.)
July 8 Pete's Dragon (H.C. Elliott Park, 1421 Cushendall Dr.)
July 22 Moana (Maidu Park, 1550 Maidu Dr.)
Aug. 12 The Lego Movie (Buljan Park, 150 Hallissy Dr.)
Aug. 26 Beauty and the Beast (Mel Hamel Park, 10080 Crocker Ranch Rd.)
Free. 7:30 p.m. seating. Sundown screening. Various locations. rcona.org
Free Friday Movies (Rocklin)
Cool down with root beer floats and Dole whips from OMG! Yogurt's food truck after dancing to the beat of Rocklin's Bach to Rock kids' music school at this monthly Friday movie event.
June 16 Secret Life of Pets (Kathy Lund Park, 6101 W Oaks Blvd.)
July 7 Finding Dory (Johnson-Springview Park, 5460 5th St.)
August 4 Lego Batman (Twin Oaks Park, 5500 Park Dr.)
Free. 7 p.m. seating. 9 p.m. screening. 625-5000. Various locations. rocklin.ca.us
Movie in the Park (Fair Oaks)
During the screenings of three kid-friendly flicks at this movie series, Fair Oaks' Wonderful Outdoor World (WOW) bus will bring materials for beading bracelets and painting, plus a giant parachute to help little ones get their wiggles out before settling down for a movie with hot dogs, ice cream and popcorn sold on-site.
June 16 Sing
July 21 The Incredibles
July 28 La La Land
August 18 Moana
Free. Activities begin at 7 p.m. Movies begin at 8:45 p.m. Village Park. 4238 Main St. Fair Oaks. fairoakspark.org
Screen on the Green (Glen Park and South Natomas)
Pack up blankets and lawn chairs, bring your own snacks or crunch on complimentary popcorn for one of these summer movie nights presented by city councilman Jeff Harris.
Aug. 4 Lego Batman (Glen Hall Park, Sandburg and Carlson drives)
Aug. 5 Lego Batman (South Natomas Community Park, 2901 Truxel Rd.)
Free. 8:15 p.m screening. 808-5240. Various locations. sacscreenonthegreen.com
You Might Also Like
14 great farmers' markets to visit throughout the Sacramento region
The Downtown Sacramento Partnership announces Concerts in the Park lineup
Oak Park's popular Gather event will launch in Rocklin this summer