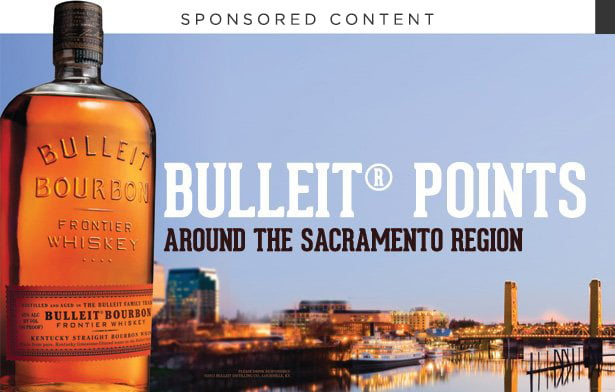 Learn about Bulleit's bourbon and rye whiskeys, history and classic cocktail recipes at www.Bulleit.com
---
We're shooting straight to bring you the cool, offbeat, surprising and wonderful places around the Sacramento region that bourbon lovers seek out time and time again. Enjoy!​
Bike Dog Brewing Company

Bike Dog is West Sacramento's first brewery and tasting room and is co-founded by four Sacramentans who wanted to combine their love for bikes, dogs and craft beer. One of their standard beers on tap is a Milk Stout Bourbon, a sweet stout aged in bourbon barrels.
2534 Industrial Blvd., West Sacramento.
(916) 572-0788
bikedogbrewing.com
Bloom Coffee & Tea

This café, which opened in 2009 with the intention of bringing craft coffee and tea to the Roseville community, takes meticulous care when crafting its Iced Madagascar Bourbon Vanilla Latte. The vanilla syrup is made in-house from two-fold strength Madagascar bourbon vanilla and caramel-colored raw cane sugar, and the slightly floral, nutty notes of the syrup beautifully complement the Street Level espresso blend from revered Santa Cruz roaster Verve.
1485 Eureka Rd. Roseville
(916) 773-2332
bloomcoffee.com
Block Butcher Bar

This boutique salumi, spirits and wine bar in midtown is a bourbon hotspot. Half of Block's spirits menu consists of bourbon and whiskey from regions spanning from North America to Scotland, and all of the single malts and whiskeys available are priced by the ounce, allowing patrons to enjoy a wider variety of the curated selection.
1050 20th St. Sacramento
(916) 476-6306
blockbutcherbar.com
Bottle & Barlow

Located in Sacramento's historic warehouse district, Bottle & Barlow was one of Details Magazine's most anticipated bar openings of 2015, and it's no wonder. The combination bar and barbershop is run in part by Jayson Wilde who formerly managed San Francisco's famed Bourbon & Branch and features inventive cocktails like the Great Balls of Fire Punch with bourbon, pineapple juice and cinnamon.
1120 R St. Sacramento
(916) 379-7719
bottleandbarlow.com
Capital Confection

Capital Confection offers a wide variety of confectionary delights: house-made signature truffles, sugar free chocolates and treats, traditional favorites and hundreds of chocolate molds for any occasion. Currently, they have a Bourbon Truffle available.
2605 El Paseo Ln. Sacramento
(800) 951-3663
capitalconfections.com
Cask & Barrel

Bounding onto Sacramento's hottest dining scene from the moment it opened, Cask & Barrel's Chef Gabriel Glasier and Pastry Chef Kristel Flores have broken free of any conventional models with their food and drink menu. Among a range of craft cocktails, they offer one coined the Tux with bourbon, Pedro Jimenez sherry, and orange bitters.
1431 Del Paso Blvd. Sacramento
(916) 922-6792
caskandbarrel916.com
Cibo 7 Ristorante
Wine Bar & Spirits

This European-inspired restaurant burst onto the Sacramento region's dining scene when it opened in late 2014 and showcases exclusive cocktails, after-dinner drinks and over 100 bourbons. Led by executive chef Ray Silva, who formerly cooked in some of Las Vegas' most well-known kitchens, Cibo 7 offers a dining experience that seamlessly pairs its drink menu with every dish.
1465 Eureka Rd. Roseville
(916) 789-8585
cibo7.com
Coin-Op Game Room

A neighborhood watering hole offering craft cocktails, craft beer, delicious food, and of course: classic arcade games, including Pac Man, Donkey Kong and Mortal Kombat. They are located in the basement of downtown's Forum Building and replaced the legendary live music venue, Marilyn's on K, this past year. One of the most popular bourbon drinks is The Thrilla in Sarsaparilla with bourbon, honey, lemon and root beer reduction.
908 K St. Sacramento
(916) 661-6983
coinopsac.com
De Vere's Irish Pub

Part rowdy neighborhood tavern, part classic farm-to-fork establishment, De Vere's packs its bar shelves with nearly 50 varieties of bourbons, allowing an endless possibility for creative cocktails. The drink menu even features educational explanations for the whiskey collections, and true connoisseurs can jump right in for a flight of one-ounce bourbon pours to sample.
1521 L St. Sacramento
217 E St. Davis
(916) 231-9947
deverespub.com
Devine Gelateria

This popular midtown gelateria specializes in decadent gelato made with local milk and top quality ingredients, as well as tempting baked goods. Don't miss the Bourbon Brown Sugar gelato offered every other week, or the Bourbon Bacon s'more available during Sacramento's annual bacon festival. Plus, try your choice of flavorful scoops on an Italian meringue gelato cake, a sponge cake layered with thick folds of the creamy frozen dessert.
1221 19th St. Sacramento
(916) 446-0600
devinegelateria.com
Ella Dining Room & Bar

One of the region's most elegant restaurants, Ella's focus is on fresh, local produce and ingredients. It was also ranked in second place for the region's top bars for bourbon cocktails. The restaurant offers a signature take on the classic Manhattan, made with a special blend of sweet vermouth, bitters and Kentucky bourbon. When stone fruit is in season, Ella creates a house-made puree of smoked peach mixed with bourbon bitters. Fresh peaches are also smashing with bourbon, ginger, mint and lemon. When a "Summer Porch" beckons, relax with this mixture of blackberry iced-tea, bourbon and sparkling water.
1131 K St. Sacramento
(916) 443-3772
elladiningroomandbar.com
Empress Tavern

Empress Tavern is an American carvery in downtown Sacramento with a menu featuring rotisserie meats, craft cocktails and an adventurous lineup of beers. The space itself, situated in the basement of the historic Crest Theatre, is eclectic and unfussy with an open kitchen, 170 dining seats, large booths and a chef's table for private dining. The menu, conceptualized by chef/owner Michael Thiemann and co-executive chef Matt Masera, revolves around a massive rotisserie spinning a variety of meats throughout the week.
1013 K St. Sacramento
(916) 662-7694
empresstavern.com
Estelle's Patisserie

This charming, French bakery & espresso bar in downtown Sacramento makes a maple bourbon bacon flavored 'cronut'- a cross between a croissant and a doughnut – each week that always sells out by mid-morning.
901 K St. Sacramento
(916) 551-1500
estellespatisserie.com
Fat City Bar & Café

A fine American and Asian dining restaurant in Old Sacramento by one of the most revered family restaurant chains in Sacramento, Fat's makes a Bourbon Barbecue Burger with smoked cheddar cheese, lettuce, tomato, barbecue sauce, and sliced pickles.
1001 Front St. Sacramento
(916)446- 6768
fatsrestaurants.com
The Firehouse

This sophisticated farm-to-table restaurant in the heart of Old Sacramento has an expansive, vine-covered patio and offers an intimate dining experience. Pastry chef Kam Golightly, who was nominated in Food & Wine magazine as Best New Pastry Chef in 2012 while working at Michelin-starred REDD in Yountville, has created a Bourbon-Pumpkin Soufflé, with spice anglaise and caramel sauce. Firehouse also offers inventive cocktails from its famous bar like the Bourbon Butter Ale with bourbon, Buttershots liqueur, maple syrup, lemon juice and red ale.
1112 2nd St. Sacramento
(916) 442-4772
firehouseoldsac.com
---
Learn about Bulleit's bourbon and rye whiskeys, history and classic cocktail recipes at www.Bulleit.com
Learn about Bulleit's bourbon and rye whiskeys, history and classic cocktail recipes at www.Bulleit.com
---
Formoli's

Chef Aimal Formoli draws from France, Spain and Italy to influence his menu, and proudly sources from California farmers for his ingredients. He and his wife opened the 10-table restaurant and have developed the infamous whisky burger that has garnered tremendous press.
3839 J St. Sacramento
(916) 448-5699
www.formolisbistro.com
Ginger Elizabeth Chocolates

Stepping into this quaint chocolate shop in midtown Sacramento feels like flying to Paris or Amsterdam, where the attention to quality and detail in each dessert is unparalleled. Owner Ginger Elizabeth Hahn is a formally trained chocolatier and pastry chef who is known for her unique creations like a bourbon ice cream bar dipped in Valrhona chocolate and crushed toffee.
1801 L St. Sacramento
(916) 706-1738
www.gingerelizabeth.com
Grange Restaurant & Bar

With one of the most extensive bourbon and scotch lists in the region, Grange is known for its craft cocktails using fresh, locally sourced ingredients. Head bartender Ryan Seng leads Sacramento's annual Cocktail Week festivities and regularly receives rave reviews for his creativity in modern twists of classic drinks like a Manhattan and Old Fashioned.
926 J St. Sacramento
(916) 492-4450
www.grangesacramento.com
Golden Bear

Featured on Food Network's Diners, Drive-Ins & Dives, this well-known breakfast spot showcases a Cola de Oso bourbon cocktail that includes honey, bourbon, lime, seltzer and bitters, along with Allspice Dram liquor.
2326 K St. Sacramento
(916) 441-2242
goldenbear916.com
Golden Era

This brand-new Prohibition-style whiskey and cocktail bar in historic downtown Nevada City was born out of admiration for the region's Gold Rush history and its owners' resumes reflect stints at lauded San Francisco craft cocktail bars like Devil's Acre. Golden Era specializes in handcrafted cocktails, premium local wines and craft beers and ciders.
309 Broad St. Nevada City
(530) 272-3763
www.goldeneralounge.com
Hook & Ladder
Manufacturing Co.

Midtown's Hook & Ladder Manufacturing Co., named for a 19th-century volunteer firefighting group and located at the site of a semicircular Quonset hut dating back to the 1950s, is the perfect place to get a taste of Sacramento's rich history. The restaurant embraces wholesome farm-to-fork cuisine, a vintage vibe (like antique light fixtures and fire engine parts hanging from the ceiling) and inventive whiskey cocktails with hand-carved ice slabs and cheeky names, like the Fall'n Off Da Wagon with bourbon, apple-ginger shrub and bitters.
1630 S St. Sacramento
(916) 442-4885
www.hookandladder916.com
Karen's Bakery and Cafe

Bourbon pecan pie, anyone? Seasonally, this café in the heart of Historic Folsom offers a spiced pecan pie baked with a tempting blend of locally sourced oranges and pecans, as well as raisins and bourbon, baked into a flaky, house-made crust. Using European baking traditions, Karen's opened 15 years ago and has since become a regional favorite.
705 Gold Lake Dr. Folsom
(916) 985-2665
www.karensbakery.com
KBar

KBar, part of the Paragary Group of restaurants, is a hip urban pub and restaurant with a great bar menu. Their bourbon fans enjoy mellowing out with an Afterglow, a smooth and satisfying cocktail made with orange bitters, cinnamon syrup and bourbon.
1000 K St. Sacramento
(916) 446-9800
www.paragarys.com/sacramento-restaurants/k-bar
Kupros Craft House

A converted Victorian home, Kupros Craft House created "The McKinley Rose," named in part for the beloved rose garden in one of Sacramento's popular parks. The sublime concoction includes lemon, bourbon, club soda and a Canton liqueur made with ginger, cognac, vanilla and orange blossom honey.
1217 21st St. Sacramento
(916) 440-0401
www.kuprosbistro.com
The Porch
Restaurant & Bar

With a California approach to authentic Lowcountry Southern dishes, The Porch makes its food—from biscuits to beignet to Benedicts—from scratch, and its spirits menu features an extensive bourbons and whiskey library. The Porch is also known for its unique desserts, including its Maple Pecan Bread Pudding served with bourbon and caramel fudge pecan ice cream.
1815 K St. Sacramento
(916) 444-2423
www.theporchrestaurantandbar.com
Pour House

Ranked among the The Bourbon Review's Top 55 Whiskey Bars in America, this midtown staple offers over 50 beers and 100 whiskey selections, state-of-the-art table taps and a menu brimming with timeless American fare crafted with creative twists, like the beer-battered chicken and waffles platter served with whiskey maple syrup.
1910 Q St. Sacramento
(916) 706-2465
www.pourhousesacramento.com
The Press Bistro

The Press is a neighborhood bistro offering exceptional Mediterranean-influenced cuisine a comfortable, inviting setting. On its dessert menu, one of the most popular items is a sumptuous walnut maple pie with bourbon ice cream.
1809 Capitol Ave. Sacramento
(916) 444-2566
www.thepressbistro.com
Red Rabbit Kitchen & Bar

Red Rabbit believes in creating fine cocktails from the ground up. All of the restaurant's syrups are house-made, its juices are fresh-squeezed and its fresh herbs are hand-muddled. Its spirits list is eclectic and the bar offers flights of bourbon and specialty bourbon cocktails like the Buck Hunter with house-made jam, vanilla bitters and ginger beer.
2718 J St. Sacramento
(916) 706-2275
www.theredrabbit.net
Riverside Clubhouse

Created by restaurateurs Fred and Matt Haines, this Old Land Park favorite promises a relaxed atmosphere and top-notch food. Patrons can enjoy the 30-foot 'wall of water' and the warmth of a three-tier fireplace out on the patio or sitting by the "Burning Crystal" fireplace in the lounge. "Bourbon & Berries" is one of several signature cocktails at the Clubhouse which features over 25 varieties of bourbon.
2633 Riverside Blvd, Sacramento
(916) 448-9988
www.riversideclubhouse.com
Sacramento's Whiskey, Wine & Spirits Festival

Crocker Art Museum
This bourbon tasting event will be held in August 2016. Sample the finest whiskeys, wines, spirits and craft beer from around the region. In addition, enjoy live entertainment, and bites from some of Sacramento's premier restaurants.
216 O St. Sacramento
(916) 808-0177
www.crockerart.org
Shady Lady Saloon

As Sacramento's most well known craft cocktail bar, Shady Lady was named one of the best bars in America by Esquire magazine last year. Known for shaking up pre-Prohibition drinks with fresh fruits, herbs and a wide bourbon selection, Shady Lady's lush interior lined with red velvet wallpaper, live jazz evenings and impressive menu make it a favorite among the region's handcrafted cocktail connoisseurs.
1409 R St. Sacramento
(916) 231-9121
www.shadyladybar.com
Tank House BBQ

This barbecue restaurant in midtown features a full bar and classic barbecue dishes, including brisket and ribs. Highlighting a wide array of local craft beers a solid whiskey selection, Tank House has a large outdoor patio that backs up to a historic water tank house built in 1881.
1925 J St. Sacramento
(916) 431-7199
www.tankhousebbq.com
Ten22

A hot entry into the contemporary restaurant scene from the owners of Firehouse, Ten22's locally-sourced cuisine features a Bourbon Coffee Cake made with roasted apples, bourbon, brown sugar, and praline ice milk.
1022 2nd St, Old Sacramento
(916) 441-2211
www.ten22oldsac.com
Trocadero Club

Trocodero aka "The Troc" was a town favorite with rich history as being one of the local hang outs for railroad conductors getting off their shifts or laying over for their next one. Now it's a great place for whisky, music, and fun.
119 Church St, Roseville
(916) 783-7892
https://www.facebook.com/The-Trocadero-126087414104762/
---
Learn about Bulleit's bourbon and rye whiskeys, history and classic cocktail recipes at www.Bulleit.com