A Modern Italian Festival Comes to Midtown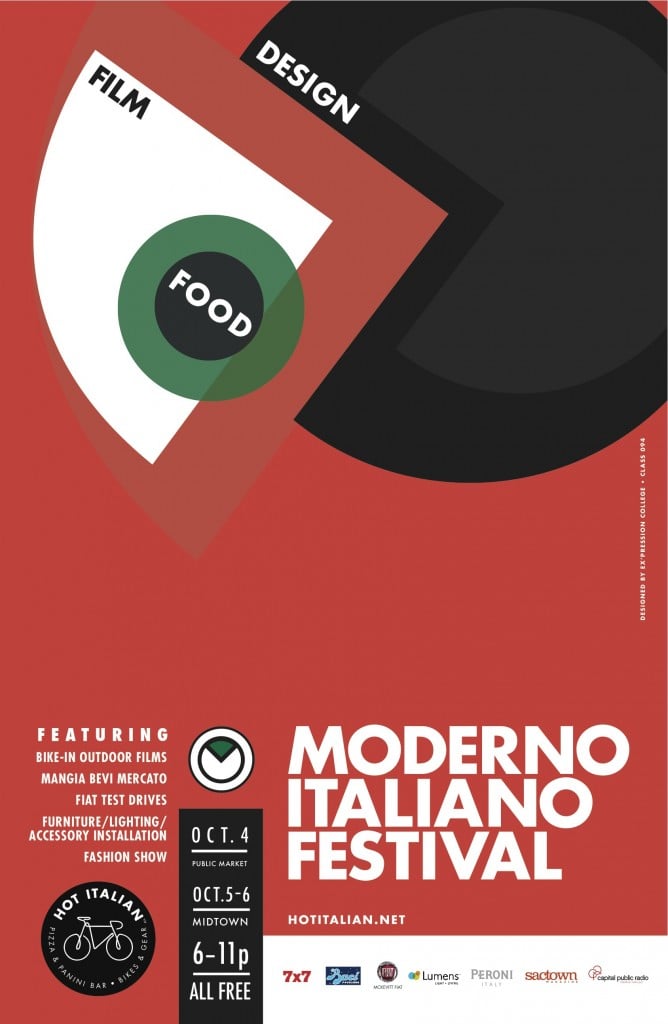 Ciao down and get the lowdown on all things Italian at this weekend's outdoor Moderno Italiano Festival. Now in its third year, the annual event—which is hosted by Hot Italian and held at the midtown restaurant and Fremont Park across the street—celebrates different cultural aspects of the boot-shaped country, from food, fashion and film to furniture, cars and design.
Friday night's festivities begin at 6 p.m. At the eatery, there will be a chic installation curated by Lumens Light + Living, which will feature Italian housewares and furniture designers such as Alessi and Foscarini (the installation will also be on display on Saturday); a fleet of Fiats ready to be test driven; and a cycling-themed fashion show with jerseys, equipment and high-end bicycles from Italian brands like Colnago, Bianchi, Cinelli and Sarto. At 9 p.m., the popular 2010 comedy Benvenuti al Sud (Welcome to the South)—which is about a citified postal worker from Milan who unhappily gets transferred to a small town near Naples and needs to adjust to his new, slower-paced life—will be screened under the stars at Fremont Park.
The festival continues on Saturday at 6 p.m. with a smorgasbord of authentic, imported Italian fare like Baci white and dark chocolates, assorted Galbani cheeses and Peroni beer, as well as regionally produced items like salumi from Berkeley's Fra' Mani and olive oils from Lodi's Corto Olive, followed by a 9 p.m. screening of the 2009 thriller La Doppia Ora (The Double Hour), which chronicles a woman whose life unravels when the man she's seeing is murdered on one of their dates and which earned a Volpi Cup for best actress at the Venice Film Festival
Hot Italian and Fremont Park. 16th Street between P and Q streets. Free valet bike parking. Hot Italian's menu will be available for takeout throughout the screenings. 444-3000. hotitalian.net