A new hard seltzer line from Sudwerk Brewing Co. is a sparkling addition to summer drinking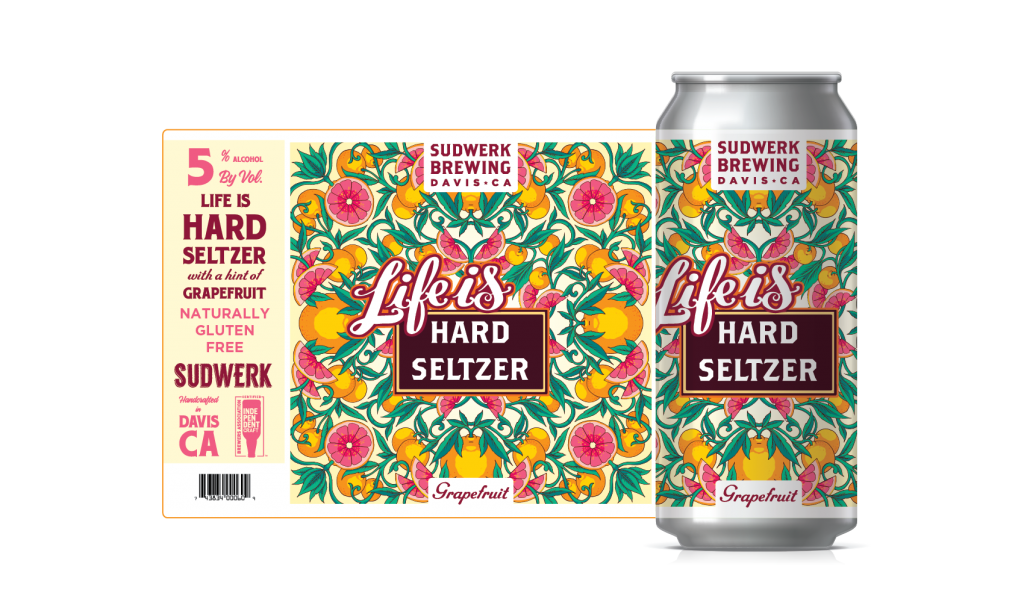 A local craft beer company is about to break out the bubbly—bubbly water, that is.
Davis-based Sudwerk Brewing Co. will launch its new line of hard seltzers, Life Is Hard Seltzer, on Thursday, May 21. The opening lineup of black cherry and grapefruit flavors will be available from the get-go, and passionfruit will follow a week later.
Sudwerk brewer Kristina Drake says that the company had been noticing a recent shift in beer trends—craft beer drinkers who may have once sought big, piney West Coast IPAs are now looking for the lighter lager styles Sudwerk is known for, as well as healthier beer alternatives, like lower-calorie seltzer (Life Is Hard has 120 calories per 16-ounce can). "Drinks that are gluten-free or have lower ABVs are fun and social, but also facilitate a wellness lifestyle," she says.
Sudwerk isn't the only brewery to have jumped on the spiked fizzy water bandwagon. You can find cans of Budweiser's Bud Light Seltzer lined up on supermarket shelves next to sought-after seltzer brands like White Claw and Truly. And Sudwerk's neighbor, Berryessa Brewing Co. in Winters, uses local botanicals like lavender and hibiscus to flavor its sparkling beverage. Trubble Bubbles is available for purchase at Berryessa Brewing's taproom.
Sudwerk's seltzers are fermented using sugar and yeast—a similar process to making beer, but without any hops, wheat or barley—and then flavored with natural fruit concentrates. The seltzer's rigorous filtration process produces a "super dry" and crisp sparkling beverage with no lingering sugary aftertaste. "It's clean and leaves your palette right away," says Drake.
The team at Sudwerk had been troubleshooting small batches for over a year before settling on the final recipe and method. The name Life Is Hard Seltzer is an ode to the trials and tribulations of this new venture, says co-owner Ryan Fry, who also considers the beverage aptly monikered for pandemic times. "It just made sense all around," he says.
The seltzer will be available in four-packs of 16-ounce cans at grocery stores or at the Davis taproom for pickup (online preorders only). If you can't decide on a single flavor, you can order all three in a mixed case of 24 cans (available for delivery or pickup). Drake says all three flavors give off intensely fruity aromas, but the passionfruit holds a special place in her heart. "It reminds me of my honeymoon on Kauai and Maui," she says. "It's so tropical—it gives me all the island feels."
$13 for four-pack; $75 for case of 24. Online preorders only; available for pickup and delivery. Hours vary. Thurs.-Sun. 2001 2nd St. Davis. 530-302-3222. sudwerkbrew.com
You Might Also Like
Local chefs and other kitchen pros offer insider tips for home cooks and amateur bartenders
Local cookbook authors help you bring the farm to your table this spring
Take out on your own timetable with meal kits from regional restaurants