A New Leaf
When a Napa vintner moved to Amador County, she wanted to live in a space that blended seamlessly with the surrounding rolling vineyards and her busy lifestyle. With the help of two Sacramento architects, her Three Leaf House became a one-of-a-kind home.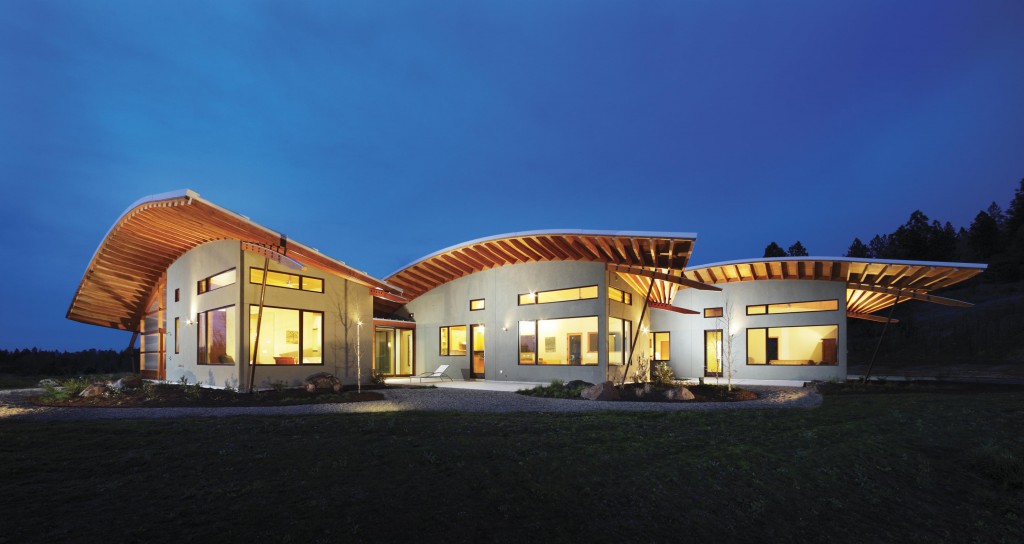 One of the first things viticulturist Ann Kraemer likes to point out to visitors is that her house literally has no front door. It was designed that way, to suit her hectic yet casual lifestyle, one in which she is in constant motion, coming and going from all directions. An hour in her company proves this point: She is variously off to the kitchen to fetch cheese and crackers and out the kitchen door for wine, then out the breezeway to answer a question from one of her nephews about organic fungicide, and later out the back of the screened-in porch off of her bedroom to help some seasonal workers try to get a truck started. "
When Kraemer and her extended family decided to go in on a 186-acre parcel in Amador County's wine country in 2001, she had no intention of ever living in the area. Kraemer had been a vineyard manager for Domaine Chandon and was a freelance winery consultant based in Napa at the time, and the land purchase was strictly a business venture, the fulfillment of a lifelong goal to own "that magical piece of ground." But just a few years later, her family's Shake Ridge Vineyards was well on its way to becoming a thriving business (which eventually also included a successful winery, Yorba Wines), and Kraemer found herself spending more and more of her time homesteading in the one existing ramshackle cottage on the property just outside of Sutter Creek. So when an adjacent parcel came up for sale that happened to include a perfect home site on a hill, with breathtaking views of her own vineyard's verdant slopes, she decided that it was time to build her dream house.
Kraemer interviewed architects throughout Northern California and ended up choosing Sacramento-based husband-and-wife team Pam Whitehead and Paul Almond of Sage Architecture. The couple, who'd met in college at the University of Minnesota, moved to Sacramento in 1990 when they got jobs at local architectural firms right out of school. They launched their own company in 2001—the same year Kraemer started her family business—for uniquely compelling personal reasons.
"In 2000, I was diagnosed with cancer," Whitehead says, "and that made us decide that if you really want to do something, you need to just do it. So within six months of my diagnosis, we were opening our firm." Whitehead is cancer-free today, and together the couple runs the Triumph Cancer Foundation and its Triumph Fitness program, which helps cancer patients recover their energy and stamina after treatment.
Almond and Whitehead describe their style as modern, but caution that this, to them, does not translate to "cold and stark."
"A lot of people think that when they hear 'modern,' but it doesn't have to be that at all," says Whitehead. "Modernism to us is what allows us to design for things like solar path, wind flow and the site, as opposed to picking a traditional style—which might be just a box. For us modernism isn't about cold and stark, it's about sculpture."
Kraemer first fell in love with Whitehead and Almond's warm, comfortable modernism through Marc Vassallo's book The Barefoot Home, which featured a 1,200-square-foot house in the Sierra foothills designed by Sage that captured her imagination. Kraemer was drawn to the house's casual style, and the smallness of the structure, but she ultimately chose Sage because of the duo's uniquely client-centered approach to design and how well they responded to the design problems presented by her unusual lifestyle. It didn't hurt that every past client of theirs she interviewed seemed to describe the building and remodeling process as "fun," and that the pair had a reputation for staying within a modest budget—which hers was.
"When is the last time you heard anyone describe a remodeling project as fun?" Kraemer marvels, shaking her head.
"We love challenges where there are complexities to consider," says Almond.
"It's not a design that's necessarily suitable for any other person on the planet," adds Whitehead. "It was designed for her and every aspect of how she lives in it."
Kraemer's life is governed by a set of peculiar contradictions. She is single, and enjoys the solitude of living on her own, but at the same time, she is one of eight siblings who live scattered around California and Oregon, and aunt to 21 nieces and nephews aged 12 to 27. Her father's lineage traces back to the 1700s and the cattle-farming and orange-growing Yorba family of Yorba Linda near Anaheim (hence Yorba Wines), so agriculture is in her family's blood. Nearly all of her nieces and nephews have at some point pitched in to help at the winery (the ramshackle cottage is now reserved for their use), and a few have even followed Aunt Ann into the wine business. So Kraemer wanted a functional haven for herself that offered her a modicum of privacy, while also providing room for the constant flow of family and friends. "It's such an unusual project," Almond says, "to do a house for one person, but one person who has family coming through literally all the time."
The other requirement: to make optimal use of the gorgeous hilltop site.
The solution Sage came up with, the Three Leaf House, is a small wonder. The house is spread across three "pods," stand-alone living spaces with gently swooping rooflines. "It's called the Three Leaf House because it looks like three leaves that are resting lightly on the hill," says Whitehead. "Ann didn't want the house to be just plopped on top of the hill, exposed. So we decided to take the roof shape and extend the line of the hill with a large curve. That was the main factor in the scheme she liked best." To reference the grid-like pattern of the grapevines one sees on the neighboring hillsides, the house is laid out on a grid. It is also meticulously sited.
"We built study modules and took them out to the site with Jim Glauz, the builder," Almond explains of their process. "We spent the entire day checking out the solar path, moving the pods around so they would shade each other. We staked out the plan then and there, in response to the movement of the sun."
"Every direction you come from, you see the house differently," says Whitehead. The house is also oriented so as to need no window coverings, either for privacy or insulation.
The result is so well shaded and so energy efficient that Kraemer says her electric bill is just $25 per month; she rarely fires up the air-conditioning and only turns on the radiant floor heating for a few hours on particularly cold winter mornings. She had intended to install a geothermal energy system, but the consultant she approached said not to bother, that the house was so efficient that she'd never earn back her investment.
One way Sage kept costs down was by keeping the house's construction as simple as possible. The swooping rooflines provide drama and interest, but the house is basically comprised of three stick-framed rectangles. Kraemer notes that she did choose to upgrade several of the materials once she saw the level of craftsmanship Glauz was bringing to the project. "It made sense to go for soapstone, not laminate in the kitchen and tile, not fiberglass in the shower." As a compromise, she gave up a few things on her wish list, including a lap pool, a tub and a fireplace.
Two of the pods are connected by an enclosed breezeway, the third by concrete pavers. The original design called for all three pods to be separate, but the county deemed them too small to sanction as stand-alone dwellings, hence the addition of the connecting breezeway. In all, the house comprises 1,500 square feet, but feels much larger.
The soaring ceilings give the kitchen-living room pod the feeling of being in a cathedral. All of the detailing, from the cabinetry to the doors to the ceiling (whose curve is reminiscent of the staves of a wine barrel), is of Port Orford cedar that is oiled rather than sealed, so that it remains fragrant and has a subtle luster. "It's soft wood, so it is going to get dinged up over the years, but it's designed to," says Kraemer. "Just as the concrete floor is designed to crack."
The breezeway leads to Kraemer's bedroom, and her favorite room of all, the screened-in porch where she entertains—a visitor isn't there long before bottles of Yorba Wines come out for tasting, a line that includes perfect incarnations of rare varieties like a Spanish Tempranillo and an Italian Barbera. About 20 percent of the vineyard's output goes into Yorba Wines' 1,600-2,000 cases a year, and the rest of the output is sold to Napa and Sonoma and other neighboring wine regions.
The labels for Yorba Wines are designed around Yorba family cattle brands from the 1800s, providing yet another link to family and home. Much like Kraemer's house, these simple graphics are at once warm, familiar and modern—a reflection of the way in which Kraemer has so deftly reinvented herself from the ground up while never straying far from family and tradition, building a life that is at once independent and connected, in a house that could serve no other purpose for no other owner.
Telling ancestral stories from California's early farming days makes Kraemer smile as she pours. The house may be new, but the stories that are told in its comfortable, shady regions are as old as the hills. "I always wanted to have my own ranch," she says quietly, looking like a person who has finally discovered the true meaning of home. "And now I do."