A sneak peek at the colorful new Devil May Care Ice Cream shop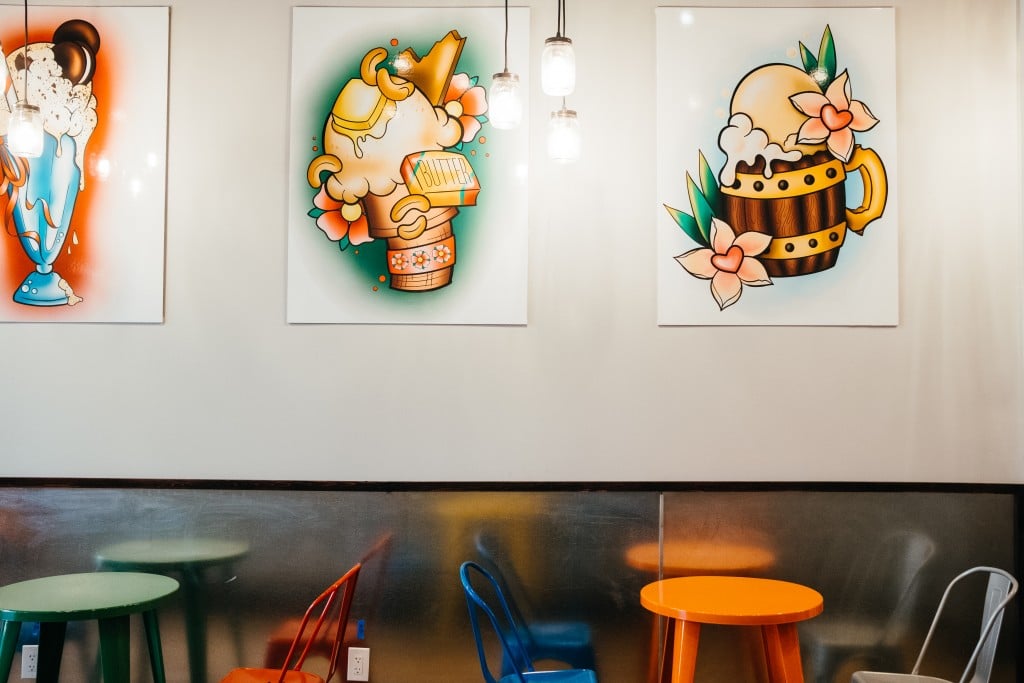 Update: Devil May Care Ice Cream's downtown outpost soft-opened on Jan. 21. The shop hosted a grand opening on Feb. 3.
---
In a setting that would make Willy Wonka proud, Devil May Care Ice Cream & Frozen Treats is expected to open downtown in November. It's the second outpost for the West Sacramento artisanal ice cream shop that opened in 2016, and which is known for its inventive flavors like Lavender Bee Pollen, Old Fashioned (whiskey flavored ice cream with candied cherries, candied orange zest and bitters) and Peanut Butter Junk Food (made with Reese's Pieces, Nutter Butter cookies and chunks of Nutrageous bars swirled into peanut butter ice cream). Owner Jess Milbourn, who had initially pictured a sleek grayscale design says the deviation from the original plan was pure serendipity.
"When we started thinking about the design, all the artists I had hired wanted to work in a fun, bright color scheme," he says. "I'm a firm believer in letting artists do what they want—that's how you get the best art."
The 1,200-square-foot space—located on K street between 7th and 8th streets—is shaping up to be unapologetically polychromatic. A kaleidoscopic mural by Sacramento artist Stacy Almy features abstract, oversized depictions of ingredients used in the shop's rotating 300-plus ice cream flavors—for example, a sprinkle doughnut and coffee beans represent one of the most popular Devil May Care flavors—Coffee & Doughnuts. Meanwhile, tattoo artist Jocelyn McGregor, also from Sacramento, reimagined scoop selections into amusing tattoo-inspired posters that line the walls.
Nike Air Force 1 sneakers will be displayed throughout the space, each pair decorated by a different artist. Sacramento-based Taylor Pannell decorated her kicks with eye-grabbing comic book panels that tell a diabolical ice cream-themed story, while another pair is illustrated with local graphic designer Leticia Campaz's caramel apple-sweetened memories of her first visit to the original West Sacramento shop.
Functional art at the shop takes the form of multicolored metal chairs and the interchangeable Magnetic Poetry-inspired menu board magnets by designer Greg Berger that will spell out the 16 flavors du jour. Among the shop's specials will be seasonal sundaes, like an apple pie version for fall and an eggnog variation during the winter holidays. Soon, ice cream floats will be made with house-brewed root beer. Also forthcoming are flavored ice cubes—a cucumber-and-elderflower-infused version is modeled after a White Linen cocktail—to put a twist on fountain sodas.
Turns out, Milbourn's natural come-what-may attitude—hence the name of his business—has been a boon in the ever-changing landscape of the restaurant industry. The downtown shop had been set to open just as the pandemic hit, and the subsequent seven months of limbo haven't been easy. But rolling with the punches has given him a new appreciation for the creativity and spontaneity that fuels his team's almost-fanatical quest for out-of-the-box flavors.
"As ideas come to us, we try them out," he says. "Everyone's rewriting rules these days. It's exciting."
Wed.-Sun. 1-9 p.m. 710 K St. dmciccecream.com
View this post on Instagram
You Might Also Like