Actor and Social Activist George Takei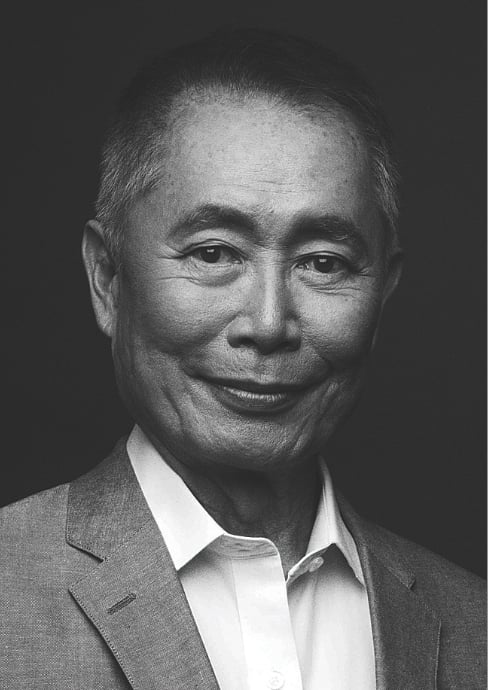 As a television pioneer, LGBT rights activist and social media icon, Star Trek star George Takei has more than once boldly gone where no man had gone before. Now he's leading the way again, raising awareness about the imprisonment of Japanese Americans during WWII, including taking part in a California Museum exhibition about the mass uprooting. The veteran actor and internment survivor, whose family hails from Sacramento, talks about that dark chapter in our country's past and why it's his life's mission to make sure that history doesn't repeat itself.
The last time you were in Sacramento, which was a couple of months ago, you were getting inducted into the California Hall of Fame at the California Museum. What was that night like for you?
It was a very special experience to be with that pantheon of people who have contributed [to California], to be on the stage together with [former] Secretary of Defense William Perry, [author] Isabel Allende and Han Solo himself. We were seated right next to each other, Han Solo and Hikaru Sulu. I met [Harrison Ford] for the first time there. We said we were two people from different galaxies, and there we were in California.
The other element that really made it a special occasion for me was to be in Sacramento, my mother's birthplace. While sitting on that stage, I thought of my roots there. My maternal grandparents farmed the area [growing hops, strawberries and grapes] around Florin. From what my mother told me, [my grandfather] was very successful and was the first one in Florin to get a Ford Model T. We have a picture of him with his mustache and his vested suit holding his hand to his stomach like Napoleon did. He didn't dress like a farmer. He dressed like a politician. He was a proud man.
Have you visited your grandparents' farm?
I did eventually, but this was [long] after they were gone. My mother's cousin drove me [there] and he also took me to where my mother went to Japanese language school in Florin. My mother's side of the family is scattered all over that area—in Marysville, Penryn and Sacramento. My second cousins are all in Sacramento. I get to drop in periodically. Before, it was for weddings and birthdays and happy things like that, but recently, I've been going back to Sacramento more for funerals.
In addition to its California Hall of Fame show, you are also part of the California Museum's updated Uprooted exhibit, which reopened Jan. 24 and explores the internment of Japanese Americans during World War II. Now the display begins with a video presentation by you. I assume it was your personal experience in the internment camps that made you want to get involved?
It's been my mission in life to raise awareness of the internment chapter in American history because this story is a critically important one that so many Americans don't know. People are shocked when I tell them about my growing up behind barbed wire fences. I'm the last of the generation that actually experienced the internment. That's why the exhibit, Uprooted, is so important—the idea of institutionalizing this story is a way to keep it alive.
You were very young when you and your family were taken out of your home, yet your memories of that time are so vivid.
My parents [always] told me that I had an amazingly good memory. I still remember that morning when the soldiers came to get us. They came for us in May [1942], a few weeks after my fifth birthday. My parents got me up very early, [along] with my brother, who was a year younger, and my baby sister, and they dressed us hurriedly. My brother and I were told to wait in the living room, and we were gazing out the front window when we saw soldiers coming up the driveway carrying rifles with shiny bayonets on them. They stomped up the porch and, with their fists, began pounding on the front door. It was a terrifying sound.
We were ordered out of our home literally at gunpoint. My father gave my brother and me little pieces of luggage to carry and we followed him out onto the driveway. We waited for our mother to come out, and when she did, she had our baby sister in one arm and a duffel bag in the other, and tears were streaming down her cheeks. A child does not forget that.
But I went through the internment from a child's [perspective]. I remember the searchlight that followed us at night when we went from our barracks to the latrine. For my parents it was a degrading, invasive light, but for me, I thought it was nice that they lit the way. I have the memories, but without my parents' emotional context.
"People are shocked when I tell them about my growing up behind barbed wire fences. I'm the last of the generation that actually experienced the internment."
When I became a teenager and began reading about the great, noble, democratic values of our country, I couldn't reconcile those with what I knew to be my childhood. I had many after-dinner conversations with my father. He was the one who had to bear the burden of the anguish, the pain, and the sense of loss and hopelessness the most in our family, and yet he was able to tell me that our democracy was still the best form of government in the world. I gave my dad a hard time: "How can you say that when they imprisoned us on the basis of race when we were innocent?" There's no one more arrogant than an idealistic teenager.
During these heated discussions we had, one of the things I said was, "Daddy, you led us like sheep to the slaughter." Suddenly, the give and take of our conversation stopped. He was silent and I knew immediately that I had touched a nerve. I had hurt him and I felt terribly. The man who did so much for us looked at me and said, "Well, maybe you're right." He got up and walked into his bedroom and closed the door.
Then one Sunday in 1956, he took me to downtown [Los Angeles] to the Adlai Stevenson for President campaign headquarters, where he volunteered. There, I worked with other people passionately dedicated to getting Gov. Stevenson elected. It was a heady, dazzling experience, and that's what got me to be an activist.
[Years later] I supported Tom Bradley for mayor of Los Angeles—I was the Asian American chair of his campaign. We won and he appointed me to the board of directors of the Southern California Rapid Transit District. My father was so proud. To see that smile on my father's face made me feel so good. He said, "This is how democracy works." He was right. I [finally] understood.
In 2015, you co-starred with Lea Salonga in the Broadway musical Allegiance, which was inspired by your life in the internment camps. What did it mean to you to make your Broadway debut at age 78 with a show that was so personal?
The personal aspect was what made it so special. The most special point was when my husband Brad and I were in our apartment and the lead producer Lorenzo Thione phoned and said, "The marquee just arrived and the crane's coming in to put it up. Do you want to watch?" We were just a few blocks from the theater, so we literally ran down. As I saw the marquee go up, there was my name and Lea's name above the title. I saw the name "Takei" and I wished so much that my [late] father could have been there to see that marquee on Broadway bearing his name.
For those who didn't catch Allegiance on Broadway, are there plans to go on tour or turn it into a movie?
We filmed it. We filmed one performance with a full house and one camera, and then we did another performance with an empty house and multiple cameras. So the movie [version] is an amalgam of filmmaking and musical theater. And [in December] we had an enormously successful one-night-only screening at over 600 [movie] theaters throughout the United States and Canada. So we're planning now to rescreen it for those who missed it, on Feb. 19—the day President Roosevelt signed Executive Order 9066 [which authorized the internment of Japanese Americans] was Feb. 19, 1942.
The story of the internment is so relevant to our times today because now Trump's people are talking about using the internment of Japanese Americans as a precedent for a Muslim registry. [In November, during an interview with Megyn Kelly in which he advocated for creating a registry of immigrants from Muslim countries, Trump surrogate Carl Higbie said, "We did it back in World War II with the Japanese."] We Japanese Americans immediately recognize that [concept] because, while they didn't call it a registry, right after Pearl Harbor, they had a database. They knew where we lived, what we did for a living, how many in a family—all that information. After [the development of] that database came the curfew. We were supposed to be home by [8 p.m.] and stay home until 6 a.m. We were imprisoned in our homes at night. Then when we went to the bank, we discovered that our bank accounts were frozen. And then the soldiers came and took us away.
So we know what they mean by a Muslim registry, and [this kind of discrimination] must not ever happen again. That's why raising awareness of the [internment] chapter is so vitally important for our democracy. We have to learn from history.
The relaunched Uprooted exhibit is on permanent display at the California Museum: 1020 O St. ($9; open Tues.-Sat. 10 a.m.-5 p.m.). For additional information, call 653-7524 or visit californiamuseum.org.