Bigger ice rink to debut in downtown Sacramento this winter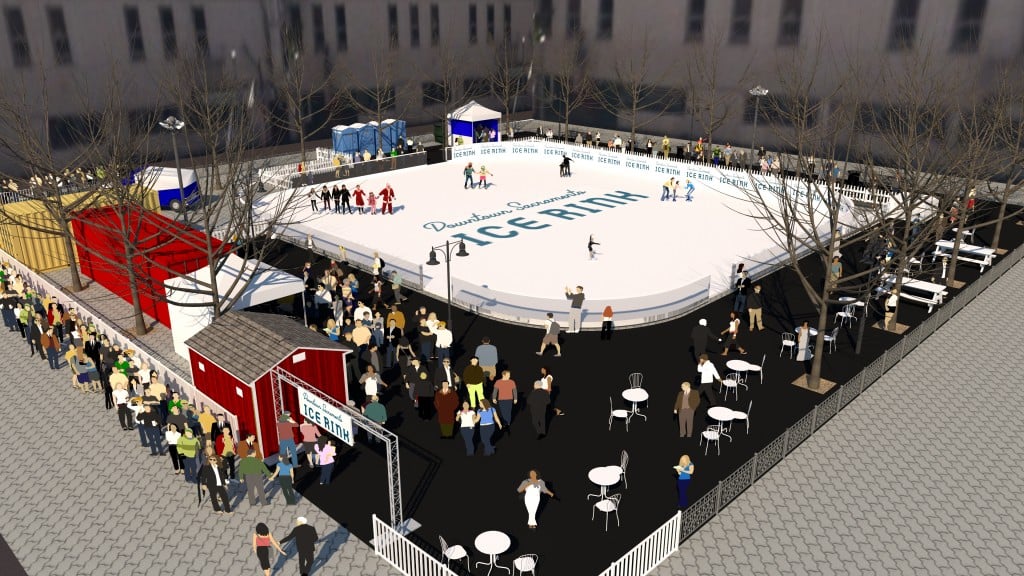 Winter in Sacramento is about to get a whole lot cooler.
Fall may have just arrived, but winter is just around the corner, which means hot cocoa, wonderfully ugly holiday sweaters and, of course, ice skating. And this November, the Downtown Sacramento Partnership (DSP) will debut its newly redesigned rink at St. Rose of Lima Park at 7th and K streets for prime downtown gliding.
Previously a 5,350-square-foot oval, the new and improved rink will be square with rounded corners—a shape that will better maximize the space, allowing for more skaters at one time. The new rink will be 6,800-square-feet, just shy of Rockefeller Center's rink, which clocks in at 7,200 square feet.
In previous years, the small structures that housed the skate rental shop, admission and lockers were lined up along K Street to block views to the blighted 700 block of K Street. Now, with more than a dozen new restaurants, bars and other retail spaces opening up this fall as part of The Hardin development across the street, those structures will be moved to open the view up to K Street. For the first time in its 27-year history, the rink will be largely surrounded by a vibrant urban street scene.
"It's really about creating that Rockefeller rink feeling in the heart of Sacramento," says Emilie Cameron of DSP. "You'll be able to see and experience the flood of people that are part of the excitement that's swirling around the area."
While the rink is open—Nov. 2 to Jan. 21—DSP will host special events throughout the season, including Princess and Superhero Day (Nov. 3), at which kids can get their faces painted and meet the likes of Cinderella, Elsa and Captain America, Drag Queens on Ice (Nov. 15), at which folks can don accessories like feather boas and glide alongside dolled up queens, and Silent Disco (Dec. 20), during which skaters can rent headphones and tune in to three DJs while on the ice.
$13 ($6 for ages 6 and under). Mon.-Thurs. 2-9 p.m. Fri.-Sat. 10 a.m.-11 p.m. Sun. 10 a.m.-9 p.m. (Check website for holiday hours.) 701 K St. 916-442-5563. godowntownsac.com
You Might Also Like
Get a peek behind the façade during three architecture tours this fall
Two local pop-up shops to open at Downtown Commons
A sneak peek inside Camden Spit & Larder