Capitol Intrigue
The California governor's granddaughter is kidnapped, a killer leaves playing cards at the crime scene, and a deadly shoot-out takes place across the street from the people's house. They're all connected, but how? This and other mysteries get solved piece by piece in All That Fall, a new novel set in Sacramento by longtime Capitol insider Kris Calvin.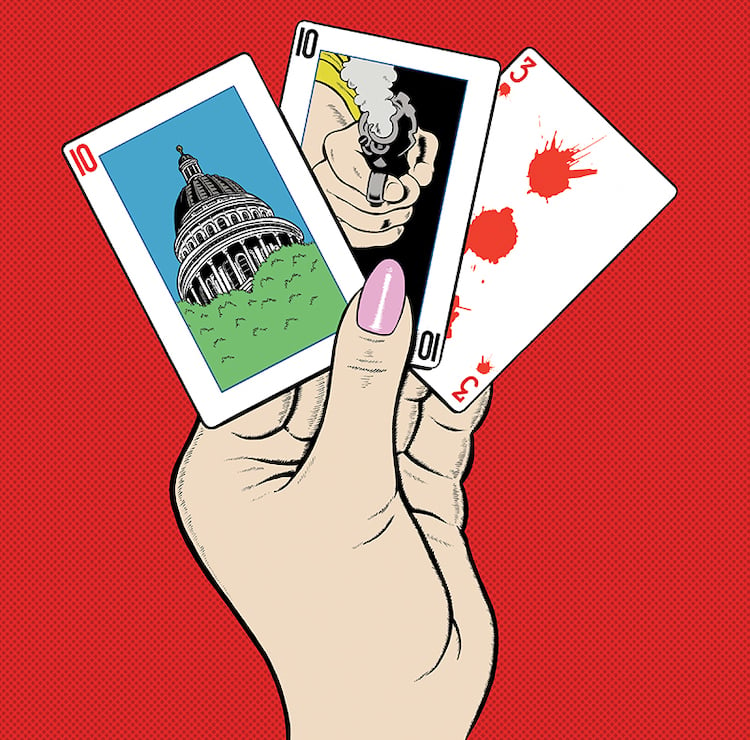 The Sacramento of Kris Calvin's new thriller All That Fall features a downtown dotted with businesses and institutions that won't be found on any real-world map: Delicious Island Fare Hawaiian restaurant, Rainbow Alley Preschool, Wildfield Synagogue. Looming over all of them, however—both literally and figuratively—is a landmark lifted wholesale from 10th and L. That the State Capitol building, with its Corinthian columns and copper dome, would not just make its way into this fictionalized Sacramento, but be the hub around which much of the action in All That Fall turns, should be no surprise to fans of Calvin's first book, One Murder More. That mystery, distributed via the web-based, crowdsourced publisher Inkshares six years ago, features lobbyist Maren Kane seeking to clear a colleague suspected of murder after the body of a legislative aide is discovered in the Capitol.
For All That Fall—released on April 13 as the first of a two-book contract with the more traditional publisher Crooked Lane Books—Calvin created a new protagonist: Emma Lawson. The youngest-ever government ethics investigator for the Hayden Commission and co-director of a soon-to-open preschool favored by bureaucrats and legislators, Lawson must navigate the political machinations of the city where laws are made for the country's most populous and wealthiest state. It's also a city still reeling from a series of killings orchestrated by "the Gambler," so named because playing cards with values that added up to 23—a number connected to white supremacy—were found on every body. Although the man charged with the crimes has been locked up in Sacramento County Jail to await trial, the discovery of cards at a new murder scene raises the specter of the recent spree. Amid all of this, the governor's granddaughter is kidnapped and Lawson's best friend's son goes missing at the same time, prompting the investigator to race to figure out just how the bodies piling up around her are related to each other, the children in danger and the web of threads radiating from the Capitol.
Calvin's writing—the political side of it, anyway—is informed by her experience as CEO of the American Academy of Pediatrics California. Though she's a Davis resident, her work with the group, which advocates for bills and measures from a perspective of child health and safety, routinely put her in direct contact with Sacramento lobbyists and lawmakers for nearly 30 years until her job ended in January due to the pandemic. She wryly estimates that she spent 90 percent of the past three decades among the "amazing characters" in the Capitol building. For her efforts, she has earned a California Assembly Resolution recognizing her work in child health advocacy at the state level.
To write the more dangerous elements of her story, she drew from a different set of experiences. Calvin, 65, explains that she suffered serious abuses in her childhood, which she prefers not to detail. She counts the public library as her salvation growing up because in addition to there being kind adults in a safe space, she could also read stories of children who were in peril, but were saved in the end.
She was intrigued by writing, but despite loving this literary lifeline, she was afraid to exercise her own imagination to pen similar stories because real life was scary enough. As she got older, she built what she hoped would be protective social guardrails around her: attending Stanford for an undergrad degree in psychology and economics, then Berkeley for grad school. She married her college sweetheart and had two kids in the early 1980s, but admits she wasn't in a state of mental health necessary to make the relationship work. They separated, then divorced in the late '80s, and she took a job at the California Medical Association in the early '90s, which led to her work at the pediatricians' organization and her front-row seat at the Capitol. That's where inspiration struck, when she recognized that government life was as bizarre as fiction.
Still afraid of the traumatic darkness inside her, she tapped into that inspiration in secret, getting up at 4 a.m. to write while her children slept. After showing the resulting mystery around in the industry, she eventually opted to publish it on her own terms with Inkshares in 2015. When it came time to write her second book, she felt even more comfortable "letting those little monsters in my head out." However, considering her own past, her life as a mother of now three kids, and her work focused on protecting the health of California's youth, those monsters would be reined in just a bit.
There is blood in All That Fall. There are fists and guns and shattered bones, but the story doesn't linger on violence. "I don't stay with pain very long," she says, sitting in her living room during a Zoom interview in January as the early-setting sun slowly sinks one of her writing spaces and its mid-century modern design elements into shadow. Mister Rogers famously advised children to look for "the helpers" in the midst of danger and disaster, and Calvin writes her books—mostly dictating words into her MacBook due to neck pain caused by years hunched over a laptop—with a "kindness first" philosophy in mind.
Her stories are not abuse stories, she adds—they're adventure stories for adults, harkening back to her formative years at the library and her fictional friends. People will definitely die, "because they're thrillers, they're mysteries," Calvin says. "But every child you come to know will be safe."
While she sheepishly questions the wisdom of giving away her youngest characters' fates, her strategy seems to be working when it comes to building tension—and fans. Of her first book, fellow Davis author John Lescroart opined, "Kris Calvin sets herself apart as a writer to watch." Such praise from a New York Times best-selling thriller novelist is gold for a first-time writer, and he believes that her sophomore effort lives up to his prediction.
"I think it's borne out completely," Lescroart says. "She's able to write good dialogue, she writes great scene setting, and—most importantly—she deals with large themes. [Kris] has got a natural bent toward that approach."
Lescroart is just one of many local writers connecting with her via their craft. There's a surprisingly sizable contingent of Davis-based authors who meet regularly (or at least used to pre-pandemic). In addition to Calvin and Lescroart, the informal group also includes Catriona McPherson (author of the Dandy Gilver and Lexy Campbell mystery series and almost a dozen standalone novels), Eileen Rendahl (who writes cozy mysteries, thrillers, "chick lit" and urban fantasy under her own name and three aliases) and Spring Warren (author of a Western saga and a book about her journey of self-sufficiency in turning her Davis yard into a farm). On Jan. 13, Calvin attended a virtual launch party, co-moderated by McPherson and Rendahl, for Sacramento author Laura Jensen Walker, whose second mystery novel Hope, Faith & a Corpse (also published by Crooked Lane) had just debuted. The pandemic has made building face-to-face relationships with other writers difficult, but they are making it work, serving as lifelines for each other in the midst of an isolating pandemic.
---
READ MORE: A Life of Crime (the Perfectly Legal Kind) – The life and work of author John Lescroart
---
Covid-19 has also created challenges in connecting with audiences. For One Murder More, Calvin visited 30 Rotary clubs in a regional speaking tour and traveled to bookstores in the Bay Area and Southern California. For All That Fall, with in-person gatherings off the table, she's planning a Zoom-based launch event and hopes to virtually speak to the Sacramento-area Rotarians.
In the meantime, she's working on the sequel to her new book and pondering what a life more fully dedicated to writing will look like. Both on and off the page, she remains focused on children—she's still contracting with the American Academy of Pediatrics California to teach classes around the state—and followed our Zoom interview with an email update on her own three kids who once slept while she wrote. All are now adults: One is a criminal justice reform policy director in D.C. and a death penalty appeals lawyer, one is on the San Francisco Board of Supervisors, and one is studying the ethics of artificial intelligence, working on a joint law and master's degree in public policy at Stanford.
"They are all in nonprofit/public service fields," Calvin notes. "None of them are ever likely to earn enough money to care for me in my old age, but they are all following that 'kindness first' philosophy, which makes me immensely proud of them."
Considering Calvin's career spent protecting the youth of the state—on top of her new life as an increasingly successful author—she's certainly giving her children plenty to be proud of in return.