Celebrate National Doughnut Day with "The Works"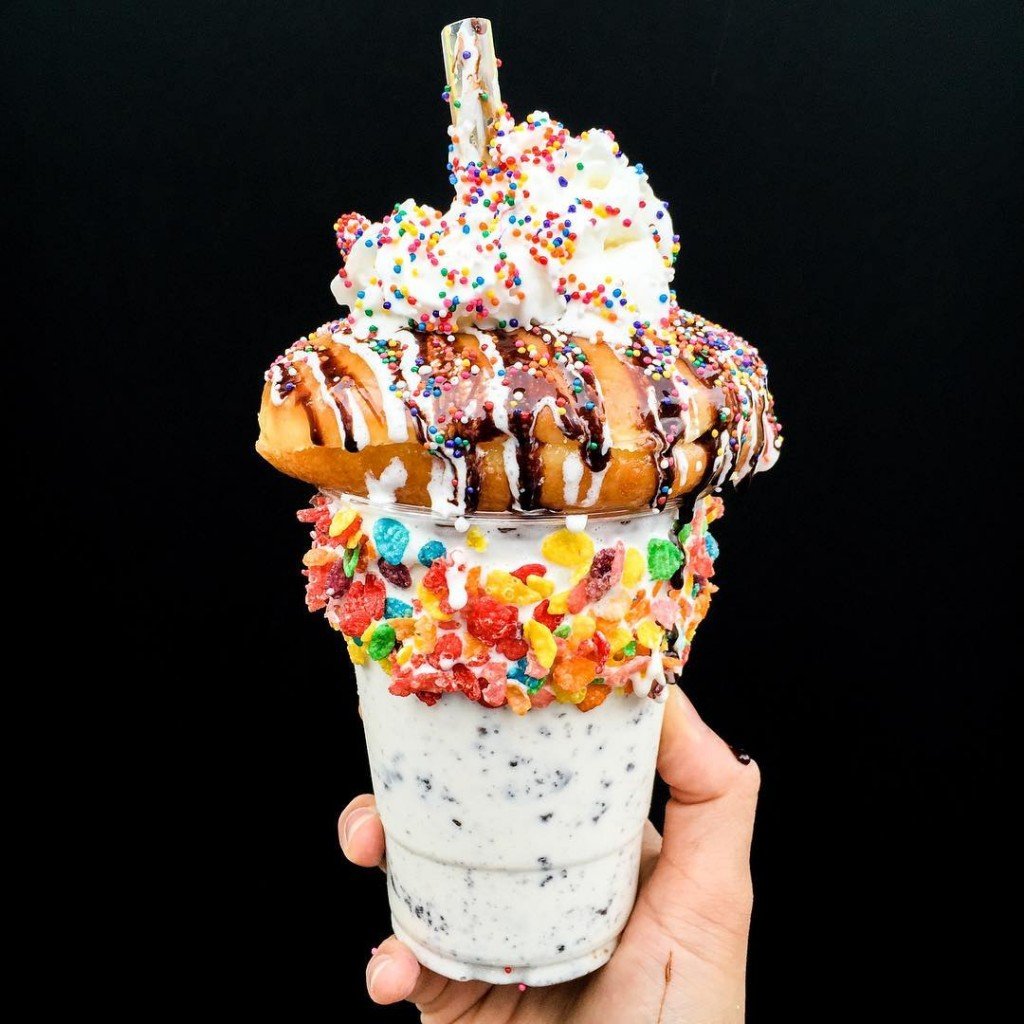 In a world of kale smoothies and carb counting, "The Works" at The Parlor Ice Cream Puffs in Arden-Arcade and Roseville, reinstates your belief in good old-fashioned indulgence. It's one of those eye-catching desserts that halts your Instagram scrolling, making you wish food teleportation existed.
In celebration of this year's second National Doughnut Day on Nov. 5 (the first was in June), we tested out this outrageous concoction and got the literal scoop on how it's made.
The Works starts with one of The Parlor's 14 flavors of ice cream—like the sea salt caramel, Thai Tease or Cocoa Butter Kisses (our favorite)—whipped into a frosty milkshake. Next, a Nutella-filled glazed doughnut is pressed until warm and layered on top of the milkshake, anchored by a thick straw. The doughnut is piled high with a cloud of whipped cream and topped with your choice of 27 unlimited toppings, like waffle cone bits, Fruity Pebbles cereal, or crushed Butterfinger bars, which can also be added with Nutella to the side of the cup. Finish the whole thing off with chocolate, caramel, marshmallow or peanut butter sauce, and you're ready to dig in.
Read about some of Sactown's favorite doughnut shops HERE.
"It's basically a little bit of everything we serve here," assistant manager Kerry Navarrette says. "You can really go crazy with it."
For the ultimate sugar rush, Navarrette says guests can ask for all 27 toppings, and The Parlor's ice cream slingers will gladly comply. They're used to custom combos and add-ons. Layered milkshake flavors? No problem. Sauce drizzled inside the cup caramel Frappuccino-style? Absolutely.
Whichever way you order it, The Works is the perfect cheat-day treat made for sharing (or not), down to every last Nutella-smeared bite.
Bonus: For National Doughnut Day, The Parlor Ice Cream Puffs is offering free toppings on all of its desserts at both locations this Saturday.
Sun.-Wed. 12-10 p.m., Thurs.-Sat. 12-11 p.m. 2620 Fair Oaks Blvd. 977-3997. 1490 Eureka Rd. Roseville. 781-7833. theparloricecream.com
You Might Also Like
Seven sweet spots to get your doughnut fix
The region's best ice cream sandwiches
Six great places to visit in Apple Hill this season