Vegan Gelateria Conscious Creamery Opens in Oak Park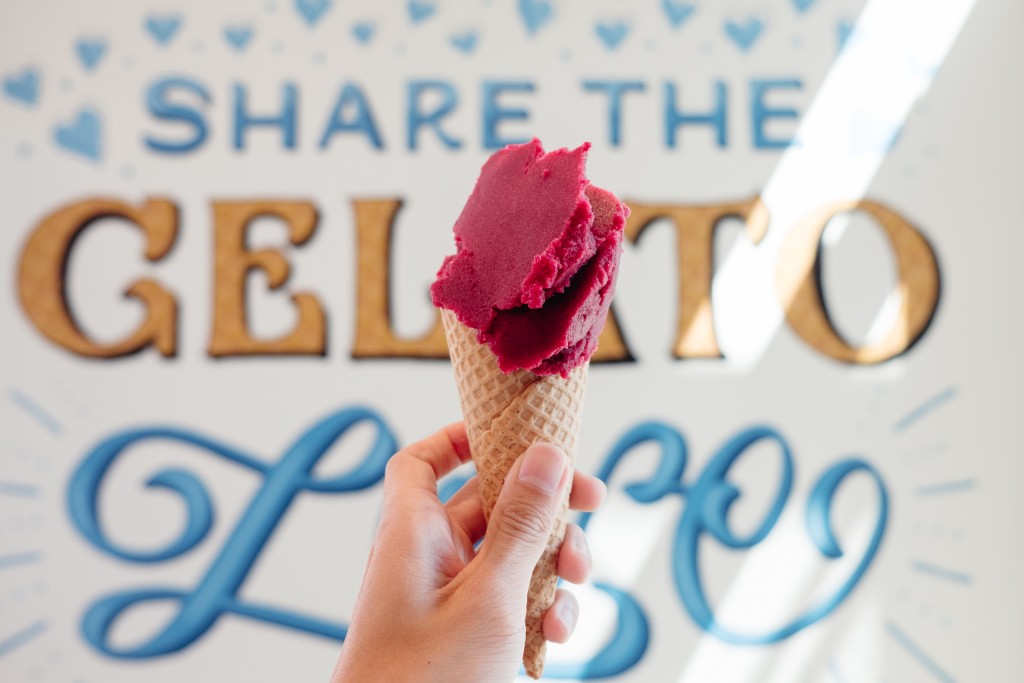 I scream, you scream, we all scream for ice cream, Italian style. The mobile vegan gelateria Conscious Creamery has opened its first brick-and-mortar shop in Oak Park's Triangle District.
The new flagship location—which launched on April 1 with counter service and outdoor seating—continues to sell its cult-favorite gelato pops and "tacos" (think freezer-aisle-favorite Choco Taco, but with a plant-powered twist), but also offers scooperie exclusives like gelato shakes and floats, and the Sunday Special, a spin on the classic sundae featuring a gluten-free Belgian waffle topped with a scoop of vanilla gelato, fresh berries and double drizzles of house-made caramel and chocolate sauces. Vegan whipped cream, made from aquafaba (the liquid from canned chickpeas), is optional.
Conscious Creamery's married owners Kevin and Andrea Seppinni, who are both vegan, were inspired to launch a vegan version of a traditional European gelato shop in Sacramento after discovering a similar concept on their 30th wedding anniversary trip to Vienna, Austria, in 2015. The business did its first pop-up the following year—you may recognize the "Icicle Tricycle," which makes the rounds at farmers' markets and outdoor concerts—and has since expanded to selling its gelato pops and tacos at places like midtown's Federalist Public House and East Sacramento's Compton Market.
The minimalist 320-square-foot shop—built to look like a shipping container—is anchored by a specialty gelato case sourced from Italy. With the creamery's seasonal, artisanal, small-batch ethos in mind, the case houses up to just a dozen flavor containers.
"I get to share with others how truly delicious it can be to eat plant-based foods that don't harm animals and create less harmful environmental impact," says Andrea, who has developed an expertise in dietary restrictions during her 20-year career as a personal chef and caterer. "And by making flavors based on the seasonal availability of produce, I also have the opportunity to use the best of what local farmers have to offer throughout the year."
The secret to making Conscious Creamery's dairy-free gelato just as delectable as its dairy-rich Italian counterpart—which is already typically creamier and denser than traditional ice cream—is Andrea's house-made cashew cream, a recipe nine months in the making. The chef builds her flavors with organic sugar, chocolate and selections from the Sacramento Valley's seasonal bounty like citrus and pistachios from Terra Firma Farm in Winters.
Though the offerings rotate regularly, crowd-pleasers like decadent mocha almond fudge (spiked with Camellia Coffee Roasters brew) and cashew cluster caramel swirl (studded with house-made toasted-nut brittle), make frequent appearances—Andrea says patrons get "distressed" when their favorites go missing. Unique flavors like the matcha-strawberry ripple, which gets its fruit punch from a peak-season strawberry preserve, and the blood-orange-beet sorbetto, tart yet earthy, keep the daily lineup fresh and surprising.
"My philosophy is that if you're gonna eat a dessert," says Andrea, "vegan gelato is certainly a delicious and wholesome way to do it."
3400 Broadway. 916-407-1175. Open Wednesday and Thursday from noon to 7 p.m., Friday from noon to 9 p.m., Saturday from 11 a.m. to 9 p.m., and Sunday from 11 a.m. to 6 p.m. @consciouscreamery on Instagram. consciouscreamery.com