Eagerly awaited Cider House to open soon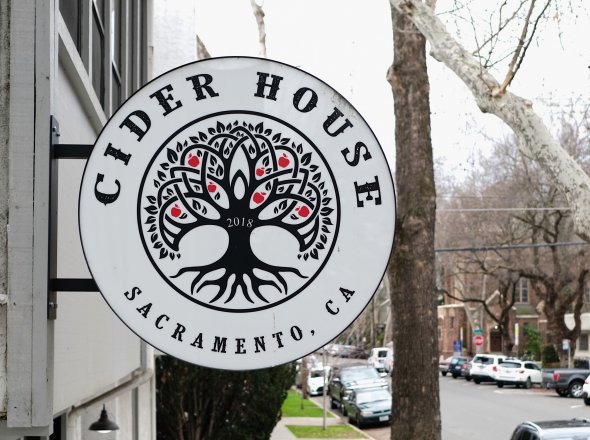 March 14, 2019 Update: Cider House will open on Friday, March 15, at 24th and K streets. Hours of operation will be Monday-Wednesday from 3:30-9 p.m., Thursday & Friday from 3:30-11 p.m., Saturday from 11 a.m.-11 p.m. and Sunday from 11 a.m.-9 p.m.
*******
The wait will soon be over for gluten-free guzzlers and nibblers, as the highly anticipated Cider House, which was originally slated to launch last fall, readies to open soon.
The 1,000-square-foot space will feature exposed rafters, outdoor seating and a live-edge community table fashioned from English walnut, as well as a 26-foot bar with 20 taps pouring a rotating selection of ciders, gluten-free beers and kombucha. Many of the tipples will come from area purveyors like Two Rivers Cider Co., Clarksburg's Nitty's Cider and Hemly Cider, which produces pear cider in Courtland. You can get your libations in 8-, 10- or 14-ounce glasses, or build your own three-glass flight.
With Cider House's location within spitting distance of hot spots like Der Biergarten, The Golden Bear and Cantina Alley, proprietor Julio Peix, who co-founded Dad's Kitchen, hopes the new taproom will fit right in. "Maybe they grab one or two drinks [here] and then they'll want to bar hop," says Peix, who is aiming to launch by the end of February and perhaps as early as Feb. 22.
The watering hole's kitchen will dish out sans-gluten snacks like house-made hummus with carrots and celery, as well as heartier items like ham and cheese paninis and grilled cheese sandwiches made with bread from Udi's Gluten Free. (Pro-gluten patrons are encouraged to grab food from a neighboring eatery to pair with the drinks on draft.)
For Peix, opening the tap house is a way to bring the oft-overlooked drink back into the spotlight. "Cider used to be the No. 1 thing [people] drank back in the day, but it's going through a renaissance," he says.
Hours of operation will be Mon.-Wed. 3:30-9 p.m. Thurs. & Fri. 3:30-11 p.m. Sat. 11 a.m.-11 p.m. Sun. 11 a.m.-9 p.m. 1111 24th St. For future updates, visit Sactownmag.com or Cider House's Facebook page.
You Might Also Like
First Look: With The Snug, the de Vere White brothers bring an Irish pub with a craft cocktail twist to R Street
Milk House Shakes to open in Old Sacramento
The Cabin, a cozy camping-themed bar, to open soon in midtown