Explore these 10 museums and cultural centers for free on Sacramento Museum Day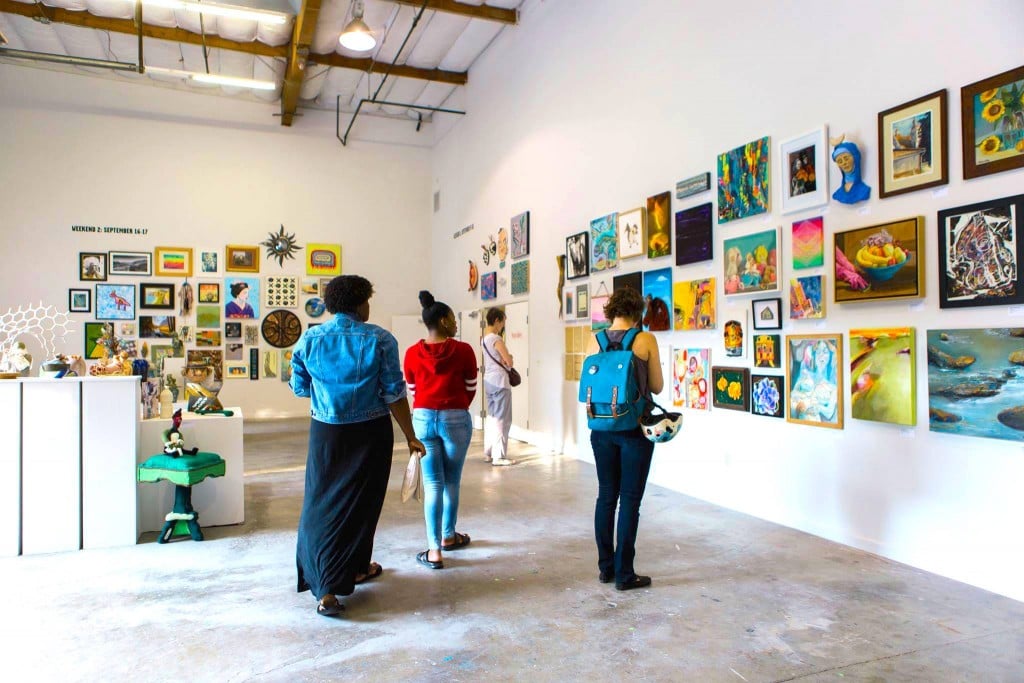 The 20th annual Sacramento Museum Day takes place this Saturday, Feb. 3, and more than two dozen museums, libraries and cultural centers will open their doors with free admission. Here are 10 spots where you can try everything from hopping into a flight simulator to channeling your inner poet.
Aerospace Museum of California
This aviation museum in McClellan will display almost 40 aircraft—from Russian MiGs to Grumman F-14 Tomcat fighter jets (yep, the kind Goose and Maverick flew in Top Gun). Hop inside some of these high-flying machines during the museum's Open Cockpit Day (which only happens a few times a year) and take flight in a new motion simulator that allows make-believe pilots to soar with the Wright brothers, travel on the space shuttle Endeavor to repair the Hubble Space Telescope, or glide through the galaxy in search of a black hole. Paquitas Mexican Street Food and Annie's Sno Biz will be on hand to refuel guests between adventures. 10 a.m.-4 p.m. 3200 Freedom Park Dr. McClellan. 916-643-3192. aerospaceca.org
California Automobile Museum
If fast cars rev your engine, check out this museum's new exhibit NorCal's Fastest: Racing from the Grassroots to the Professional—a collection of vehicles from local drivers like Bill McAnally, Angelique Bell and Jay Lamm, who dominate everything from dirt tracks to dragsters. Visitors can also view a fleet of Mini Coopers from the Shasta Minis car club, classic Ford and Cadillac models dating back to the 1880s, and celebrity vehicles like Gov. Jerry Brown's 1974 Plymouth Satellite and Malcolm Forbes' 1987 Lamborghini Countach 5000SQV. 10 a.m.-5 p.m. 2200 Front St. 916-442-6802. calautomuseum.org
California Museum
At this downtown Sacramento museum, guests can check out the latest California Hall of Fame exhibit—with rare artifacts from this year's inductees, including Steven Spielberg, comedian Lucille Ball and two-time Super Bowl winner Jim Plunkett—or get a glimpse of the city's once-thriving Japanese American neighborhoods at Kokoro: The Story of Sacramento's Lost Japantown before the exhibit closes on March 11. Don't miss a stroll through the museum's 4,000-square-foot Unity Center, which features interactive multimedia stations challenging cultural misconceptions and stereotypes. 10 a.m.-4 p.m. 1020 O St. 916-653-7524. californiamuseum.org
California State Library
The California State Library will feature The Art of Haiku: Shikishi Collection, which includes 24 books and posters on loan from the American Haiku Archives, and a chance for visitors to channel their inner Bashō by crafting short poems inside a book on display. The library will also showcase a small gallery of colorful photographs and lithographic prints from contemporary street artist Shepard Fairey, whose "Hope" poster became an iconic part of former president Barack Obama's 2008 election campaign. 10 a.m.-4 p.m. 914 Capitol Mall. 916-323-9843. library.ca.gov
California State Railroad Museum
All aboard a tour of this Old Sacramento museum's historic locomotives and rolling stock, including a 1930s Santa Fe dining car and a North Pacific Coast Railroad engine that in 1939 appeared in daily reenactments of the transcontinental railroad's completion on San Francisco's Treasure Island. Rail enthusiasts can also view some of the museum's main exhibits, like Fast Tracks: The World of High Speed Rail, which features a high-speed train simulator, and Small Wonders: The Magic of Toy Trains, with about 1,000 vintage toy trains and 3,300-square-feet of miniature displays. 10 a.m.-5 p.m. 125 I St. 916-323-9280. californiarailroad.museum
Maidu Museum & Historic Site
At this Roseville museum, browse contemporary Native American art, as well as the Coyote in Motion exhibit that features unpublished sketches of late famed Maidu artist Harry Fonseca. Attendees can also grind acorns using a mortar and pestle, make beaded necklaces using pine nuts and shells, or trek the trail of the 5,000-year-old historic site, with petroglyphs, a native plant garden and over 200 grinding holes to explore along the way. 9 a.m.-4 p.m. 1970 Johnson Ranch Dr. Roseville. 916-774-5934. roseville.ca.us
Powerhouse Science Center
Reach for the stars at the Powerhouse Science Center in Arden-Arcade, where the main exhibit Forces: Earth & Space offers a peek into the world of orbits, galaxies and stars. Future astronauts can check out a Russian space suit and an 18-inch plasma ball that emits light streams with the touch of a finger, or test their own knowledge of the universe by drawing planets at an art station. Plus, curious animal-lovers can learn more about the characteristics of the science center's resident creatures, like turtles, cockroaches, tarantulas and walking sticks. 10 a.m.-4:30 p.m. 3615 Auburn Blvd. 916-808-3942. powerhousesc.org
Sacramento Children's Museum
This Rancho Cordova museum will bring back its popular Mission Imagination activity station on Sacramento Museum Day, during which little ones can execute a hands-on task, like building a fort out of paperclips and cardboard, or creating a tin foil house. Interactive stations with mini ice hockey, hula hoops and educational games will be set up outside the museum, while inside, kids can challenge each other in the light-powered Solar Car Racers game, play grocer at child-sized market, and make whirlpools at the Waterways area. 10 a.m.-4 p.m. 2701 Prospect Park. Rancho Cordova. 916-638-7225. sackids.org
Sacramento History Museum
Travel back in time to 1849 and visit an antique print shop or learn how to pan for gold and copper at this museum in Old Sacramento. Visitors can also check out a Gold Rush-era balance scale used for weighing the precious metal, colorful cannery labels from Sacramento's early agricultural days and the museum's main exhibit, Place & Replace: The Making of Old Sacramento, a multimedia display that documents the redevelopment of the historical district from the 1950s and '60s to its modern tourism era through photographs, artifacts and film clips. 10 a.m.-5 p.m. 101 I St. 916-808-7059. sachistorymuseum.org
Verge Center for the Arts
Known for its interactive and colorful displays, Verge Center for the Arts is pulling out all the stops for this year's Sacramento Museum Day, with numerous art demonstrations on everything from clay making and molding to drawing, coloring and weaving. Plus, visit Verge's newest multimedia exhibit Space and Place by Oakland- and Los Angeles-based art quartet Black Salt Collective to see projected images and videos of the group members dancing, singing and playing musical instruments, a visual feast meant to convey creative expression within the confines of a spatial environment. 10 a.m.-4 p.m. 625 S St. 916-448-2985. vergeart.com
For a full list of participating venues and more information, visit sacmuseums.org.
You Might Also Like
A snapshot of the region's first Photography Month set for April
Sacramento's Rock & Radio Museum seeks new home
Zip-line, rock climb and sip craft beer at new outdoor adventure park