Federalist Public House team open The Neighborhood Pizzeria in East Sacramento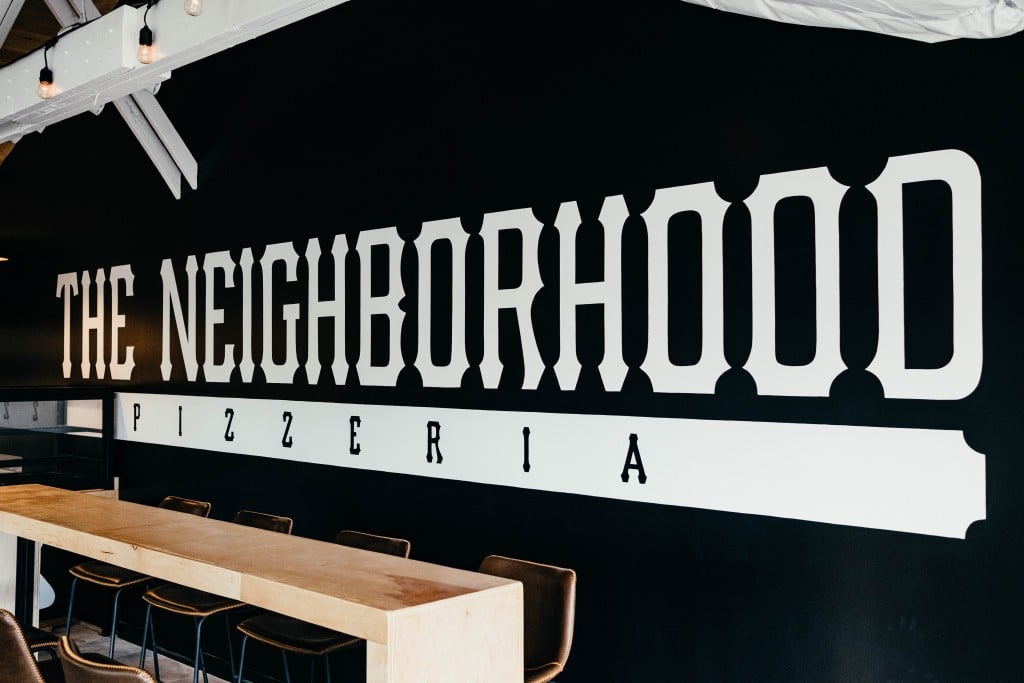 April 3, 2019 update: The Neighborhood Pizzeria opens today. Hours of operation are Mon.-Thurs. 4:30-10 p.m., Fri. and Sat. 11:30 a.m.-11 p.m., and Sun. 11:30 a.m.-9 p.m.
********
East Sacramentans are getting a new neighbor with The Neighborhood Pizzeria, a New York-style pizzeria from the owners of midtown's Federalist Public House, Marvin and Bridgette Maldonado, who hope to open on the corner of 54th and H streets in East Sacramento the week of March 24.
The new spot from the Maldonados—who opened the shipping-container-bound midtown pizza-and-beer hall Federalist in 2014—will offer a minimalist menu of the rectangular, Sicilian-style pies that are served at pizza joints throughout New York City.
"It's kind of a play on the East Coast-style pizzeria," says Marvin. "I mean, you walk everywhere in New York and they have neighborhood pizzerias everywhere."
To capture that New York essence, Marvin (who conducted trips to Italy in search of inspiration for Federalist's pies) embarked on several pizza pilgrimages to the Big Apple to prepare for the Neighborhood Pizzeria, visiting acclaimed establishments like Brooklyn's Di Fara Pizza—"The holy grail of classic New York-style pizza" as per New York magazine—and Lucali, which counts Jay-Z and Beyoncé as patrons.
"The challenge is to make the perfect bite," says Marvin. "It's got to have that really amazing cheese pull, that perfect sauce with the perfect blends of spices and herbs, and then that thicker, airy, bubbly crust."
Marvin and Neighborhood Pizzeria chef Crystal Ortega have crafted a menu of 10 pies, which will each bear a cheeky moniker—some referencing '90s hip-hop culture, like the Notorious P.I.G., made with spicy coppa and capicola, jalapeño and mozzarella and the Yo Mama's So Vegan, with Miyoko's vegan mozzarella, cashew crème, basil and garlic. Customers will be able to choose between grabbing a whole pie or scoring a solo slice, and the menu will also include wings, salads, sandwiches and slushies (the latter of which were added after frequent pleas from the Maldonados' three kids).
The Neighborhood Pizzeria will inhabit a 1,500-square-foot single-story house that has been refurbished into a hip, sleek space with an industrial aesthetic, featuring monochrome black-and-white walls and furnishings, and the restaurant's name written in oversized gothic script by Sacramento artist Jeremy Stanger. Fitted with a lengthy communal banquette and chocolate-hued chairs, the location also includes standing ledges lining the walls—for just grabbing a tipple, or casual eaters who want to grub and go—as well as an outdoor patio and free arcade games like Super Mario Bros., Metal Slug 3 and Bust-A-Move.
The couple hopes to eventually open several more shops under the same brand, each located in a different section of the city and offering secret "locals only" dishes.
"Pizza is one of my favorite foods in the world," says Marvin. "I ended up becoming this pizza guy who loves everything about pizza—where it comes from, why it is the way it is. Every day we ask, 'How much more fun can we have today with pizza?' "
5401 H St. For more updates, check out The Neighborhood Pizzeria on Facebook and Instagram
You Might Also Like
New Glory Craft Brewery opens new taproom and eatery in Granite Bay
Drake's Brewing sets opening date at The Barn
Owners of The Rind share details for their new West Sacramento pizzeria