First look: New dog park proposed for midtown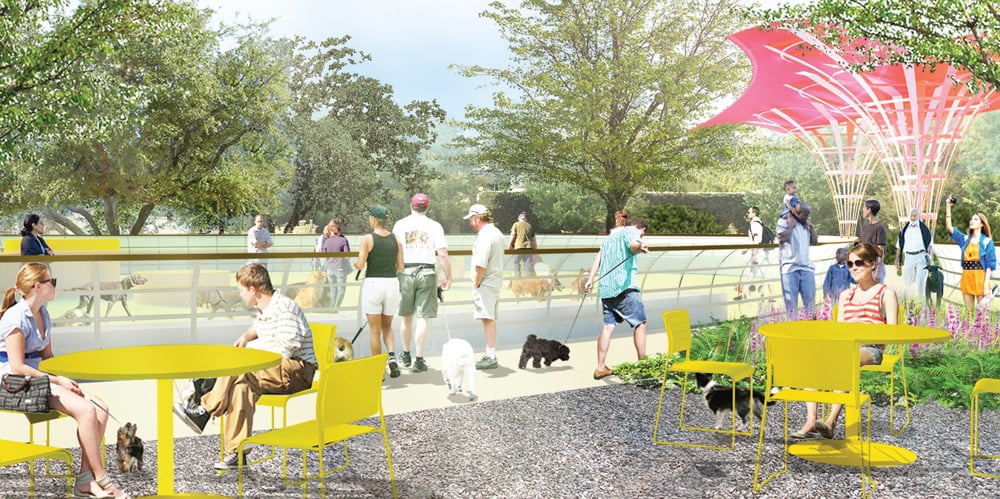 Midtown is going to the dogs. Finally.
Early plans are afoot to bring the midtown grid its first dog park at the corner of 19th and Q streets, steps away from the shopping center anchored by Safeway.
John Hodgson, founder of the real estate, land use and government advocacy firm The Hodgson Company (as well as a six-year midtown resident and an eight-year owner of a bichon named Carmen), proposed the project to city councilman Steve Hansen after noticing that there are no public dog parks in the neighborhood.
"I live in the middle of midtown at 18th and K, and there is no dog park within a reasonable walking distance," Hodgson says. (Currently, the closest dog park from the proposed site is the Sutter's Landing Dog Park approximately two miles away.) "You don't want to have to walk two miles away or get in the car to go to a dog park. The whole point of having a dog is to walk the dog and walk the human being."
The proposed park would feature two dog play zones (one for larger dogs and another for smaller ones) separated by an art pavilion, which will provide guests with a lounge area to watch their canine friends under the shade of a metal-framed structure intertwined with vines and greenery.
The oval-shaped play zones (which have been found to discourage the type of fighting that can occur between dogs in box-shaped spaces) will be framed by the rest of the park, which will contain trees and other shading structures as well as a community garden at the west end of the lot.
And the timing is right. This particular part of midtown is growing quickly, with the nearby Crystal Ice residential and retail project planned only a block away, and hundreds of new apartment units that have recently opened or will soon open on 16th Street between Capitol Avenue and Q Street.
The project, which was designed by midtown-based firm Quadriga Landscape Architecture and Planning, is planned for the vacant lot previously inhabited by a metal plating facility two decades ago.
After undergoing environmental remediation to treat the ground from both the plating facility and a train track that previously ran through the space, the current master plan for the lot features a circular plaza complete with a fountain, benches and concrete hardscape that will complete the remediation process.
Hodgson says that, pending approval and financing, he hopes the dog park will open sometime in 2016. The community garden is set to break ground this fall and slated to open its plots next winter.
"Having a dog park in the middle of town with all that's going on today and all that's going on tomorrow with more residents coming in, with more dogs—this is a no-brainer in terms of demands and interests," Hodgson says.
Related Links
94th Sacramento Dog Show set to raise the woof at Cal Expo
New sports bar and restaurant project underway near downtown arena
A new Sacramento guide app to launch this summer