Go hog wild at Davis Farmers Market's 24th Annual Pig Day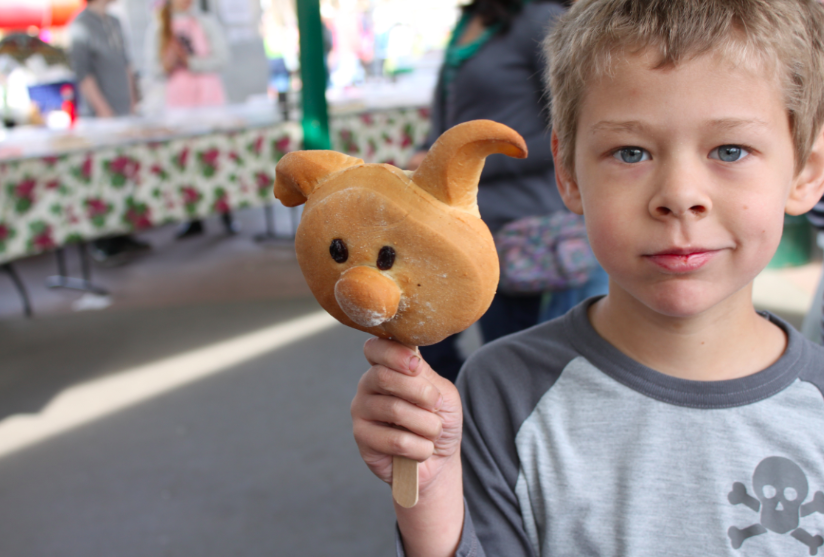 Get ready to live high on the hog on March 7 at Pig Day, Davis Farmers Market's annual tribute to pigs, local farmers, food and agriculture—the only event of its kind in California.
"We're celebrating different parts of agriculture, [rather] than just focusing on fruits and vegetables," says Davis Farmers Market executive director Randii MacNear. "We get people to taste things that they might not have had, like maple bacon ice cream."
Attendees at the event, which will be held at Davis' Central Park, will also be able to swine and dine on virtually any other pig-related delight that they can imagine, like the Hotdogger's pigs-in-a-blanket, piggy pops (sweet French bread on a stick shaped like a pig's face) from Upper Crust Baking Company, and bacon-flavored sweets from Jake's Desserts and popsicles from FatFace. Plus, shoppers can pig out on free samples of farm-to-pork fried rice with vegetables, courtesy of Sutter Davis Hospital's Live Cooking Station.
Live entertainment will include the Three Piggie Operetta performed by the jazz and Beatles band Regal Beezers, and classic rock from the Peter Franklin Band. Other activities include a baby piglet petting area (from 9 a.m. to 1 p.m.), free piggy crafts—including making piggy noses, masks, tails and puppets—clay piggy bank painting, dancing with the Three Pigs and the Big Bad Wolf, and more.
Free. 8 a.m.- 1 p.m. Central Park. 4th and C streets. Davis. 530-756-1695. davisfarmersmarket.org
Related Links
–Sacramento Beer Week 2015: Raise a glass at these 10 can't-miss events
–A new restaurant is putting down roots in downtown Auburn
–New Brunch Boys food truck puts weekend tradition on wheels