Good Juju
The team behind The Press Bistro reassembles to open Juju Kitchen & Cocktails downtown, introducing new farm-fresh dishes and bringing back old favorites that we've missed. We're reunited with chef-owner David English's signature grilled calamari, and it feels—and tastes—so good.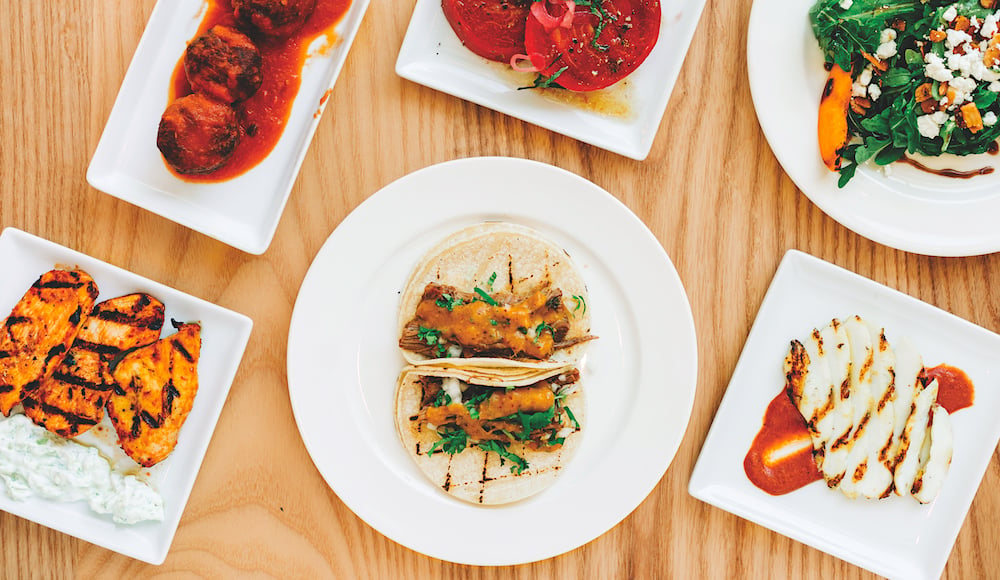 When beloved restaurants close, palates mourn. Instant nostalgia arises for flavors likely never to be experienced again. I expect to spend years chasing the buttermilk-soaked juiciness of Empress Tavern's fried chicken, just as I have searched in vain for a vegetarian burger approaching the caramelized genius of the nut burger at Greta's Cafe.
So it came as a delight, two and a half years after chef-owner David English closed his highly regarded The Press Bistro, to taste the familiar sear of his thin-sliced, tender calamari steak and navigate the crackle and creaminess of his arancini, this time in a new venue.
He and his wife, Kelly English, opened their small-plates-and-craft-drinks-focused Juju Kitchen & Cocktails in June, filling the former Hotel Bar space in the downtown Residence Inn by Marriott. The coolest thing to attach to this Residence Inn since Shepard Fairey painted his Johnny Cash mural on its façade in 2018, Juju offers the same understated elegance of cuisine and atmosphere the Press did for nearly a decade before David, facing rising expenses and too few hours at home with his family, chose not to renew the midtown restaurant's lease.
But Juju, designed by Kelly and oriented toward the space's big windows and views of the restaurant's curtained patio and Capitol Park, is brighter than the Press, with peachy and pink tones traversing its walls and frothy cocktails.
Streamlining to small plates makes sense to those of us who were so enamored by the Press' tapas and appetizers that we forgot to leave room for our entrées. I fondly recall having the pappardelle and beef short rib at the bistro, but also as leftovers the next day for lunch.
The revived Press apps at Juju are not always exact replicas. Portions are bigger, David says, and presentation varies. During our visit in July, sweet summer corn spiked the arancini, and an earthy romesco sauce supplanted the Press' much-admired white bean and arugula accompaniment for the grilled calamari.
"We had been thinking of the concept we are doing now for the last year" the Press was open, David says. That concept encompasses limited hours (4–10 p.m. Tuesday through Saturday) and no reservations. The team includes Press veterans Ramon Medina and Jon Russo. Medina serves as chef de cuisine and Russo manages the front of the house. The latter curates Juju's continent-hopping list of wines by the glass, which nails the chardonnay-rosé-cabernet compulsories and less expected options like Bonny Doon Vineyard's crisply acidic 2021 picpoul.
Medina and Russo handle things most evenings, allowing David, famous for his guest-greeting omnipresence at the Press, more time with Kelly and sons Rex, 10, and Theo, 6. Each day, David and Medina discuss "what was at the farmers' market, and what we want to do with those [ingredients], and what the recipes are going to be," David says. "And I am going to get things prepped in the morning to make sure we have that consistency of whatever that [dish] is."
It's easier to innovate and improvise with smaller plates, David adds. Our visit benefitted from David's decision to transform what a particular farmers' market stall had on offer that week into a simply seasoned, shockingly flavorful tomato, cucumber and onion plate.
Trace amounts of salt, pepper and vinegar enhanced thick slices of heirloom tomato, with a small pile of pickled onion offering additional pop, if desired. The way David left the tomatoes mostly to their essence reminded us of how he chooses finesse over the front-loaded flash of salt, fat and brightness many chefs push.
"Other dishes may have more depth and layer of flavor, but I think heirloom tomatoes are just an amazing product of Sacramento, so I kind of let it be what it is," he says.
Juju's craft cocktails, developed by David and bartenders Alex Walker and Karlie Jones, expertly layer and counterbalance flavors. The French Exit, with Hendrick's gin, Lillet liqueur, green chartreuse, lemon and egg white, started intriguingly herbaceous and grew more savory as its jalapeño component slowly revealed its intent. Meanwhile, the Bosslady employs lemon and balsamic to battle a potentially cloying mix of strawberry-infused vodka and agave syrup.
The freshest drink I tasted was one named "& Everything Nice," a muddled-watermelon mocktail made so bracing by serrano chili syrup that alcohol was beside the point—Juju offers two mocktails and a low-alcohol cocktail so that people who limit consumption or do not imbibe still get a choice of thoughtfully created beverages on a night out, David explains. The restaurant also caters to gluten-free diners, partially because of Theo's diagnosis with celiac disease, and David's discoveries while cooking for him.
"I was starting to use almond flour and chickpea flour, and I realized I was making all these things that were just as good as what was made with wheat flour," the chef says. The restaurant's kitchen is wheat-free beyond a pita that is part of the hummus plate but not baked in-house.
David likes how the restaurant's name evokes joujou, which translates from French to "toy" or "plaything." The term "juju"— a form of magic from West Africa that made its way to Louisiana—also summons the Big Easy, where David and Kelly first met and where in 2006 New Orleans magazine named David best new chef for his work at Hotel Monaco's Cobalt eatery. He also opened Ella Dining Room & Bar as executive chef before he and Kelly opened The Press Bistro. Kelly, who is a poet and creative writing instructor by profession, also designed that space.
"My husband is very much a 'we will figure this out' type of person—it is sort of his independence, just part of who he is,' " Kelly says. "We did the Press very simply, so when it came time to jump back in— this is just how we do things."
Her Juju zhuzhing began with trying to emphasize the light provided by the nearly floor-to-ceiling windows facing L and 15th streets. "The space, when we inherited it, was dark and had a bunch of features that just made it feel very heavy inside," Kelly says. She repainted dark gray walls that seemed to negate incoming sunlight and removed the wood paneling covering large pillars in the bar area. Her design ran with the feel of the "rustic cement" uncovered below the paneling; she painted it peach in the New Orleans tradition of combining "the rough and refined." This aesthetic carries from Juju's polished concrete floors to its eye-catching, botanical-print wallpaper to seating that's chic yet cushy. A mix of high tops suited for groups and lower, more intimate tables for two suit David's choose-you-own-experience ethos.
"If you are going to the theater, the food is going to come out super fast," he says, referring to Juju's location, which is just a couple of blocks away from the SAFE Credit Union Performing Arts Center and Memorial Auditorium. "I think you can come in, get food, drinks, pay your bill and be out the door in 40 minutes, if that is what you are looking for." Staying longer is also encouraged. David envisions patrons who arrive for dinner and order multiple plates, and, when the Legislature convenes, "people who come in after work, sit down, do business and get bottles of wine and eat a lot." He knows this crowd, from the Press and Ella.
Juju Kitchen & Cocktails is foremost "a gathering place," he says. "The consistency of food will be a backdrop, but the gathering place is the start." 1501 L St. jujukitchenandcocktails.com