Great New Places to Eat
There's a saying that when one door closes, another one opens. Last year was tough on local eateries, but some very exciting restaurant doors have opened in the past few months, including one inspired by a food truck, another by a 56-foot-long bunny, and others by cuisines ranging from French to Mongolian and Indian to Southern (grits, anyone?). So feast your eyes on our favorite new spots, and you'll see why we think the food scene is looking very sunny-side up.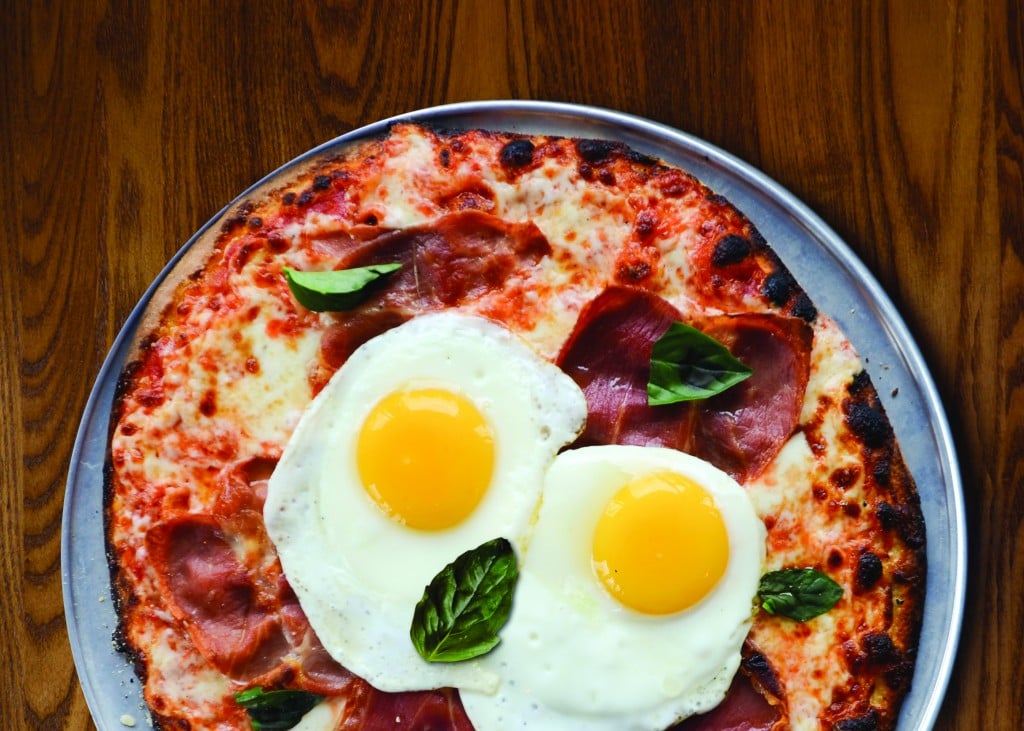 S
Selland's
Market Cafe
370 Town Center Blvd.
El Dorado Hills
932-5025
sellands.com
Sealand's Market Cafe (in El Dorado Hills) –  From the day it opened on Jan. 30, Selland's Market Cafe in El Dorado Hills has been hopping, which speaks to the read Josh Nelson and the Selland Family Restaurants had on the neighborhood. And "neighborhood" is the right word, even though the place is in the Town Center complex, because Selland's has such a familiar and neighborly feel to it.
The cafe is the first time the group cloned one of its restaurant concepts—they also own The Kitchen, Ella Dining Room & Bar and Selland's Market Cafe in East Sacramento—and the new cafe has all the comfort of the East Sac original with almost twice as much capacity, including 45 outdoor seats overlooking Town Center's custom-built lake. It's also getting the same kind of repeat customers. "We were seeing people coming in twice a day in the first week," says Nelson, a partner in the Selland group. "That's what we have in East Sac, that feeling that you can just drop in."
The menu is almost identical—great sandwiches, well-executed but straightforward entrées ranging from classic meatloaf to roasted chicken breast with a sherry-mushroom cream sauce, plus baked goods like a banana tart, red velvet cupcakes with cream cheese frosting, and killer chocolate chip cookies. The new room's sensibility is also similar to East Sac's: airy, bustling but not rushed, casual but not downscale. The furnishings are retro American meets French country, but with thick wood tables, warm colors, and tons of light, your first thought is wine country cafe.
If the Selland group does more expanding, it'll probably be more market cafes, Nelson says, which could include a version in the Pavilions shopping center. But not for a while. "We're not in a hurry," Nelson says. "There's four of us; we're a family business. When you come here, you could see Randall [Selland] busing tables and mom [Nancy Zimmer] taking orders."
See, there's that neighborly feel again.
—R.K.
R
Red Rabbit
Kitchen & Bar
2718 J St.
706-2275
theredrabbit.net
Red Rabbit Kitchen & Bar – midtown's unassuming, likable and quietly stylish new craft cocktail bar and farm-to-table restaurant—opened Feb. 10, with a speed befitting its namesake. "It was a very aggressive opening," laughs partner Matt Nurge, the chief mixologist, who formerly mixed drinks at nearby hotspot Shady Lady Saloon; chef-partner John Bays heads up the kitchen. (The other partners are longtime restaurant marketer Sonny Mayugba and high-profile restaurateur Randy Paragary, though Red Rabbit is not part of the Paragary Restaurant Group.) Aggressive indeed: The place came together so fast that the liquor license arrived at 11 a.m. on the day it opened, after just a few months of preparation time—far less than the average restaurant. The team joined forces in October; at the time, both Bays and Nurge were at other jobs (Bays has cooked in such kitchens as Mulvaney's and Il Fornaio).
The fast opening was facilitated by a minimal remodel of the space on J Street, formerly occupied by Red Lotus (the innovative Asian restaurant opened by Kru's celebrated chef Billy Ngo). The team tweaked lighting and seating, but left the bones of the place—like an exposed brick wall and rough-hewn, exposed wood ceiling beams—alone. One critical change, however, was lowering the booths to ensure better sight lines and a more communal feel throughout the restaurant. "We really wanted to extend the idea of community into the space itself," says Nurge. Both he and Bays hope that the bar-restaurant will be an accessible gathering place for the neighborhood and beyond. "We want this to be the place where anyone can come and enjoy it," he says. "We're not trying to be the hippest midtown spot. We want to be everything to everyone."
Nurge and Bays see the place as evenly split between bar and restaurant: "It's 50-50," says Bays. "It's not a bar with a restaurant, or a restaurant with a bar," adds Nurge. "It's both." And the cocktail program and the menu are each designed to be approachable and fun. "I want to bring craft cocktails to an everyday neighborhood bar," says Nurge. House drinks—some classic, like the Old Cuban, and some Nurge's own invention, like the Krakow Salt Mine, which combines bison-grass vodka, apple cider and spicy ginger beer—are based on fresh juices and hand-muddled herbs, and the menu divides them by type—"juicy," "bitter," "rich" or "bright and tart." Every day there's a different fresh alcoholic punch for sipping, a steal at $5. Examples have ranged from rum and spiced honey to the iPunch 2 (with freshly pressed apple juice), which Red Rabbit debuted on Feb. 24, Steve Jobs' birthday. The types vary by the whim of the bartender. "We do a different punch depending on our mood and seasonal product," says Nurge.
And the food? Bays has come up with a menu of both bar nibbles and heartier entrées showcasing global influences, all of which pair well with the bar's drinks or the regional beers on tap (such as Rubicon IPA). Hits on the menu so far include the "farm animal lollipops"—juicy beef, lamb and chicken meatballs paired with different dipping sauces; the beer-onion patty melt with Gruyère cheese; the pork belly piccata, a melting, crisp-edged piece of the fatty meat with a sharp lemon-caper sauce; and sandwiches, like the fried egg burger and the braised brisket patty melt. They've also recently started serving brunch, which includes cocktails like the spicy Bloody Mary and the evocatively named "Corpse Reviver #2," and fun dishes like "Scotty's Green Eggs and Yams," which is poached eggs on toast with yam gratin and Bloomsdale spinach hollandaise sauce, or "The Clogger," a fried egg sandwich with bacon and ham, as well as cheddar. Bays' fare takes inspiration from the farm-to-table movement, but never feels preachy. In fact, the restaurant quietly puts its founders' ideals front and center, not only sourcing ingredients locally but also putting the happiness of its employees right in its mission statement—and paying five percent of all profits directly to the employees.
That local emphasis is fitting—even the restaurant's name was, yes, inspired by the arresting new sculpture at Sacramento's airport; the partners liked the sound of it and their designers liked the look (the logo's leaping red rabbit is reproduced in neon on the brick exterior)—because somehow the quickly opened, brand-new Red Rabbit feels like it's been in Sacramento forever. Its partners are all longtime residents or natives (Nurge's mom was a server for years at the late, lamented bar Joe Marty's, and he says he grew up behind the bar there).
Red Rabbit fits our city well: It's a little under the radar, not too full of itself, easy to like, and easy to hang out in. As Bays says, "We do our best to make people happy."
—K.W.
E
Estelle's Patisserie
901 K St.
551-1500
Estelle's Patisserie – As much as we love our City of Trees, sometimes we wish to be whisked away to the City of Lights. Now we almost can, thanks to Estelle's Patisserie, which opened recently at the corner of 9th and K downtown. The bakers' day there starts before dawn, when they begin rolling the flaky morning croissants—made in-house from scratch each day, just as in a Parisian bakery—that are the favorite of owner Esther Son, also of the wildly popular Esther's Cupcakes. (The name of the new place, which opened in early December, refers to the French version of her first name.)
For sustenance at lunch, look to rich tomato bisque and crusty baguettes, or exceptional sandwiches on those house-made croissants (the most popular are turkey and ham). Or perk up with sweet treats, from the petite macaron sandwich cookies to beautiful tarts like a sleek chocolate and a jewel-like raspberry filled with pistachio paste. No wonder this pretty pastry shop has been an immediate hit with the downtown morning and lunch crowd.
Son has been dreaming about opening a just-so bakery of her own like this since high school, when she used to spend her lunch money on madeleines (yes, Estelle's makes memorable ones, in flavors like chocolate and Earl Grey). Long before opening, Son—who has not trained as a pastry chef herself—assembled a team of pastry chefs whose résumés boast stints with the likes of the Ritz-Carlton and Thomas Keller's Bouchon, and worked painstakingly with them to translate her vision, honed from years of travel, into impeccable, delicate treats. (They're not all French: Estelle's also features refined takes on all-American morsels like pecan sticky buns and has been offering Doughnut Fridays.)
The ambience is as pitch-perfect as the fare, balancing Parisian style and the easy comforts of a French village boulangerie in made-for-lingering touches like a reclaimed wood communal table, little marble-topped tables paired with woven bistro chairs, and big windows that flood the airy space with light. When you're ready for a Parisian mini-break, all you need is a copy of Paris Match to pair with that cup of café au lait and a croissant.
And if you're not downtown often? Wait until summer, when Son plans to open a second, larger location at Arden Way and Fulton Avenue.
—K.W
P
Pork Belly
Grub Shack
4261 Truxel Rd.
285-6100
porkbellygrub.com
OPEN Tues.-Sat.
11:30 a.m.-4:30 p.m.
Pork Belly Grub Shack – What do you get when you put together two of Sacramento's brashest and most inventive young chefs, a tattoo artist and a generous helping of pig parts and fried eggs?
Something very much like Natomas's hot new lunch spot, Pork Belly Grub Shack, which opened in mid-December. There, a picnic vibe (think red-checked tablecloths and salvaged wood roof shingles) and all-you-can-meat fare (zingy Asian street tacos, fries topped with crispy pork belly, overstuffed burgers) liven up a formerly bland strip-mall location. The cool vibe comes thanks to the ministrations of chefs Billy Ngo of Kru and Aimal Formoli of Formoli's Bistro, who own the place along with the latter's wife Suzanne Ricci. She came up with the décor, which gets an assist from several quirky pieces of pig-themed art by Liz Miller of Relentless Tattoo Gallery (Formoli's longtime tattoo artist).
The trio of owners, known for their restaurants in midtown and East Sacramento, had wanted to open a casual, well-priced eatery; Formoli notes that they saw opening in Natomas both as a challenge and as an opportunity to bring farm-to-table fare to a part of town that's richer in chain restaurants than in, say, house-made pork liver pâté. The latter adds a dusky note to the pork belly banh mi, one of the restaurant's most popular dishes to date—along with those street tacos and the Hot Mess burger, with two kinds of cheese, a drippy fried egg and house-made barbecue sauce. No wonder Natomas eaters have been giving them a rousing welcome and downtown fans of the chefs' work have been quietly making the trek to Truxel for lunch.
—K.W
M
Mongo Mongo
Mongolian BBQ
1830 J St.
Mongo Mongo Mongolian BBQ – The site seems like it could be a gold mine for any casual, or casual-plus, restaurant—the southwest corner at 19th and J streets is a major midtown crossroads with popular food stops all around—which is why when the short-lived Garlic Shack stumbled and closed last October at that location, Jonathan Ng and his partners leaped at the opportunity.
They created Mongo Mongo Mongolian BBQ, which opened in early January and has become a magnet for comfortable dining with affordable, fresh food and, if you want it, very large quantities. Plus, summer warmth will make the large patio an even bigger draw. "This location is just awesome," Ng says. "I can't think of any corner on J Street where I'd rather have a restaurant."
Besides the busy corner and, of course, the food, Ng thinks Mongo Mongo's draw is that there's nothing like it in the central city. For anyone new to Mongolian BBQ, it's a simple concept. Fill your bowl from a buffet of noodles, veggies—spinach, broccoli, mushrooms, onions, baby corn and more—and proteins (chicken, lamb, beef, turkey and pork). Then you build your own sauce from Mongo Mongo's range of options, including non-Asian styles like pesto, and hand it over for a fast grill on a hot, round griddle—the shape evokes the folklore of Genghis Khan's soldiers cooking on their shields. Meals are all you can eat for about $11. (At lunch, you can also buy a single bowl for $8.)
The quirk for Mongo Mongo—besides being cash only—is that the buffet line and griddle are enclosed floor-to-ceiling in glass and people enter by pushing a big button near the door. That's because the wall facing the J Street patio is a roll-up glass garage door, and when it's open, the entire place becomes an outdoor restaurant. The bad news: health codes don't allow outdoor kitchens.
"The glass wall [into the kitchen] looks kind of cool," Ng says. "But sometimes people can't find the button to open the door to get in." No doubt they'll figure it out soon, and the corner of 19th and J will be as hot as one of Mongo Mongo's sizzling grills. —R.K.
R
Republic
Bar & Grill
908 15th St.
822-5152
republicsac.com
Republic Bar and Grill, featuring Drewskis – It's a wish that's as bold and audacious as the food he serves.
"I want to be Sacramento's biggest restaurateur for 2012," says Andrew "Drewski" Blaskovich, a driving force behind Sacramento's recent food-truck awakening, known for his outrageously delectable grilled sandwiches that mash up comfort (think pulled pork paired with mac and cheese) and ethnic (Korean braised beef with Sriracha-wasabi aioli) in each clarified-butter-soaked bite.
He's not just gassing on. Less than a year after he drained his 401(k) and quit his loan-company job to crank the ignition on Drewski's Hot Rod Kitchen, Blaskovich has lent his culinary creativity to the spacious Republic Bar & Grill, which opened in February in what used to be Dream Ultra Lounge & Restaurant downtown.
With its polished concrete floors, exposed brick walls and roll-up garage-door entrance, Republic has an airy, modern feel and sports all the requisite accoutrements of a lost afternoon, evening or weekend. Full bar, draft beers and 24-ounce cans of PBR? Check. Pool tables? Check. Vintage arcade games? Check. Skee-Ball? Check. Multiple big-screen TVs that show all the games and fights? Check.
But the real draw is Blaskovich's extended menu, which includes all the calorically reckless hits normally slung from his flame-emblazoned truck, such as rosemary-garlic tater tots, as well as some new Frankensteined food items that will set you back a few notches on the belt. In addition to inventive (and generous) salads, burgers, dogs and bar snacks, check out the fried-chicken-and-waffle sandwich with a sweet and spicy maple dipping syrup or the "Tot-chos" (that's tater tot nachos).
Don't expect Blaskovich to put his mobile kitchen up on blocks anytime soon, however. Republic, he says, gives fans of his well-known Twitter feed a preview of what they might one day see out on the road. "If it makes a huge splash in the restaurant, then we're going to put it on the truck," says Blaskovich.
That's just the way he rolls.
—Tim Swanson
M
Monsoon Cuisine
of India
1020 16th St.
469-9999
monsoonsacramento.com
Monsoon Cuisine of India – Spice lovers, take note: The sleek new Monsoon at 16th and K (the former location of Spin Burger) adds a fresh and sultry new note to Sacramento's rather scarce options for Indian food. The restaurant, which opened Dec. 8, should delight the cocktail crowd as well. The restaurant's cool downtown vibe—think striking outdoor columns of fire and service until 2 a.m. on Friday and Saturday—is dressed up with colorful, mod original art pieces from India, as well as a stunning central piece that evokes Rajasthani dangling earrings.
Monsoon, which is owned by Paul Dhillon, Chan Singh (a chef who has another Indian restaurant in Toronto), and his nephew Paul Singh, offers a full menu of Indian favorites—the top dishes so far are the creamy chicken tikka masala and spicy lamb vindaloo, a dish from Goa in western India—and a brand-new brunch buffet, which includes a potato-filled dosa (Indian-style crepe) and idli (rice dumplings) served with sambar (spicy lentil soup) and coconut chutney.
The drink menu is a distinctive and intriguing draw, with 21 artisanal cocktails hand mixed by bar manager Tim Varner (formerly of nearby Sapporo Grill), who took inspiration from Indian flavors for his not-too-sweet sippers, named for his favorite movies: The Dr. Strangelove combines Tanqueray lime gin, cardamom syrup and ginger beer, while for the Raging Bull, he infused vodka with saffron and orange peel to make a stunning sunset color. (One departure from the movie names is the bright Dragonfly, with fresh mint and strawberries, which is a tribute to Varner's younger sister, Brenna, who passed away from cancer two years ago; for every drink the restaurant sells, it donates a portion to cancer research.)
We're thinking that come June, sipping those refreshing cocktails on the patio will cool down not only the vindaloo but also a Sacramento summer: If we can't have monsoon rains to break the heat, we'll happily take Monsoon drinks.
—K.W.
T
The Porch
Bar & Restaurant
1815 K St.
444-2423
theporchsacramento.com
The Porch Bar & Restaurant –  There are worse ways to start a restaurant. When owners Jerry Mitchell, John Lopez and Jon Clemons were trying to nail down the food style for their midtown restaurant that would become The Porch Restaurant and Bar, they took a trip—to eat.
They spent a week in Charleston, South Carolina, going to big-name restaurants, popping into small joints, trying out bars, and getting a read on the region's particular style of Southern cooking. "We just ate and drank for seven days solid," Mitchell says. "I've never done anything like that in my life."
One place they wandered into was a watering hole in downtown Charleston called Squeeze, where the cocktails by bartender Brian Peters blew them away. "Every one was amazing," says Mitchell. "We said, 'We gotta hire you to design our cocktails.' He ended up creating, like, 50 different cocktails for us."
When the trio left Charleston, they had a plan: They would do Lowcountry cuisine in the place they'd recently bought on K Street.
Mitchell and his partners also own Capitol Garage in midtown (Clemons is the executive chef at both establishments), and the story of their Charleston food odyssey goes back almost two years when they began searching for a second concept. They'd considered a micro-pub, but thought it might be too similar to the Garage. Then last fall, Phoebe and Patrick Celestin retired from running Celestin's Island Eats and Cajun Cuisine after 28 years, and Mitchell and company took over the spot. But they still didn't have a concept.
"We didn't want to copy anything they'd done," Mitchell says. "We would not have been able to live up to it. The three of us racked our brains. We wanted hearty, comfortable food, but we also wanted a nicer atmosphere. Then our chef started researching Lowcountry cuisine."
Lowcountry food is centered around South Carolina and Georgia along the Atlantic coast. It often features seafood and has strong streaks of New Orleans and Cajun cooking, but keeps many Southern basics. Mitchell, Clemons and Lopez were intrigued. "So we decided to go there," says Mitchell. "We fell in love with the food."
The Porch opened last December and the result is an original cuisine for the Sacramento region, with homey mainstays like the slightly sweet, crispy cornbread and buttermilk fried chicken—a substantial plate with mashed potatoes, sausage gravy, soft collard greens, a flaky biscuit and chicken with a snappy black pepper crust and meat so juicy it's almost thirst quenching. Then Clemons adds some twists. His luscious shrimp po' boy sandwich includes avocado for a California imprint. The fried green tomatoes, which are delicate enough for any white-tablecloth institution, come with a nontraditional sidekick of mixed green salad with goat cheese and a red-pepper vinaigrette.
The cocktail list rotates through those recipes Peters created, and includes inventive—and themed—drinks like the Southern Sunday with bacon-infused bourbon, maple syrup and fresh egg whites; the Southern Mule with peach-flavored vodka, ginger beer, lime simple syrup, muddled basil and blackberries; as well as, appropriately, the Charleston, which is made of vodka, Madeira wine, sweet tea, lemonade and mint syrup.
That's the mix of The Porch. Its polished wood floors and tables, and old-South fixtures and curtains combine with a relaxed openness, mason jars as water glasses, and—of course—a front porch with gas lamps, so it plays well for both casual eating and a special night out. The surprise has been how many people come in for a taste of home.
"There are a serious number of transplants in California from the South," Mitchell says. "We're even getting people from the Bay Area who say they can't find anything like us."
—R.K.