Hidden Treasures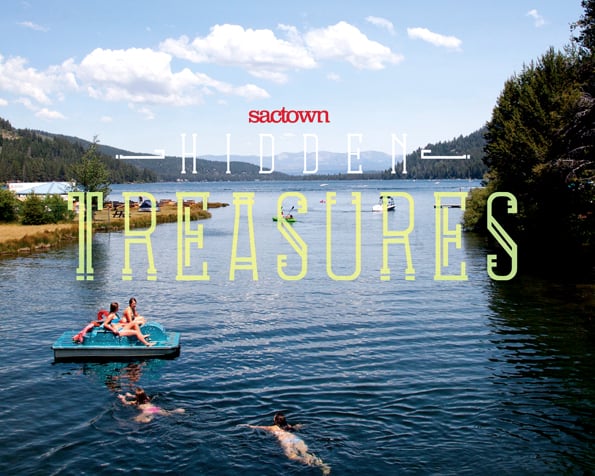 Forget Paris—or Point Reyes. From wine tasting in Suisun Valley to eating America's best burger in Truckee, if you want to get away from both your normal routine and the crowds, we've got secret worlds in Northern California for you to discover this summer. Adventure is out there—hide and go seek.
This summer, if you're thinking of passing by Truckee on your way to Tahoe's north shore or Reno, think again: This little hamlet has not just vintage charm, great shopping and excellent eats, but also dramatic history and scenery—plus, a Ritz-Carlton (yes, really). For an extra-relaxing getaway, you can take the train and cover the compact, cute downtown on foot; in it, you'll find sweet local shopping, not to mention America's best burger, according to Esquire magazine. Even if you drive, you'll avoid the traffic jams that plague Tahoe City—and if you're still jonesing for a high-country lake vacation, serene and pristine Donner Lake is there for you. Jump in.
WHAT TO DO
Shopping
Downtown Truckee's Commercial Row may only be a block long, but it's packed with more great browsing than many malls three times its size. We especially love the crafty, Portlandia sensibility of Bespoke (10130 Donner Pass Rd., bespoketruckee.com, 530-582-5500)—which boasts a wall papered in book pages, a flock of wooden birds dangling from the ceiling, and everything from irresistible hand-finished wooden salt spoons to the perfect wool picnic blanket from Minnesota mill Faribault—and the artful, earthy, made-in-Truckee vibe at Riverside Studios (10060 Donner Pass Rd., 530-587-3789, riversideartstudios.com). Don't miss the whimsical, sports-inspired sculptures made from upcycled chairlifts and other ski-resort castoffs. Clothing store Cabona's (10100 Donner Pass Rd., 530-587-3161, cabonas.com) dates back to 1918, but its fashions are up-to-date. Tip: Head to town on a Thursday evening through Aug. 29 for a lively street scene with a farmers' market and most stores open until 9 p.m. (truckeethursdays.com).
Hiking and Biking
It's late summer and the snow is long gone. Why go to a ski resort? Because riding the chairlift is the easiest way to get to breathtaking hiking trails or adventurous mountain biking. Northstar California Resort, just a few miles from downtown Truckee, operates its lifts all summer (Fridays and weekends only in September) and offers free guided hikes, as well as themed hikes like a stargazing tour ($30) and copious groomed hiking and biking trails, from easy to challenging. Not up for much exertion? A couple of rides on the lifts, with expansive views of distant peaks, is a plenty fun way to while away a sunny Sierra afternoon ($10 for lift pass; 5001 Northstar Dr., 800-466-6784, northstarcalifornia.com).
Donner Memorial State Park
We've all heard plenty of Donner Party jokes, but the stark reality of the pioneers' (and Truckee's) history is movingly memorialized in the compact but fascinating Emigrant Trail Museum at Donner Memorial State Park (530-582-7892, parks.ca.gov), which traces the group's route and missteps, such as a fatal desert "shortcut." Look for the whiteboard on which museum workers follow the wagon train's route with an "on this day in 1846" vignette. If you prefer the outdoors, take the easy half-mile nature trail loop (this summer, check out the large beaver dam on placid Donner Creek) or try the longer (but still easy) Lakeshore Interpretive Trail, which leads to lovely picnicking spots on picturesque, sapphire Donner Lake.
 WHERE TO EAT
Restaurant Trokay
Cold-brewed Blue Bottle coffee, roasted bone marrow with house-made brioche, a silken 63-degree egg yolk with suckling pig "tête du cochon." This must be a menu from San Francisco, right? Nope. It's at Trokay (10046 Donner Pass Rd., 530-582-1040, restauranttrokay.com), the elegant yet unpretentiously friendly brainchild of chef-owners John and Nyna Weatherson, who moved to Truckee in 2011. John attended The Culinary Institute of America in Hyde Park, New York and has worked for such superstars as Daniel Boulud; Nyna used to be head cheesemonger of the venerable Murray's Cheese Shop in New York City (yeah, you'll want to check out Trokay's cheese plates). Whether you go for one of the full tasting menus offered at dinner or order à la carte—items include house-made buttermilk biscuits and gravy from the fun "breakfast for lunch" menu, and the artfully crafted heirloom summer melons with wild gulf shrimp—the cooking and service are meticulous. And speaking of that Blue Bottle coffee, don't miss the "frozen latte" with tiny doughnuts and salted caramel powder for dessert.
Moody's Bistro, Bar & Beats
With live music Thursdays through Saturdays, a fun cocktail menu with both well-made classics (Aviations, Negronis) and fresh inventions (like the Bourbon Rummy, a refreshing concoction that's like a mojito with bourbon) and equally fun bar bites, such as mini corn dogs—even the dog is made in-house, a three-day process—Moody's might mainly seem like a good local bar (10007 Bridge St., 530-587-8688. moodysbistro.com). But it's also a worthy choice for serious dining, from the pizza with bacon, sausage, mushroom, fennel and arugula to a hefty pork chop served with barley risotto. And you never know whose music you'll hear: it's been a few years, but Sir Paul McCartney once got up and played a few songs while dining here. Keep an ear out.
Burger Me
This fresh, cheeky burger joint (10418 Donner Pass Rd., 530-587-8852, realfreshburger.com) has practically had a line out the door since it was featured not just on Diners, Drive-Ins and Dives but was also crowned by Esquire magazine as "Best Burger" last year for its barbecue bison version. It's no wonder: the buns come from local Truckee Sourdough Company, the beef is all-natural and sustainable, and the menu has both the basic burger standbys and more creative picks like a gyro burger (made with lamb), a patty melt brilliantly spiked with pepperjack and sauerkraut, and an ahi burger with Sriracha coleslaw. Our advice: go despite the lines (they move fast), but get there by 11:30 a.m. for a quicker lunch (Burger Me opens at 11).
WHERE TO SLEEP
The River Street Inn
If you take the train up to Truckee for your getaway—and you should, at least once—The River Street Inn, in an 1885 building that overlooks the rushing Truckee River, is the ideal base for your overnight trip, with a central location that's a block's walk from the train station (tip: bring earplugs and request a room in the back of the house) and the rest of downtown, as well as clean, cheery, comfy rooms that sport down comforters and claw-foot tubs. It's a simple, homey inn without chatty owners or awkward mealtime convos; the breakfast is of the continental variety and the common area is comfortable ($130-$195; 10009 East River St., 530-550-9290, riverstreetinntruckee.com).
The Cedar House Sport Hotel
Just outside of downtown Truckee, this mod eco hotel (think Euro-style platform beds, a boutique feel in the rooms and dog-friendly) offers guests a wide range of sporty, outdoor activities courtesy of an in-house travel and touring company, from tame (birding, yoga) to adventurous (Pacific Crest Trail and high-altitude endurance hikes, kayaking). For those who prefer to stay indoors for their sports, the hotel's acclaimed restaurant, Stella, also offers culinary boot camps and less-intensive seminars like the "Think Like a Chef" lunches, designed to help you hone your palate ($170-$280; 10918 Brockway Rd., 866-582-5655, cedarhousesporthotel.com).
The Ritz-Carlton, Lake Tahoe
Sure, the name says Tahoe—but the address is in Truckee, just up the mountain from nearby Northstar, which is accessible by a special gondola line. This luxe property, opened in 2009 as only the second-ever ski property in the Ritz family and the first-ever AAA Five Diamond resort in the Tahoe region, boasts a soaking tub and fireplace in every room; a giant, octagonal fireplace as the centerpiece of the cozy, yet grand lobby area; and, at the outdoor fire pit, a daily s'mores presentation by the in-house "marshmologist." In winter, a complete ski valet service whisks your equipment away for a truly hassle-free ski-in, ski-out experience—but in late summer and fall, which this Ritz-Carlton calls its "secret season" (and when rooms are a little less pricey), the pool and quiet hikes take center stage. Don't miss the spa, which is also open to non-guests and features a huge copper soaking tub and private cabin for couples' treatments or girls' retreats ($299-$5,000; 13031 Ritz-Carlton Highlands Court, 530-562-3000, ritzcarlton.com). —K.W.
---
Thanks to the recent arrival of a slew of new restaurants headed up by celebrity chefs, revamped hotels, boutiques, and a public food and gift emporium that is Napa's version of the Ferry Building in San Francisco or Faneuil Hall in Boston, downtown Napa—not just the surrounding wineries in the valley—has become a must-see destination. But this isn't exactly a random coincidence. The city has deliberately upped the wow factor and created a much-deserved buzz by leading a massive $600 million overhaul of the riverfront, set for completion in 2015. Now, downtown Napa is home to 26 shiny new retail stores, more than 20 wine tasting rooms, and more than 70 restaurants with culinary game changers including Ken Frank of La Toque and Iron Chef Masaharu Morimoto of Morimoto Napa. Here, we uncover a crop of the standouts placing the once overlooked city back on the map.
WHAT TO DO
Oxbow Public Market
Lined with organic cafes and bakeries, an on-site wine merchant, and charcuterie, seafood and cheeses culled from local farmers and purveyors, the well-edited 40,000-square-foot marketplace (610 & 644 First St., 707-226-6529, oxbowpublicmarket.com), is a one-stop shop for a one-of-a-kind hostess gift, or essentials for an impromptu picnic by the river or on the outdoor deck. At the newly opened Napa Valley Distillery, dubbed the area's first distillery since Prohibition, try one of 200 flavors of handmade cocktail bitters and syrups, or peruse a collection of vintage barware and mixology-related tomes. In the center of the market, you'll find Ca' Momi Enoteca and Pizzeria serving thin-crust Neapolitan pizzas, pastries like the signature cream puffs in flavors like honey and hazelnut, and Italian wines like pinot grigio (the restaurant is an offshoot of Napa's Ca' Momi Winery). And don't miss Poor House. Allow extra time to sift through the world traveler-inspired textiles and home wares curated by owners Melissa and Eric Schmitt (who also own a flagship location directly behind the market), including handblown glasses by Simon Pearce, ceramic platters by Laura Zindel and colorful, woodblock-printed linens by Couleur Nature.
Napa Valley Wine Train
For an up-close look at the surrounding valley towns, including Yountville, Oakville, St. Helena and Rutherford, hop aboard the historic train (tracks date to the 1860s) for a three-hour journey. Sip a complimentary glass of wine while winding through 36 miles of Napa Valley and opt for a private tour at one of six wineries along the way, or sign up for a four-course lunch (think seasonal items from pan-seared scallops to roasted beef tenderloin) in a restored car such as a 1952 Pullman domed railcar ($99-$204; 1275 McKinstry St., 800-427-4124, winetrain.com).
 WHERE TO EAT
Oenotri
Opened in 2010 by chef-owners Tyler Rodde and Curtis Di Fede (who appeared on the Travel Channel show Bizarre Foods America in April), this Southern Italian-inspired restaurant has quickly become a local staple, and it's easy to see why. Using veggies and herbs grown on the eatery's nearby four-acre garden, the duo whips up offerings from 20 varieties of house-made salumi, seasonal mains (like June's Paine Farm squab, which was paired with cherry panzanella, parsley and dandelion greens) and wood-fired pizzas made in an Acino oven procured from Naples (1425 First St., 707-252-1022, oenotri.com).
Morimoto Napa
Boasting an interior created by Schoos Design (of San Francisco's Hotel Vertigo and The Penthouse restaurant in Santa Monica), Morimoto Napa is a definite don't-miss spot (610 Main St., 707-252-1600, morimotonapa.com) in downtown Napa's revitalized riverfront district. Owned by celebrity chef Masaharu Morimoto (of Iron Chef and Nobu fame), the sleek and modern restaurant—think concrete floors and stacked reclaimed wood beams on walls—serves up impeccably plated dishes, from starters like hamachi tartare and tuna pizzas to dishes like 16-ounce rib-eye steaks and signature entrées such as Angry Chicken, a marinated organic half chicken with roasted peppers.
WHERE TO SLEEP
The Westin Verasa Napa
Located steps away from Oxbow Public Market along the riverfront, the rustic, modern 180-room resort ($149-$749; 1314 McKinstry St., 707-257-1800, westinnapa.com) is the ideal spot to unwind after a long day of exploring or wine tasting. The list of on-property perks runs long here, from to-die-for Heavenly beds and a complimentary house car for rides into town, to an outdoor, heated saltwater pool framed with chaise lounges and cabanas, and a running concierge on hand to help navigate nearby routes. Forgot workout clothes and sneakers? The Westin's gear lending program offers guests a pair of New Balance shoes, shorts and a T-shirt for use during the stay for a mere $5.
Inn On Randolph
It might look as if it was plucked straight from the pages of a classic storybook, but this 10-room 1860s Victorian estate ($245-$400; 411 Randolph St., 707-257-2886, innonrandolph.com) set on nearly an acre of pristinely manicured grounds has been fully upgraded with all of the bells and whistles. Cottages are outfitted with LCD televisions, gas fireplaces and whirlpool tubs, while historic suites feature original antique glass windows and upholstered headboards. Just be sure to set your alarm. The daily home-cooked breakfast—which is served at 8:30 and 9:15 a.m. and boasts an all gluten-free menu of items like vanilla bean pancakes with fresh berries, smoked salmon hash with poached eggs, and corn cakes with house-made applesauce—is worth the early rise. —J.N.
---
Suisun City bills itself as a "Bay Area gem with a touch of Cape Cod charm," and indeed, your first impression of this charming waterfront community—with its scenic fishing harbor, clapboard buildings and weathered houses—is that of a coastal New England hamlet. That postcard-perfect image has been hard-earned: Over the past decade, this Delta town named after the Suisunes (pronounced suh-SOONS), a Native American tribe that lived in the area, has transformed itself into a sweet and delightfully surprising vacation spot (just 50 minutes west of Sacramento, it's ideal for a quick or last-minute weekend getaway). While it's still a work in progress with some empty storefronts and vacant lots, this city, which was once an industrial hub dominated by oil tanks, is now anchored by a beckoning lighthouse and replete with great restaurants, nearby wineries, and a highly walkable Main Street that's eye candy for architecture buffs and nature lovers alike. Trust us, one visit to Suisun, and you won't wonder why you want to go back so soon.
WHAT TO DO
Old Town
Pull up those boots: Suisun City's waterfront district (aka "Old Town" to locals)—which is bookended by a wildlife center to the south and a beautifully restored historic train depot (now an Amtrak station; yes, you can take the train from Sacramento to the heart of Suisun) to the north—is definitely made for walking. Stroll along the picturesque Suisun slough, where you can spot folks fishing for bass or catfish and boats floating in the marina; and cool off with a chocolate-covered ice cream sandwich at the It's-It outlet store (304 Spring St., 707-425-1900)—the oatmeal cookies for the famous San Francisco treats are made in Suisun by Family Cookie Co. Also make sure to stop by The Lawler House (718 Main St.), which is home to an art gallery (check out its sculpture garden with whimsical works by local metal artist Phillip Glashoff) and the Solano History Exploration Center, where you can see photographs from the set of All The King's Men (which won the best picture Oscar in 1950 and was partly filmed in Suisun) and of then Senator John F. Kennedy making a campaign stop at the train depot during his 1960 run for president, as well as pick up a free self-guided tour booklet of historic buildings downtown.
Kayaking
When you're ready to let your arms do the walking, rent a kayak from Sunset Bay Kayaks (reserve at least 24 hours in advance; 707-365-2436, sunsetbaykayaks.com). Starting out from the downtown marina, you can explore the waters on your own ($15 or $20 an hour) or take one of the group tours led by owner-operator Trish Abbatiello ($40 each)—themes include sunset, full moon and nature-focused paddles, during which you canoe through the Suisun Marsh and see plants like tules and Californian thistle, and—if you're lucky—river otters, blue herons and jumping salmon.
Food and Wine Tasting
You won't go hungry—or thirsty—on this trip; Suisun Valley is home to dozens of wineries and farms. Reserve a barrel tasting at Vezér Family Vineyard's dramatic Blue Victorian location lined with palm trees (5071 Suisun Valley Rd., Fairfield, vezerfamilyvineyard.com, 707-422-8025), where you can sip its signature Jake's Chieftain blend—a mix of petite syrah, cabernet sauvignon and zinfandel—which is custom-poured into your glass directly from the barrels of each of the three wines. At Il Fiorello (2625 Mankas Corner Rd., Fairfield, 707-864-1529, ilfiorello.com), sample a wide array of olive oils (from lemon to jalapeño; $5) or reserve a $15 tour of its groves and mill. And don't go home without stocking up at Larry's Produce (4606 Suisun Valley Rd., Fairfield, 707-864-8068, larrysproduce.com), a bustling, supersized farm stand selling everything from locally grown apples to anise—which you can cart around in a wheelbarrow—all at fork-bottom prices. Are you loco for more local food and wine? At the Fairfield Tomato Festival (fairfieldmainstreet.com), which will take place on Aug. 17 and 18, you can taste almost 100 varieties of heirloom tomatoes, such as Green Zebra, Pink Girl and Black Russian, from regional farms. And on Aug. 25, check out Suisun Valley's Harvest Festival, where you can take vineyard tours, go barrel sampling at the area wineries and even stomp some grapes (suisunvalley.com).
Jelly Belly Factory
You want candy? Get your sugar fix at the Jelly Belly factory in next-door Fairfield (1 Jelly Belly Ln., Fairfield, 800-953-5592, jellybelly.com), whose complimentary 40-minute tour along an elevated walkway was named the "Best Company Tour" in the country by Reader's Digest in 2005. Or enroll in Jelly Belly University for an in-depth guided visit around the factory floor ($47 per person; buy tickets online six to eight weeks in advance or call the visitor center to check for more immediate bookings), where you'll not only get to see, but taste and smell the sweet treats during the candy-making process (each bean takes up to 14 days to go through the nine stages of production, which includes separating the perfectly shaped candy from the rejected "Belly Flops"). On Sept. 28 and 29, Jelly Belly will host its first-ever Candy Palooza with carnival rides and Jelly Belly art (including a mosaic portrait of JB's most famous fan, President Ronald Reagan). More a cocoa bean than jelly bean lover? Head upstairs to the Very Cherry room for a new wine and chocolate program (no reservations needed), featuring five samples from regional wineries and house-made desserts—for example, Wooden Valley cabernet paired with a dark chocolate truffle.
 WHERE TO EAT
Cast Iron Grill and Bar
Opened in 2009, Cast Iron (700 Main St., castirongrillandbar.com, 707-425-1700) is one of the newest restaurants in the waterfront district. And with its attractive décor (look for the large, colorful mural of Suisun Valley by Bay Area artist Miro Salazar) and a wide-ranging, accessible menu, it's become a hot spot for Suisun's citizens. Try the popular bourbon prawns (which are served, yes, in a cast-iron skillet), the signature jambalaya with spicy, locally made andouille sausage or the lavish weekend champagne brunch with fresh house-made bread. On warm summer nights, feel the Delta breeze at the restaurant's courtyard patio with a stone fireplace.
Babs Delta Diner
A Suisun institution for more than 20 years, this waterfront diner in Old Town (770 Kellogg St., 707-421-1926) is a must for the ultimate comfort brunch, with heavenly hotcakes, buttery house-made biscuits and locally legendary corned beef hash. Dishes often reference family members of 81-year-old owner Babs Curless (who lives on the second floor of the restaurant's lovely blue-and-white Victorian-style building and still works behind the counter), such as Deby's Veggie Omelet, named after her daughter who now runs the day-to-day operations. Adding to the homey vibe are the bright yellow walls, country-style curtains and playful display of vintage Coca-Cola memorabilia.
Mankas Steakhouse
This Suisun Valley eatery, which underwent an $800,000 renovation last year, got a menu makeover as well when chef Peter Halikas (formerly of Napa's N.V. restaurant and San Francisco's Gary Danko) and his partner Tim Gill (who previously managed the three-Michelin-starred Meadowood) took ownership of Mankas this past February. Offerings highlight the local bounty, as in the tomatoes and mozzarella small plate with produce from nearby Tenbrink Farms and olive oil from Il Fiorello, and three pages of wines from the Suisun Valley. Other standouts include the creamy lobster bisque (a house signature), the gooey-good mac and cheese, and velvety Yukon Gold mashed potatoes. And while the 16-ounce grilled rib-eye steak is popular, vegetarians won't feel left out with inventive dishes like the toothsome and flavorful seared tofu "scallops" with black rice and miso broth (2522 Mankas Corner Rd., Fairfield, 707-425-3207, mankassteakhouse.com).
WHERE TO Sleep
Hampton Inn & Suites, Suisun City Waterfront
Built in 2009, this four-story hotel—the only one in Suisun City—was a key part of the area's redevelopment puzzle and boasts a prime location at the north end of Old Town overlooking the harbor. Other pluses include free Wi-Fi, sheets and duvet covers that are freshly washed for every guest (sadly not the case at most hotels), a microwave in every room, and—eliminating a pet peeve of ours—plentiful electrical outlets for your cell phones, laptops and iPads. But you came here for a room with a view, so be sure to book a waterfront room (if you're a light sleeper, ask for one on the fourth floor), and, if available, suite 430, 330 or 230, which each also includes a balcony ($119-$169; 2 Harbor Center, 707-429-0900, suisuncitywaterfrontsuites.hamptoninn.com). —E.L.
---
Over the past few years, Oakland has earned a rep as the West Coast Brooklyn. The comparisons are easy to make. Both have the history of being port towns, Navy towns and towns for the working class. Like its East Coast soul brother, Oakland also lives in the shadow of a showier metropolis, one that has grown so posh and sophisticated that many artistic types have fled across the Bay Bridge in search of a cheaper life. But along with their U-Haul boxes, those refugees of the $82,000 parking spot brought their knitting needles and letter presses, their artisanal cocktail recipes and locally sourced dinner menus, their backyard chicken coops and their Americana banjo ballads. So in between the grit and grievances that have too long defined Oakland in our minds, there's now another town to explore, one anchored by the neighborhoods of Uptown and Temescal. This Oakland has raw energy and nothing to prove. There is a freedom to create that reinvigorates the spirit, just by proximity. It is the perfect getaway spot when you don't just want to escape, but recharge, renew and, well, have some really good gin and garden-grown cucumber cocktails..
WHAT TO DO
Have a Close Encounter
Leave the clubbing to the kids. After dark on a Friday or Saturday night, take the winding road to the pinnacle of Roberts Regional Park in the hills of Oakland, where you'll find the Chabot Space & Science Center (10000 Skyline Blvd., chabotspace.org, 510-336-7373). There, 1,800 feet above the bay, three telescopes named Rachel, Leah and Nellie are open to the public for free from 6:30 to 10:30 p.m. Peer through their lenses to get stellar views of the craters of the moon, the rings of Saturn, the center of the Milky Way, the Perseid meteor showers and more. Come during the day and check out the museum's historical displays of humankind's ventures off the planet, including a photo booth-sized Russian Soyuz space capsule, which ferried three astronauts at a time on two-day journeys to dock with the International Space Station.
Explore the Golden State
The Oakland Museum of California (1000 Oak St., 510-318-8400, museumca.org) underwent a massive $63 million renovation and expansion in recent years, including the May debut of its natural history gallery, which takes visitors on a tour of California's biodiversity by highlighting unique environments—like the Sutter Buttes, Coachella Valley and Yosemite—with interactive displays. Also inside is an underrated collection of art and historical objects that captures just how vast, diverse and influential the Golden State is. The Gallery of California Art groups its works by commonalities (landscapes, for example) and includes iconic names like Dorothea Lange, Richard Diebenkorn and Sacramento's Wayne Thiebaud. And on Friday nights, the museum is open late, is half price (free for ages 18 and under) and hosts family-friendly food truck parties.
Duck Down the Alley
Intrigued by a Venus flytrap in a funky tin can pot, or home accessories made entirely of cast-off, upcycled materials? Then Temescal Alley is a must-stop. Running parallel to Telegraph Avenue just off 49th Street, this stylish enclave, more courtyard than street, is a lane of low-slung little 1920s buildings (former horse stables and garages) remade into chic boutiques by local artists and designers. Crimson Horticultural Rarities (470A 49th St., crimsonhort.com, 510-992-3359) is a jungle of exotic plants and gifts, while Walrus (470G 49th St., 415-265-3238, shopwalrus.com) is a kitschy mix of handcrafted home goods like wine racks made from wood pallets and pillows sewn from donated pashminas. Marisa Haskell (470D 49th St., 510-325-0019, marisahaskell.com) bends metal to her will at her eponymous jewelry store, while nearby, lean men with weekend stubble wander into Standard & Strange (484A 49th St., standardandstrange.com, 510-373-9696) for hip, most-ly made-in-California guy gear like cycling apparel and handmade leather shoes.
Drink It In
Oakland is deluged by artisanal cocktails, delicious drinks heavy on local ingredients, mysterious house-made mixers and old-fashioned bartender know-how. The epicenter of this beautiful art is Make Westing in Uptown (1741 Telegraph Ave., 510-251-1400, makewesting.com). Crack open its red leather menu and order a Williamsburg Lemonade (bourbon, pear liqueur, lemon and club soda) or a Penultimate (gin, elderflower, green chartreuse, lime and prosecco) served in a coupe glass. At nearby Plum Bar (2216 Broadway, 510-444-7586, plumoakland.com), the narrow drinkery attached to chef Daniel Patterson's lauded restaurant, cocktails follow seasonal ingredients (pumpkin rum, anyone?) and are accented by house-grown herbs. In Jack London Square, Bocanova (55 Webster St., bocanova.com, 510-444-1233) turns classics into modern quenchers, like a Cereza Lime Rickey (Espolón Tequila Blanco, cherry bitters, lime, agave nectar and soda water).
 WHERE TO EAT
Hawker Fare
Uptown's Hawker Fare (2300 Webster St., hawkerfare.com, 510-832-8896) may look like an average corner joint with close-quarter tables and walls lined with music posters from bands like The Coup, but the Southeast Asian street food dished out in clay bowls is anything but ordinary. Since it's the second Oakland venture of chef James Syhabout (whose high-end Commis boasts a Michelin star), it's no surprise that the menu is both inventive and deeply satisfying. The rice bowl with 24-hour pork belly and a fried egg is already a local legend. So are the Siamese peanuts—sweet, salty flavor bombs coated in anchovy. Come hungry, order to share.
Restaurante Doña Tomás
The warren of rooms in this mainstay on Telegraph Avenue in Temescal is always packed for a reason: good Mexican food is hard to beat. And Doña Tomás (5004 Telegraph Ave., 510-450-0522, donatomas.com) is good—everything here is made from scratch with the requisite local, sustainable ethos. Opt for a seat in the courtyard, where colorful floral tablecloths and umbrellas set a festive mood. Then order up a margarita and the delicate chiles rellenos de elote y calabaza—mild roasted poblano chiles filled with zucchini, corn, red onion, lime zest and cheese—or the tasty carnitas with Niman Ranch pork.
Haven
It used to be that Ben & Jerry's was one of your best bets for food in Jack London Square. But those bleak culinary days are long gone, and the area is now a gourmand hot spot. Opened in December 2011, Haven (44 Webster St., 510-663-4440, havenoakland.com) is one of the newer kids on the block, but it's already secured its berth as a dining destination. Take a seat on the patio facing the wharf in warm weather or inside its industrial but inviting main room and get ready for inventive, unusual combinations that are tasty, fresh, complex and sometimes challenging, like the recent melon dish with grilled octopus and coffee oil, and the pork belly braised with oatmeal, beet, chocolate and spring onion soffrito.
WHERE TO SLEEP
Waterfront Hotel
The Joie de Vivre hotel chain (owners of The Citizen Hotel in Sacramento) is known for its affordably chic style that evokes the culture of each location, and the Waterfront is no exception with its modern take on nautical-themed rooms. But it's what is outside that makes the stay here worthwhile. Located on the docks of the revived Jack London Square, this modest property ($159-$289; 10 Washington St., 510-836-3800, jdvhotels.com) looks out over a slice of the bay that's industrial and gritty, but also intriguing and engaging. Off toward the Bay Bridge, looming container cranes dominate the landscape, living up to the myth that they were the inspiration to Star Wars' AT-AT vehicles. Along the back of the hotel, small boats are tied up, their masts bobbing and swaying with the current. It's a scruffy, scrappy, soulful take on the bay, one you probably won't see in San Francisco, at least not from your hotel. So make sure to request a waterfront room with a fireplace. —A.C.
---
There's a wild heart to San Francisco, a burghal backcountry that, along with Mission Dolores, is the oldest settled patch of land in the city, but the least known to tourists—The Presidio. This stretch of coastal terrain starts just west of the Marina District and pushes out past the Golden Gate Bridge to the black and tan sands of Baker Beach, and rises up over hilly crests to crash against Pacific Avenue and Lake Street on the southern boundary. It's a vast place (1,491 acres) of dramatic bluffs and wooded forests thick with cypress and redolent of eucalyptus. Here there are backward views of the Golden Gate Bridge, with Alcatraz on the far side, and miles upon miles of dirt trails where sometimes fog meanders so thickly between branches that visitors are lost in a solitary, primal world, making it easy to imagine what it felt like for the Ohlone tribe who lived here as far back as 740 A.D. There are also hip and sophisticated restaurants, museums and a world-class hotel (the first one in The Presidio) that opened just last year. Why so few visitors in this magical mystery spot? Until the '90s, this was an active military post. Since 1994, when the land was turned over to the National Park Service, the former base buildings have been rehabbed for commercial and residential use, creating an entirely new neighborhood. About 3,000 people now live on this national park, and dozens of businesses fill former hangars, hospitals and soldier housing. It's easy to spend an urbane weekend here without ever venturing into urban San Francisco, and now is the time to do it—before the tourist hordes invade.
WHAT TO DO
See Mickey and Monet
Inside the old Main Post of The Presidio is a treasury for animation buffs—The Walt Disney Family Museum (104 Montgomery St., 415-345-6800, waltdisney.org). Founded in 2009 by Walt's daughter Diane and grandchildren Walter and Joanna to celebrate the life of Disney the man (not just the company), this interactive archive teaches visitors that if it hadn't been for a devious business associate stealing Walt's original character, Oswald the Lucky Rabbit, Mickey might never have been. It's a fun look at one of America's most beloved innovators, and along with the rich personal history of Walt's life and career and a model of Disneyland, the museum also houses contemporary exhibits like an edgy display of Alice in Wonderland-themed art from UC Davis graduate Camille Rose Garcia (through Nov. 3) and a retrospective that will open on Aug. 15 honoring the work of Tyrus Wong, the 102-year-old Chinese-American artist who lived in Sacramento growing up and whose paintings inspired the look of the Disney classic Bambi.
If classical appeals more than cartoons, take a short drive west to the Legion of Honor (100 34th Ave., legionofhonor.org, 415-750-3600). It would be enough to visit the parking lot of this oft-forgotten museum near Lands End. There, high on a seaside bluff in Lincoln Park, visitors will find a city vista that stretches from the Golden Gate Bridge across downtown to the spires of St. Ignatius Church and the tower on Twin Peaks. The building itself, a replica of the Palais de la Légion d'Honneur in Paris, is a graceful grande dame with an ionic-colonnaded courtyard that is home to Rodin's The Thinker. Inside, collections highlight Greek and Roman art with special exhibitions including (through Oct. 13) "Impressionists on the Water," where works by Monet, Renoir and their boat-loving contemporaries fill the warren of galleries
Ramble, Pedal, Putt
Hike one of The Presidio's wooded paths, like the sun-dappled Ecology Trail from the Inn at the Presidio up to the pinnacle of Inspiration Point, where the overlook is every cliché it should be—sweeping, dramatic, romantic and, of course, inspiring. To cover more territory, rent a bike at the Sports Basement near Crissy Field (610 Old Mason St., 415-437-0100, sportsbasement.com) and cruise the winding roads of the former base or head out to historic Fort Point and across the span of the Golden Gate. For golfers, the Presidio Golf Course (300 Finley Rd., 415-561-4653, presidiogolf.com)—which was recently named the 16th best municipal course in the country by Golfweek magazine—is a must-play as much for its challenging design (especially the 12th hole) as its stunning setting.
Bum Around on the Beach
Ever wonder who the 1 percent envy? Take a drive through the Sea Cliff neighborhood just outside of The Presidio, where hilltop mansions hold court on oceanside bluffs, and you'll  see. Down a flight of cement steps is China Beach (Sea Cliff Ave., 415-561-3000, parksconservancy.org) guarded by a rusting Parks building whose sheltered roof is a favorite of sunbathers seeking relief from the wind. It's a secret little cove, once home to Chinese fishermen, with the Golden Gate looming large to the right and the Marin Headlands giving way to the Pacific in the other direction. Just a hop and a skip back into The Presidio is Baker Beach (Gibson Rd., 415-561-3000, parksconservancy.org), a popular swath of sand where crowds post up on warm days watching freighters cruise into the Bay and trying not to watch the nudists who favor the far end.
 WHERE TO EAT
Presidio Social Club
Congenial and sophisticated, the Presidio Social Club (563 Ruger St., 415-885-1888, presidiosocialclub.com) is a welcoming establishment filled with bohemian bonhomie. Located in a low-slung white clapboard building that was originally a club for enlisted men, the restaurant has a long marble bar wide enough to qualify as a counter and a postage-stamp-sized patio out back. The menu is filled with easygoing city comfort food like burgers, a bay shrimp Louie, and an outstanding chopped kale salad that can come with duck confit or a crispy piece of pork belly. Don't miss refined cocktails like the Old Cuban with El Dorado 5-Year rum, lime juice and champagne. And brunches are a treat not to be missed, with savory eggs Benedict, fresh-baked pastries like scones, and brioche beignets that you dip in a brown butter hot chocolate (and bonus, unlike at most restaurants, you can make reservations for brunch at the Social Club).
Dixie
Dixie (1 Letterman Dr., 415-829-3363, sfdixie.com), the first solo endeavor by Michelin-starred chef Joseph Humphrey, promises a new take on Southern comfort food, like tasty fried oysters or a rabbit and dumplings dish at dinner. The large, open room with leather booths and a big bar area draws a polished crowd (including staff from LucasArts, on whose campus the restaurant is located), but it's the outdoor patio that's the true gem. Here, casual tables overlook a rolling green lawn that gives way to a grove of trees. Peeking out beyond the leaves is the dome of the Palace of Fine Arts and glimpses of the Bay—the ideal spot for brunch or an afternoon libation.
The Beach Chalet
Inside the Golden Gate Park Visitor's Center on Highway 1 near Lands End is a sunset-watching spot worth the drive to this edge of San Francisco. Past the 1930s fresco by artist Lucien Labaudt that graces the downstairs lobby and up the tiled stairway is The Beach Chalet Brewery and Restaurant (1000 Great Hwy., 415-386-8439, beachchalet.com), where the nearly floor-to-ceiling windows look out over the ocean. It is the ideal place to watch the sun drop into the water while enjoying one of the brewery's own beers and some fried calamari. Then, if the fog rolls in and the weather turns cold, head downstairs and out the back door to its sister restaurant, the Park Chalet, where a grand fireplace holds court.
WHERE TO SLEEP
Inn at the Presidio
Charm, elegance and history pervade every brick at the recently opened Inn at the Presidio ($215-$375; 42 Moraga Ave., 415-800-7356, innatthepresidio.com). The 26-room hotel, the first and only one inside the national park, was built in 1903 and once served as housing for the Army's bachelor officers. While there are a few smaller rooms in the old orderlies' quarters, the place to stay is in one of the 17 suites (especially room 332 boasting Golden Gate views), which span the width of the brick and wood building, giving sight lines into the eucalyptus grove behind and the Bay in front. A cozy gas fireplace reigns over the living room in each, where a Mitchell Gold + Bob Williams sofa bed pulls out for family stays. First and second-floor rooms have access to a wide porch with rockers—a magical place for morning coffee or a glass of The Dreaming Tree wine served in the evening. For larger parties, the Inn just opened The Funston House in July, a separate four-bedroom space with a living room and dining room of its own. —A.C.