High-Flying and Deep-Frying at the California State Fair Through July 29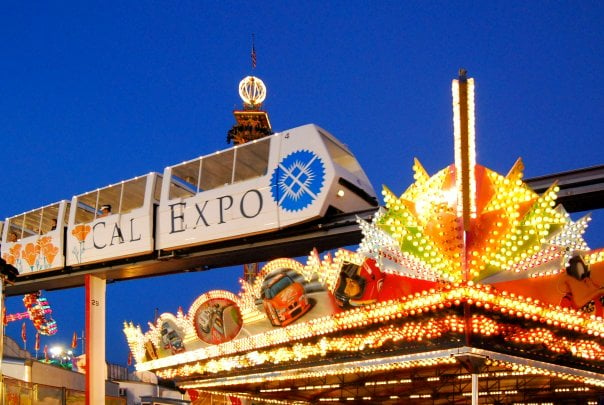 Get ready for some gut-checking, gut-expanding fun at the 159th annual California State Fair, which continues this weekend through July 29, with a brand-new zip line ride, a possible new world record, epicurean competitions and everything from mac 'n' cheese to Cap'n Crunch on a stick.
Carrying out this year's theme, "Fun That Moves You," is the 600-foot-long High Fly'n Zip Line ride, which is making its State Fair debut and allows intrepid riders to get a leg up—or both legs up—on the traditional midway experience by soaring over it at 35 miles per hour.
If you want to scale new heights but at a slower pace, for a $5 donation to the UC Davis Children's Hospital, you can accompany Roseville's Christina Lochmiller, who will attempt to set a new Guinness World Record for the longest ride on a Ferris wheel starting at 5 a.m. on July 23 (the rules allow for a five-minute break each hour). The current record, which was set on June 1 at the Santa Monica Pier, stands at 25 hours.
Back on the ground, Stage Nine Entertainment's Toytopia 2.0 exhibit boasts the world's largest Etch A Sketch (8 feet tall with a 6-foot-wide screen), a life-size dollhouse, 10-foot-long Monopoly car, 10-foot-high statue of Transformers' Optimus Prime and retro arcade games like Tron, Donkey Kong and Space Invaders (with equally retro prices at 25 cents a turn).
You can also step back in time by rocking out to performances by Dave Mason of the '60s band Traffic (July 23) and '80s icon Joan Jett and The Blackhearts (July 27). More contemporary music stars taking the stage will include reigning America's Got Talent champ Landau Eugene Murphy, Jr. (July 20) and Scotty McCreery, last year's winner of American Idol (July 21).
And what's a visit to the State Fair without a bite or two of a few novelty noshes? This year, Cal Expo has got you covered for breakfast, lunch and dinner with deep-fried Cap'n Crunch or Fruity Pebbles or cinnamon roll on a stick, deep-fried Pop Tarts, a Donut Dog (a hot dog-stuffed maple bar), the Big Beef Rib (24-ounce steak on a 17-inch cow's rib), pork chop on a stick and deep-fried mac 'n' cheese on a stick. (Those looking for slightly healthier fare can snack on chilled edamame or the cottage cheese and peaches.)
For more information, visit the State Fair website, bigfun.org.