How to make the most of Sacramento's Farm-to-Fork Celebration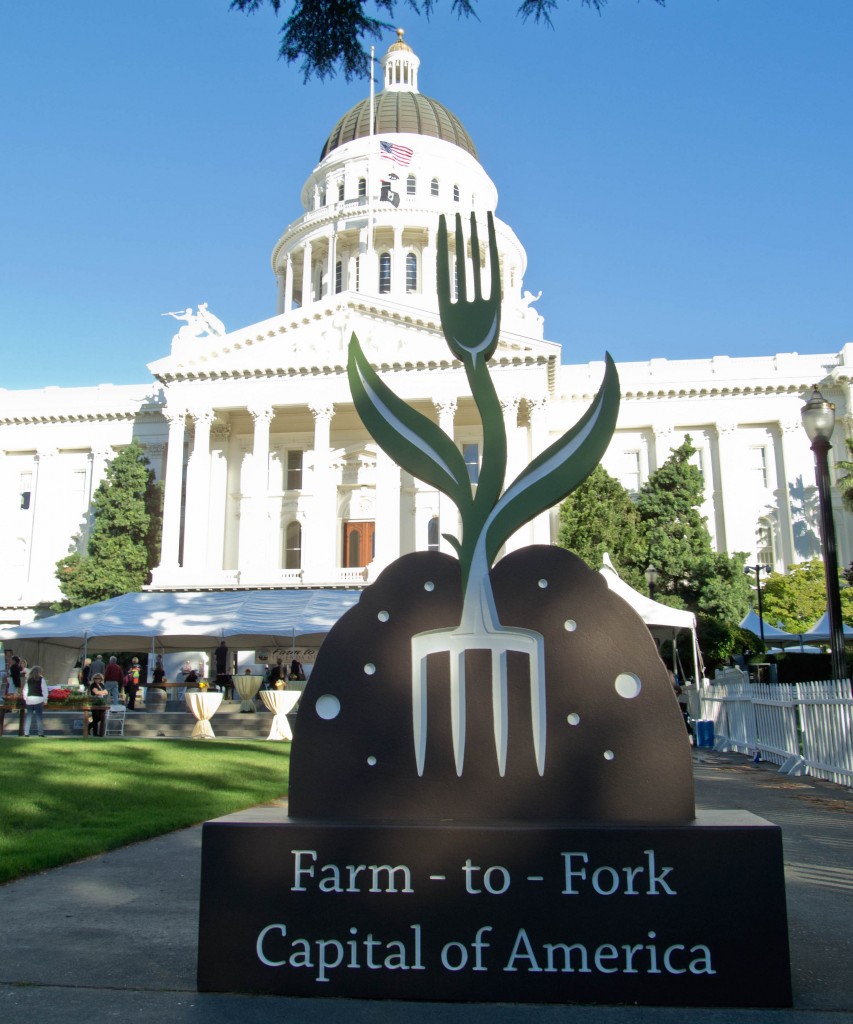 Farms, fairs, markets, restaurants and gardens around the region will be taking center stage as Sacramento's second annual Farm-to-Fork Celebration launches this weekend and runs through Sept. 28. The festive fortnight offers a variety of unique events, from house hopping in East Sacramento to wine and food tasting in midtown to a cycling trek among Yolo County farmlands. (Check out Sactown's selection of Restaurant Weeks highlights here.) Whether on a bike ride with your family or a date night with your significant other, consider these opportunities to dig in and enjoy our local bounty.
Official Farm-To-Fork Celebration events
Legends of Wine
Sept. 18 It's not everyday you get the chance to mingle with local culinary expert Darrell Corti or wine expert David Berkley, but this event held on the west steps of the State Capitol allows oenophiles to do just that. You'll hear from the winemakers, along with both Corti and Berkley, who handpicked each of the over 30 wineries that will be in attendance, as they discuss the Sacramento Valley's best vino. Sip tastings from each of the winery booths like Bogle Vineyards and Clarksburg Wine Co., paired alongside artisan cheeses provided by Tony's Fine Foods, as local pianist Jim Jordan sets the evening's cheerful tone. $50. 6-8:30 p.m. Sept. 18. farmtofork.com/wine
Farm-to-Fork Festival
Sept. 27 Last year's bash brought 25,000 people to Capitol Mall, and the Sacramento Convention & Visitors Bureau is expecting about 35,000 to show up this year on Sept. 27, so come prepared for a jam-packed day of farm-to-fork fun and fare. About two dozen food vendors are currently confirmed, from food trucks like Drewski's and Krush Burger to restaurants like Broderick Roadhouse, Ambrosia and Thai Basil. Kids can rock out to Radio Disney, color a farm-to-fork-themed mural wall, learn about the role of farm animals at an animal exhibit and visit informational and interactive booths from FFA and 4H. Grown-ups can gather at a wine tent with over two-dozen wineries pouring glasses of your favorite area wineries like Elevation Ten, Heringer Estages and Lava Cap. Plus, a beer tent will provide a lineup of popular local suds from area breweries like Ruhstaller, New Helvetia and Track 7. Free. 11:00 a.m.-6:00 p.m. Capitol Mall between 3rd and 7th streets. farmtofork.com/festival-info
Other farm-to-fork themed events around the region
Edible Gardens Tour
Sep. 13 Explore a half-dozen unique edible backyard gardens in East Sacramento, viewing beds of kale, guava trees and trellises of grape and kiwi vines while master gardeners from the UC Davis Extension enlighten visitors on how to create custom gardens at their own homes. This year's tour, the fourth annual, will spotlight drought-compatible methods for maintaining happy, healthy plants—and all for a good cause: The tour raises for St. John's Program for Real Change and other local charities. $20 (Advance) $25 (Day of). 10 a.m.-4 p.m. Locations Vary. East Sacramento. 363-6927. soroptimistsacramento.com
Food Literacy Fair
Sep. 14 The Farm to Fork movement isn't just for grown-ups. Kids can also dive into the celebration at this family-friendly fair, which aims to raise awareness for Sacramentans of all ages about local crops, seasonal food and the importance of making healthy eating choices that are also environmentally sustainable. Parents can check out cooking demonstrations, while little ones can dress up in veggie costumes for the photo booth, get to know pygmy goats at the petting zoo or shop at a miniature farmers market where they can discover recipes and choose fresh produce for their family's next dinner. Free. 9 a.m.-1 p.m. Southside Park. 2115 6th St. 324-4676. foodliteracycenter.org
Cycle the Food Cycle
Sep. 14 Cyclists rejoice! You can celebrate Farm to Fork with a family-friendly leisure tour around some of the area's favorite farm-to-fork destinations, presented by the Sacramento Natural Foods Co-op. Each stop highlights steps of the food cycle, from growing to kitchen preparation to composting; the five-mile ride hits the Food Literacy Fair in Southside Park before pedaling west to destinations like 5th & C Farm and Broderick Roadhouse, while riders interested in a 15-mile journey can continue along the river to Abbott Organics and Humble Roots Farms before winding down with a beer at Yolo Brewing Company. $15 (General) $10 (Co-op owners). 9 a.m.-3 p.m. Ride begins at Insight Coffee Roasters. 868-6399. sacfoodcoop.com
Soil Born Farms Autumn Equinox Celebration
Sep. 20 Nestled among the gardens and trees lining Soil Born's urban farm in Rancho Cordova, the non-profit's 12th annual fall fundraiser will bring together such celebrated area chefs as Michael Tuohy (Block Butcher Bar), Kurt Spataro (Paragary's), Rick Mahan (Waterboy, One Speed) and eateries like Shoki Ramen House and Pushkin's Bakery at this evening of fine dining and music. This event is known to sell out quickly and tickets won't be sold at the door, so purchase tickets ahead of time. $60. 4:30-8:30 p.m. 3000 Hurley Way. 363-9685. soilborn.org
Harvest for Hunger
Sep. 25 Celebrate harvest season and honor the River City Food Bank's hard-working volunteers at this fundraiser, where attendees can tour the Food Bank's facilities and learn more about its programs between bites at food trucks like Drewski's Hot Rod Kitchen and the Cruzin' Crustacean from Rudy's Hideaway. Local breweries and wineries will pour their specialties as well, while Sacramento ice cream institution Vic's will offer up dessert. Another reason to raise a glass to this good cause: Every ticketholder is also automatically enrolled in a drawing to win a personal pub crawl with 14 friends on the Sac Brew Bike. $20. 5:30-8:30 p.m. River City Food Bank. 1800 28th St. 446-2627. rivercityfoodbank.org
For more information on each of these events and other farm-to-fork events taking place around the region, visit farmtofork.com.
Related Links
–10 highlights to savor during Farm-to-Fork Restaurant Weeks
–Menu announced for Sacramento's Farm-to-Fork gala dinner
–Local company bringing eco-friendly beer growlers to craft-crazed Sacramento